Olde Mecklenburg's new facility opens – and it's truly a sight to see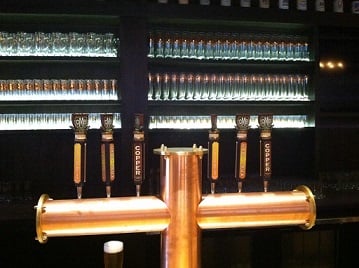 Unbelievable.
Fantastic.
Extraordinary.
Those were all words that I heard from gathered guests describing Olde Mecklenburg's new location – and that was before even walking in the door to the enormous brahaus, complete with beautiful chandeliers and long wooden tables, reflecting the communal theme of Germany bierhalls.
Saturday served as a sneak peek event for media, VIPs and others before Olde Mecklenburg opens its doors to the public this Friday, August 15. And although I don't want to spoil OMB's big reveal too much, I can say that this new facility is a shining beacon for the Charlotte craft beer community and will draw craft fans from all across the region.
Walking into the 8.5-acre site, there's a lot that immediately jumps out – beginning with the overall space itself. Simply put, it's huge – inside and out. Start with the previously mentioned brauhaus, which also features a far-reaching bar with several tap areas and rows upon rows of various beer glasses behind it. There are also adjoining rooms to accommodate busy times or be used for private events.
Outside sits a spectacular biergarten, with umbrella-covered tables and a sprawling greenspace set as the backdrop. I can see this spot serving as the headquarters for many a spring and summer evening amongst good friends. OMB owner John Marrino says the biergarten is one of his favorite parts of the new facility, adding "it's unique and I don't think there's another one like it in the southeastern United States."
From outside you can also see into the new 60-barrel brewhouse, which has a gigantic adjacent mural beside it that was painted and created by a former OMB employee who's now an artist in New York. That brewhouse is four times larger than Olde Mecklenburg's current one and will allow the brewery to produce a potential 100,000 barrels annually, along with the opportunity for OMB to possibly make some of their seasonals year-round.
During the special event Saturday, Marrino said he remembered delivering kegs to the brewery's first account in 2009. Now, OMB has more than 200, along with employing 50 people on staff. Those staff members were also the focal point of an impassioned speech by Marrino, as he teared up when talking about being able to create jobs and putting money back into the local economy. (As an aside, his staff bet Marrino that he wouldn't get emotional during the speech. He lost – but all for a good cause.)
Later, Marrino was able to reflect on how far his brewery has come, adding he was "really proud" of the new facility.
"You know, I always wanted to create a place where people could discover our beer in a relaxed atmosphere," he said. "And I think that will give them an emotional attachment to us and our beer."
Ryan Self, director of sales at Olde Mecklenburg, adds that the new brewery will continue to help spread the news about not only OMB, but other Charlotte breweries as well.
"I think the most important thing is when people come here, they get a feel for the German style bierhall that inspired us in the first place," he says. "And the idea is when they leave, they're inspired to drink our beer somewhere else. When you really get turned on to fresh beer, you may be at a brewery once or twice a month, but you're in a restaurant every week.
"The fact that we've grown to this level while our peers and friends are also growing tells us that Charlotte is nowhere near saturation. This is a market that is thirsty for good local beers. You want something made fresh by someone you know."
Olde Mecklenburg's grand opening festivities begin Friday at 11 a.m. and will continue throughout the day and evening. There will be food, live music and brewery tours. Definitely take time out go on a tour, where Olde Mecklenburg's new equipment (the three huge silos out back which can each hold up to 50,000 pounds of grain is truly a sight) shines.
A full lineup of OMB beer will be featured as well, including Copper, Captain Jack, Southside Weiss, Hornets Nest Hefeweizen, Fruh Bock and Anniversary Alt, among others.
To get a sneak peek of the facility, check out Daniel Hartis at Charlotte Beer.com's Facebook page, where beer photographer extraordinaire Eric Gaddy has some amazing photos.