On #GivingTuesdayCLT, a Bank's Donations Take People Home
Bank of America donates $2.8 million, including grants to relieve housing shortage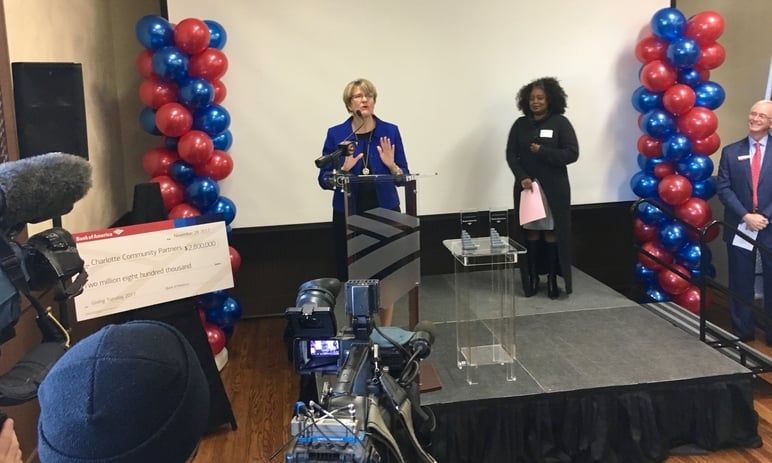 Among the millions donated to Charlotte-area charities for #GivingTuesdayCLT was an unusual no-strings-attached grant from Bank of America to the agency that rescued Linda Mendez and her three children from a literal tight spot.
Mendez, 47, was married to a U.S. Army Special Forces contractor based at Fort Bragg. The marriage fell apart in 2013, and Mendez thought Charlotte might be a place where she and her kids could start afresh in a new city with boundless opportunities. When they moved the next year, she realized she'd failed to account for how opportunities tend to bump up housing prices. Her family's mortgage payment in Fayetteville was about $600 per month. Mendez set a $650 budget for Charlotte and, she said Tuesday, "I couldn't get anything."
Online research led her to the nonprofit Charlotte-Mecklenburg Housing Partnership, which helps build housing for low- and moderate-income families. She spent six months on the partnership's waiting list, paying $860 per month for a one-bedroom apartment off Wendover Road, before she got the call about a three-bedroom unit in a partnership-owned complex off Statesville Avenue, available for $790. Now her children—12- and 10-year-old girls and an 8-year-old boy—have enough space to breathe, and she has enough to work from home as a personal assistant. The Housing Partnership is helping Mendez work toward buying a house.
"If it wasn't for the Housing Partnership, I don't know where we would be," she said a few minutes after Bank of America announced its $2.8 million in donations and grants to 38 Charlotte nonprofits, all of them working on the paramount issue of economic mobility. Included were two grants of $200,000 each to the Housing Partnership and the Men's Shelter of Charlotte. "I think it's great," Mendez said, "that they can help a lot of other people like me."
The two grants came from the bank's Neighborhood Builders program, started in 2004, which helps nonprofits in 44 U.S. cities with grants, leadership development for organization leaders, and connections to peer organizations and potential donors nationwide. The grant money is what's known in the nonprofit world as "flexible funding," meaning recipients can use the money however they want. This is extraordinary for charitable grants, most of which come with stipulations that, for example, the money be spent only on a particular program.
Flexible funding grants make nonprofit leaders quiver with joy. "A lot of people don't know what that means," Charles Bowman, Bank of America's Charlotte market president, said during a news conference Tuesday morning at Grier Heights Community Center. "But for people working in nonprofits …"
"We know what it means," responded Housing Partnership President Julie Porter, standing in the audience and beaming.
The bank has donated before to Charlotte-area organizations that work on economic mobility issues. But this is the first year that Bank of America has directed all of its charitable giving in that direction, said spokeswoman Ferris Morrison. The Housing Partnership and Men's Shelter are organizations with "proven track records of success," Morrison said.
She was speaking just after the news conference, in the heart of a traditionally poor, majority-black neighborhood three miles southeast of uptown. During the conference, a Men's Shelter client named Daymian Thompson related how he'd managed to work his way from a month of homelessness to residency in a three-bedroom rented house that he and his two children moved into on November 10. "I went to the shelter to kind of get my focus back," Thompson said, "because my mind was all over the place."
With the help of the shelter and its director, Liz Clasen-Kelly, he managed to bring it back home. "Hopefully," Thompson said, "everything will work out from here on in."