On Jennifer Roberts's Run For Charlotte Mayor
Is it too early? Or just in time?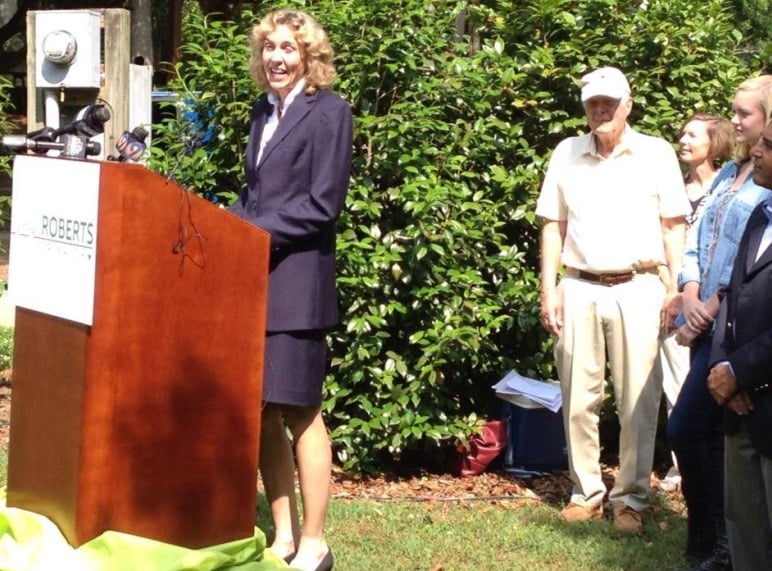 OK, that was quick. Dan Clodfelter's been in office as Charlotte's mayor for all of six weeks, and here comes Jennifer Roberts, from behind a lectern at Freedom Park, announcing her candidacy for next year.
The immediate question comes to mind—and believe me, it already has: Why now? A bit premature, don't you think?
Here was the former Mecklenburg County Board of Commissioners chair's answer this morning: "I believe it's never too early to start a conversation about the best way to move our city forward together." I believe that's Local Politician Boilerplate Sound Bite 17-A, perhaps B; they tend to run together.
The real reason is practical. I got an email a few minutes ago from Dan McCorkle, a veteran Charlotte Democratic strategist and campaign manager who ran City Council members Claire Fallon's and Greg Phipps' campaigns last year. Here was his reaction:
We have a solid Mayor and City Council hard at work right now. For heavens sake let them work. They have 17 months left in their terms and a ton of important, complex issues to handle. Is Jennifer going to be a "shadow mayor" the whole time—that's her plan? That is extreme disrespect. She just got zero votes when she ran for Mayor 8 weeks ago.
That strikes me as its own exercise in gun-jumping. Clodfelter and the voters surely understand he's a short-timer who's already made plain he doesn't intend to run again. And McCorkle's correct in his observation that Roberts received no City Council votes last month, when Clodfelter beat back a campaign by James Mitchell supporters.
Still, anyone who paid attention to the post-Patrick Cannon mini-race for mayor couldn't have missed a groundswell—led by, but not exclusive to, women—for Roberts to win the job. The lack of votes for her by the City Council (I think) represented more the council's desire to pick a replacement for Cannon who wouldn't run in 2015 than a referendum on Roberts' ability or stature in the city.
And who knows? Maybe Clodfelter would be inclined to change his mind eventually, and the longer the field was open, the more inclined he'd be. In the end, it doesn't seem to matter much. Roberts was always going to be a leading candidate, maybe the leading candidate, for Charlotte mayor in 2015. She has a coalition to build and money to raise. Might as well start now.