On Tap: Flatiron Kitchen + Taphouse
Seasonal dishes and local brews are drawing attention at Davidson's Flatiron Kitchen + Taphouse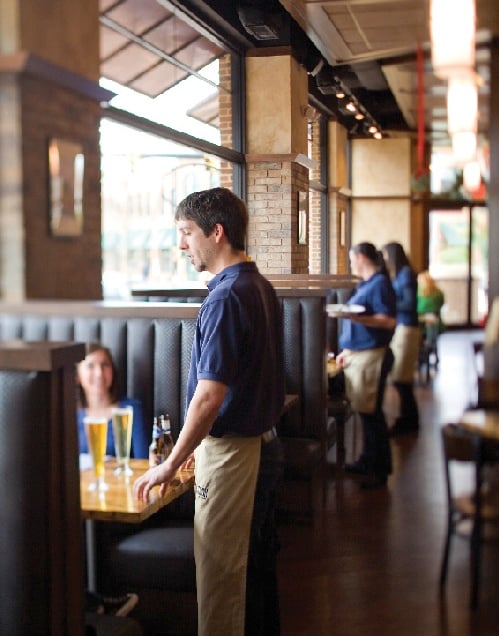 The small town of Davidson is known for its collegiate atmosphere, quaint shops, and equally quaint restaurants; it's all very Mayberry. So when city-slick Flatiron Kitchen + Taphouse opened last summer in the retro Stowe's Corner building, Davidson's restaurant vibe changed ever so slightly from down home to downtown.
Owned by three partners, Chef Tim Groody (previously of Sonoma Restaurant Group) and industry veterans Michael LaVecchia and Chad Hollingsworth, Flatiron is designed for a lively dining experience with seasonally inspired and locally sourced dishes. The restaurant, which has been open for six months, offers a menu that features comfort food with the occasional fine-dining twist. You'll find sandwiches and salads, as well as entrées like wood-smoked cuts of meat (the wagyu, $24, is served tender and full of flavor) and plenty of seafood choices. But Groody's talent really shines through in his creative, small plates. Perfect for sharing at the circular wooden bar in the center of the space, the small plates include deviled eggs done three ways (smoked salmon and caviar, cured foie gras, and fennel and herb, $4.50), an NYC street-cart soft pretzel served with either an aged cheddar fondue or parmesan and garlic ($5), and the Yukon fries with your choice of aged cheddar fondue, garlic mayo, or house ketchup ($6). An added bonus of choosing the small plates is having plenty of appetite left for one of Flatiron's desserts, like the intriguing—and delicious—warm apple cake with Brie ice cream ($6.50).

But it's not just the food that has impressed patrons—it's the vibrant atmosphere, anchored by the open bar with its Taphouse Tower of beers. Brew lovers can go local and try an ale from Asheville, a porter from Farmville, or an IPA from Winston-Salem, or look beyond North Carolina's borders and sample a Bavarian lager or a Belgian dark tripel ale. In all, the tower offers twenty-four draft beers and chills around twenty-six bottled beers.
The menu changes seasonally, which means there will be much to look forward to with warm-weather produce, but with its cozy ambience and charming Main Street location, this is the kind of restaurant perfect for stepping in to grab a brew and a bite on a chilly night.
Flatiron Kitchen + Taphouse
215 S. Main St.
704-237-3246
$$-$$$, L, D, FSB
flatirononmain.com