On the Line: Bruce Moffett, Owner of Moffett Restaurant Group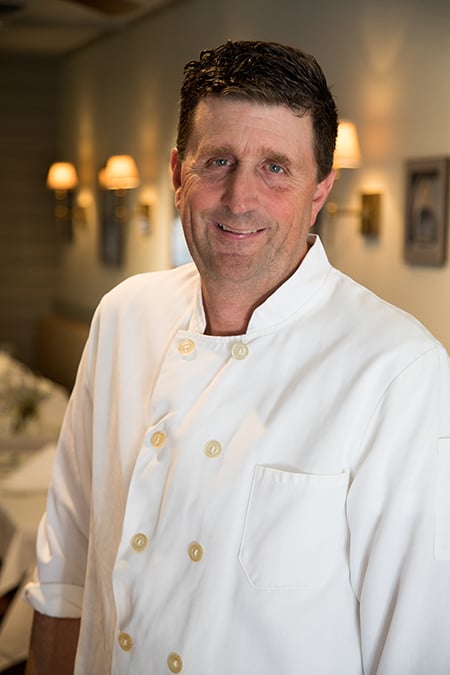 You may know him from: Barrington's, Stagioni, Good Food on Montford
Hometown: Born in D.C.; grew up in Barrington, Rhode Island
Lives in: Barclay Downs
Relationship status: Wife, Katrina; sons Christian, 24, and Daniel, 8
Favorite sports teams: Red Sox, Patriots, Bruins, Celtics. We have such a close relationship with so many of the Panthers players, it's hard to not pull for them.
Where do you eat when you're not at work? I like to do a lot of the ethnic restaurants: Musashi, Doan's. I'll go to Firebirds because I like the blackened steak with a baked potato, but I don't order anything else.
What are you currently reading? Devil in the White City
***
Where did you work before moving to Charlotte?
I was the executive chef of a place called Metropolis Café in Boston, and then before that I worked at L'Espalier, which was a fine dining restaurant in Boston, at that point rated the No. 1 restaurant in Boston. It was multiple courses, that kind of stuff. I had moved there from Atlanta, where I worked at Cherokee Town and Country Club, which was being run by one of the certified master chefs that was an instructor at the culinary institute. It felt like (culinary) graduate school when I was there; that was pretty good. But I had my son here. When I lived in Atlanta, I used to see him every three weeks, then when I moved to Boston it turned into every three or four months.
Is that why you moved down here?
Yeah. That was the big reason.
When did you open your first restaurant, Barrington's?
October 15, 2000.
What did you think of Charlotte when you first moved here?
It was a little daunting. It was just so different from what I was used to, from preparing food to finding an audience that appreciated that kind of food, to (Barrington's) being a little bit hidden from the road. And just adjusting. In Boston, if one of my purveyors messed something up they would fix it. And if I messed something up, they would fix it. Here, I would have things that just didn't get sent to me. They would be like, 'I hate that for you.' And you're like, 'What do you mean?' …I remember getting my seafood orders on a Saturday at 6:25 and having a full dining room and trying to butcher fish at the same time, it was just miserable. The purveyors at the time gave you whatever they felt like giving you whenever they felt like giving it. There weren't enough small restaurants; they just didn't really think you were worth their time and energy.
That must have changed at some point, because you decided to open Good Food on Montford.
It started to evolve. I opened Good Food after eight years of doing this… kind of early on, I hooked up with Tim Groody (chef/owner of Fork!), and he really showed me what was going on at the farmers' markets and all that stuff, and at that time he was one of the few people in Charlotte that was utilizing the farmers' market. He told me about Matthews. I found Yorkmont all on my own, but he told me which purveyors at the Yorkmont Road were the ones that were growing their own vegetables and doing their own thing, stuff like that. He kind of educated me.
How long after Good Food did you open Stagioni?
Four or five years.
Why did you decide it was the right time?
It feels like every four years I get the itch. Every four years, I'm like, 'Eh, it's maybe time to add something on.' I just some customers that came in, and they owned a furniture store where RuRu's is. They were like, 'We want to get rid of the furniture store, we'd love to have a restaurant there, why don't you come look at the space?' I looked at the space and it was too big, and then the guy that owned the clothing store next door was leaving and he said, 'Well, what do you think of this space?' I really liked the space. I thought it would be fun to do an Italian restaurant there, and it just felt so historical and intimate.
Stagioni opened four years ago, and it's about the time for you to get the itch again. What will your next concept be?
It'd be fried chicken, North Carolina fried chicken house meets Rhode Island shore restaurant. Fried chicken, lobster rolls, stuffed quahog, we did a whole menu: biscuits, field peas, collards, stuffed quahogs, clam strips, steamers if we could find them. Stuff like that, so kind of have stuff from both worlds.
Why do you always cook out of the kitchen at Barrington's?
It's my safe spot. I just like it. Originally, my goal was always I didn't want to work with a ton of people, it was always to run my own 40-seat restaurant. It's very comfortable for me, and I wanted Larry (Schreiber, chef at Good Food) to grow and I wanted Kerry (Moffett, former chef at Stagioni) to grow. I felt like it was their turn to generate menus and have to deal with staffing issues and all that goes with running a restaurant. It felt like it was their turn to take on those responsibilities… I've always tried to hire mature, responsible people and not micro manage them. I worked with Drew (Dodd) when he took over Stagioni for two-and-a-half or three months, and once I felt like he understood the type of food I wanted to produce and how I wanted to produce it, I just kind of backed off a little bit and let him run it. When he has questions or I think he's heading in a direction I don't want, then I'll circle back and try and do it in the nicest way possible but make sure the restaurant is run the way I want it to be run.
How do you maintain a good balance of work and family with three restaurants?
I wouldn't say I have a good balance. I think being closed on Sundays is very helpful, only being open for dinner has been very helpful so that on Saturday morning I can hang out with (Daniel) and I usually take one night a week off. I don't know, that's the one thing I really struggle with is that I don't really feel like I spend a ton a lot of them with them. … a lot of times, Katrina and I seem to run parallel lives. It's hard.
How many concepts do you want? When will you stop?
Every time I open one I think I'll stop. I think I'm getting towards that. I'm getting to that point where I'm ready to stop. One of the things I always thought I would like to do is when I get ready to stop, to sell the restaurant to whoever's been running it, have them buy me out over a period of time and keep a small percentage of it so I have a little bit of income coming in still. And then maintain maybe a 10 or 15 percent of profit or something. It would be nice to have four or five restaurants to do that with and have a little retirement plan. That's the one thing that's a little scary about restaurants.
Do you think Charlotte will win a James Beard Award in the near future?
An award? No. Maybe a finalist though, maybe Joe (Kindred) will become a finalist eventually. I kind of gave up on it. … I've always identified it as a bucket list—the one thing I have absolutely no control over that I wouldn't mind if it happened. I got myself so built up after I got the first nomination, every year I didn't get one subsequently it just beat me up a little bit and made me sad. When Joe got it and Paul got it and I still didn't get anything, then at that point I decided maybe I should stop going on social media and comparing myself to them. I'm hoping if I tell myself this enough I'll actually believe it, but at the end of the day, I have three successful restaurants, I have worked with great people over the years, I have a nice family, I figured out how to do this and make a very good living while I'm doing it, which not a lot of people can say. If I don't get a James Beard Award or any other recognition, I got the opportunity to make a living something that I really enjoy and there are not a lot of people that can say that.