On The Line: Chef Gene Briggs of Legion Brewing
The executive chef turned SouthPark's first craft brewery into a food destination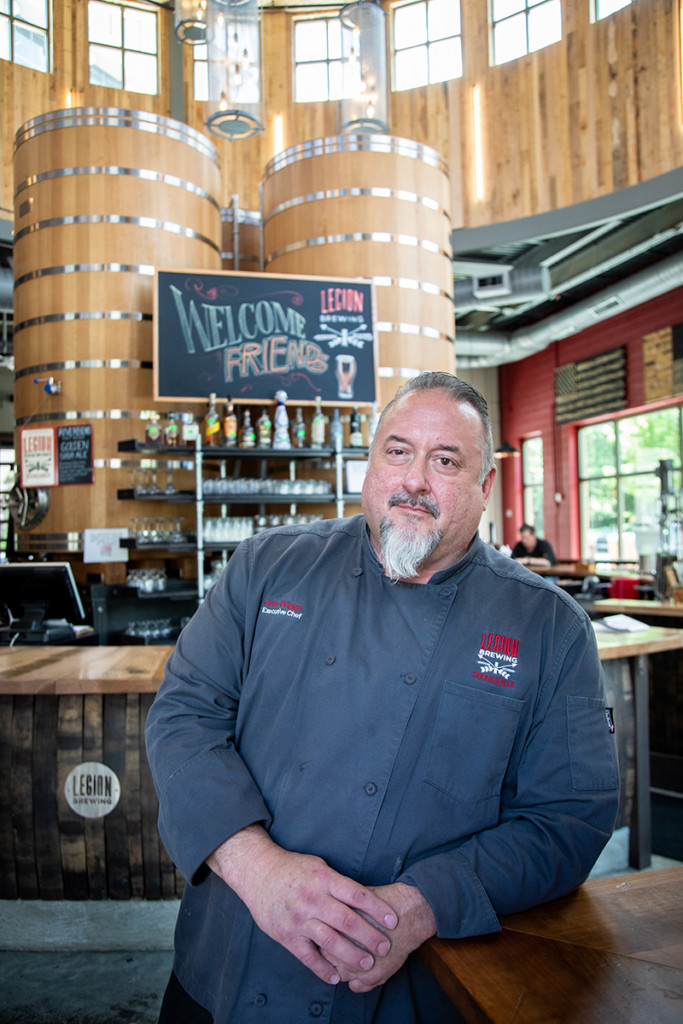 You may know him from: Blue Restaurant & Bar, where he was executive chef for 14 years
Age: 55
Relationship status: Married with three daughters, ages 17, 19, and 23
Hometown: Binghamton, New York
Pets: None, but I'm a big dog lover
Currently lives: Davis Lake
Favorite sports team: New York Giants
What ingredient do you always have on hand? Pork. Always. I love cooking with pork, because it has that deep, rich flavor. I have a new pork belly gyro on the menu.
Any culinary trends you're watching? Fermentation. It's a very cool way to get those flavors to pop even more. When you do it right, it's incredible.
Any trends you're completely over? I was over pumpkin spice before it started. And I might catch some flak for this, but I'm over avocados. It's a buzzword now. I do love them, but they're twice as expensive now, because they're in such demand.
What do you like to do outside of the kitchen? I've been powerlifting for the last five or six years. I've always been in the gym, but now I'm the strongest I've ever been in my life. Hopefully, I'll start competing soon.
What's your favorite local restaurant other than your own? When I'm not working, I just want simple stuff like a burger, pizza, or the fried chicken at Publix. I don't want fancy stuff when I eat out.
Wine or beer? Both. I know I should say beer, but I love great wine, too. The beer we do here pairs with food just as well as wine.
Any other local chefs you look up to? I've been doing this so long that most chefs I've looked up to are dead. Now, it's more respect for what they're doing. (Bruce) Moffett and I started coming up in this town at the same time. Moffett and (Joe) Kindred are as good as anyone out there. Paul Verica is doing an incredible job, too. I know a lot of these guys personally, and they're all really good guys and good at what they do.
What are you most looking forward to in this role at Legion Brewing?
I want to keep this place growing. We opened in October, and we still have giant waits on weekends. We haven't seen the full potential of what this place can do. At first, we sold a lot of burgers and chicken sandwiches, but now everything across the board is selling well, so I want to refine the menu. There's always going to be things we keep, but you'll never get bored here. At least 50 percent of the dishes here have beer somewhere in them.
Any rules to live by in the kitchen? A big rule in this kitchen—or any kitchen I've been in—is that nothing is ever 'just good enough.' It's got to be perfect every single time.
(Interview has been edited for clarity and length.)