On the Line: Chef Laurent Tourondel of BLT Steak
Get to know the spot's consulting chef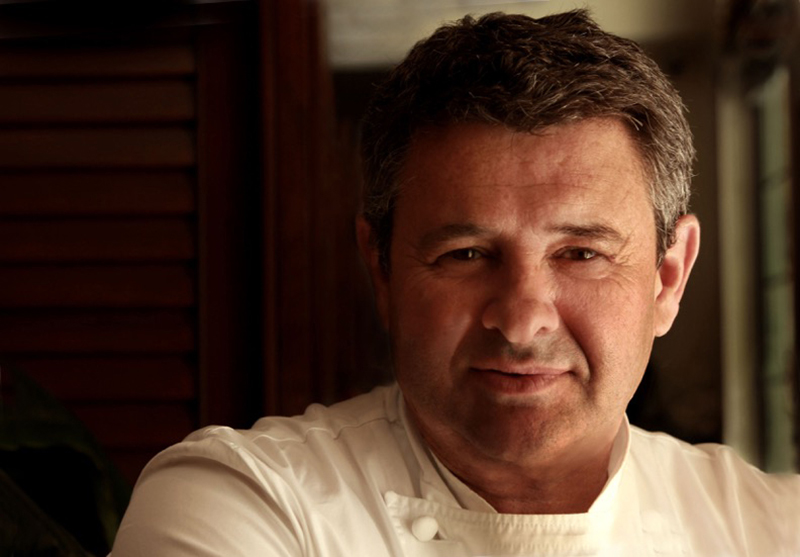 You might know him from: BLT restaurants, shortened from Bistro Laurent Tourondel
Hometown: Montlucon, France
Favorite sports teams: I don't follow sports
Relationship/family status: One daughter
Pets: None, but I'm big dog lover
Favorite restaurant in Charlotte (besides your own): Stagioni
Chef inspirations: Claude Troisgros
Currently reading: I have a stack of magazines at all times (Bon Appétit, Food & Wine, Saveur, New York)
How often do you visit Charlotte?
I try to come twice a year. I storm around everything … Just kidding. I make sure the standards are followed. For example, we did two dishes today for brunch, we [are open] for brunch on Saturday now, so we have Saturday and Sunday brunch. You know, basically maintenance. I also try to work with the chef on new seasonal blackboard (dishes).
What was Charlotte like the first time you came here compared to now?
I think it was less restaurants, and less sophisticated restaurants. I feel like Charlotte grows in terms of food, you know? Some of the people who work here, they went to work somewhere else, and there are different chefs that came in. The scene is definitely better than what it used to be. More sophisticated, I feel. We've done more on the blackboard special, where we try to keep some more seasonal products.
Are there more things you feel like you can serve now that you couldn't when you first opened?
Some of the special board, yeah, is more adventurous. Like the lamb bacon, for example, and some of the Parisian gnocchi. More inventive food.
There's a trend in the restaurant industry to offer employees more traditional benefits and salaries. What do you think of that?
I think offering something to your employees is definitely a good thing. Health care is important. We have this thing going on in New York right now where people in the front of the house, they don't get tips anymore. They are paid by a salary. The prices are higher in the dining room. I'm not a believer on that. I'm not a believer, because I grew up in Europe and (in) Europe, it's the way it works. You pay an employee a salary, so there is not any incentive of service, because it doesn't matter if he serves 10 people or 100 people, he's going to give the same service. And it's not necessarily a good service. I think the way the tips structure is done in the U.S. is brilliant, because it actually gives the opportunity of wait staff to make more money because of better service. If I give you $100 if you do something, or $100 if you do nothing, which one do you take?
Have you found that having someone like you as a mentor is a big draw when hiring chefs?
Honestly, I've never analyzed it—I've never asked myself this, but yeah, I think some people learn a lot from me. Some actually are very successful on their own now. Very.
When a new chef is hired, how hands-on are you in the hiring process?
It's always challenging. You have to be very involved, because it can go down right away. So it's a big process, actually.
What plans do you have to make BLT grow?
I try to make holidays bigger than they are. Easter, we make it very Easter—we create specials, we do chocolate eggs, we do different things to make sure people understand they're coming to the restaurant for a special event and not just for a restaurant. If the marketing is done well, I think they'll come and join restaurants. Some people don't cook for Easter.
Do you think you'll ever open another concept here?
Why not? We looked at it a couple of years ago, and it was not the right fit, but why not? I like Charlotte. It's a beautiful, beautiful city, I think.
What should people order at BLT Steak?
The New York strip steak, 16 ounce. It's very, very good. I'm so French, my ideal dish would be steak au poivre with French fries. Get the sauce, the peppercorn sauce.