On the Line: Chef Mike Suppa
Executive Chef, Charlotte Douglas Airport, with HMS Host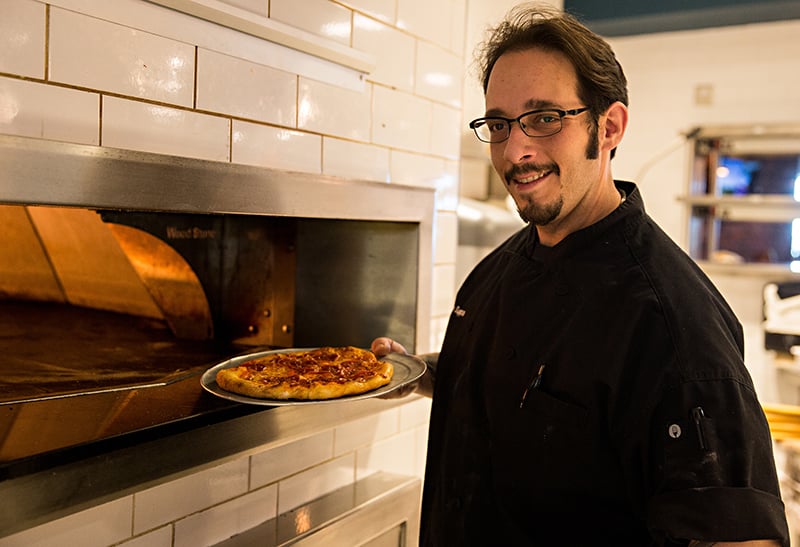 You may know him from: Vivace, Sheraton
Le Meridien
Hometown: Bayonne, New Jersey
Lives in: Mint Hill
Relationship status: Wife, Barbara; two kids, Salvatore and Willow Rae
Pets: Cats, Kiki and Charlie
Sports teams: New York Giants, New Jersey Devils, New York Yankees
Favorite place to eat: Home
Are there any chefs you like to follow?
I like to keep my ears open as to what's going on nationally, but try not to get too caught up in it. We definitely watch trends, who's hot. I like to watch the New York market, because I grew up there and because that's where all of my early chef training happened. I worked in New York from 2001 to 2012.
Were you working in New York on 9/11?
I was working in Jersey at the time, on the waterfront right across from downtown Manhattan that morning. It was weird, because we had a big, open parking lot—our guest parking was behind the restaurant. We had a full view of lower Manhattan. One of the bartenders or servers, as they came in that morning, was like, "There's something going on at the World Trade. There's smoke coming out of one of the towers." Everybody was in and out the back door every 20-30 minutes, eyeing it, like what's going on? We had the news up on the TV. And then it was just, watching it from across the river develop throughout the day. The company that I was working for at the time also operated the New York Waterway. We were right off one of the landings. They were ferrying people out of Lower Manhattan, and we saw everybody coming out of Lower Manhattan, covered head to toe in dust, and we pretty much opened the restaurant up as a landing point for the day.
Wow. Do you ever miss working in New York?
I miss the super competitive and driven environment that exists in New York, definitely. I do feel like it's so saturated and there's just so much going on. The move to the South for me, I felt I had an opportunity to develop myself as a leader in a kitchen. When I came down here, it was specifically to work for (HMS) Host (at Charlotte Douglas) and work in a different environment where I can do what I love, but still balance my family time, too. Family time, especially when you do this for a living, is important. It can be hard to come by.
You moved back into restaurants when you took a job at Vivace. Why did you decide to give that balance up?
It's where and how I grew up in the industry. It's exciting to be on the line. There's a sense of accomplishment when you get through a busy service and everything clicks. The Vivace concept I really, really enjoyed—it was similar to a lot of things I had done in the past, being from the (chef) Todd English world, and leading a big, open kitchen, Italian-Mediterranean concept.
How do you see Charlotte's future as a food town? Do you think we're getting closer to recognition?
I think we'll get there. I think that there's been a big push from a lot of Charlotte's local chefs, guys that have been in town for a long time, that are really starting to push what they can do.
Let's talk about what you do now at the airport—what are your day-to-day responsibilities?
Most of what I do overall is culinary oversight of this property day to day. So I'll work with our cooks, store managers, and we have a few higher-end culinary positions. … We're lucky enough to be able to have a restaurant chef on this property specifically for 1897 Market.
Why do you think there's a trend toward untraditional airport dining, such as 1897 Market?
I think the need comes from people being more educated about food, about nutrition, about where their products are coming from. And just being able to provide an upgraded product and experience for them, because they do care where their vegetables and produce are coming from, they do care what kind of seafood they might be getting.
What do you see as the future for the airport's dining options?
Most of what our culinary arm is involved in is development of the Host brand—like the 1897 Market, for example—that's where the most progress and biggest change is going to come from, as far as the types of things of preparations we have, the types of things we're serving. We have an almost completely from-scratch pizza concept called PZA down in E concourse. The dough's made fresh daily, the toppings are prepped fresh daily. It's a little bit more work, but once the recipes are in place and the systems are in place, it's not different than operating a pizza concept street-side.
What's one dish at the airport you think shows what you're trying to do there?
Everyone should definitely experience (1897) Market. It's so varied. I love the fresh pizza concept we do out of there. Everybody travels different ways and for different reasons. That would definitely be my recommendation. Because you can take all of the things the market has to offer, even just grabbing something quick. You're walking through, you're watching them make the pizza right in front of you, fire yours, and it goes right into the oven.