On the Line: Doc Porter's Distillery
Could the passing of SB 290 turn distilleries into the new breweries?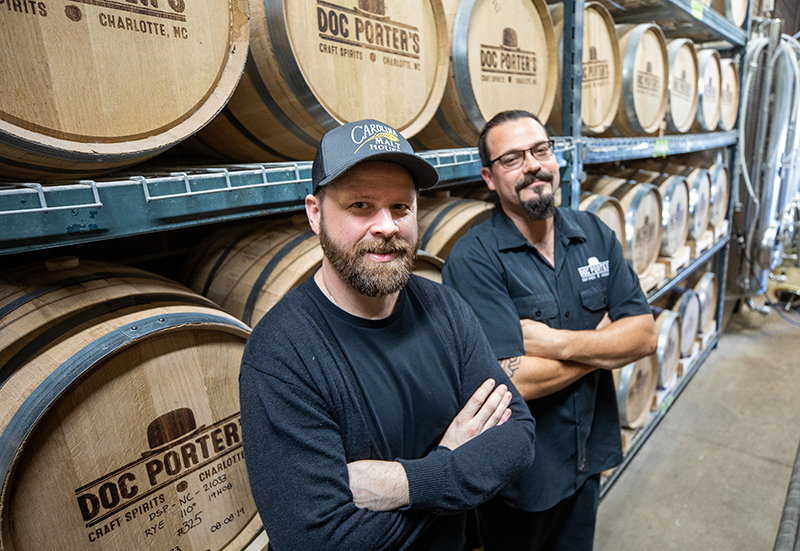 Senate Bill 290, the Alcoholic Beverage Control Regulatory Reform Bill that took effect in September, changes the rules for North Carolina distilleries. Businesses like Doc Porter's can now sell beer, wine, and mixed drinks on-site; serve up to four quarter-ounce liquor samples per customer per day instead of one; and sell their products without a tour. For Jason Harris and Chris Ritenour, more big changes are brewing, starting with a new, larger space for a bar and tasting room.
Jason Harris, sales, marketing,  "jack-of-all-trades"
Age: 43
Relationship status: Married, one dog
Hometown: Greensboro
Currently lives: Sedgefield
Favorite cocktail: Sazerac
Chris Ritenour, head distiller
Age: 37
Relationship status: Married with a one-year-old daughter
Hometown: Orange County, California
Currently lives: North Charlotte
Favorite cocktail: A Last Word (an old-fashioned cocktail that's equal parts gin, chartreuse, maraschino liqueur, and lime juice)
What would people be surprised to know about the distilling process?
CR: It's an intersection of science, history, and art. It's very science-based, so there's not much room for deviation. And you're interacting with bacteria constantly.
What are your thoughts on Senate Bill 290?
JH: This was long overdue. For us, it's a game-changer. At its base, it's about equality: Breweries have been able to produce 25,000 barrels before they have to partner with a national distributor, and they can sell (alcohol) at a brewery and ship it to the customer. We were limited in every facet of our business.
How will SB 290 change your business model?
JH: It could change our whole footprint. We're currently in two states, and we could branch out to 10 or 12. Then there's the X-factor—how many distilleries will come to North Carolina now that the laws have changed?
CR: We're looking for a new home, and we'll hire more people because the law allows us to open a bar if we want to.
What's on your wish list as you hunt for a new space?
CR: We'd like to stay in lower South End; we're proactively searching for a new home now. We'll move within a year, by late summer or early fall 2020. We'd like an outdoor space for live music, a kitchen to serve light foods like charcuterie plates and paninis. Maybe a cocktail garden, like a biergarten. We're hopeful that distilleries in North Carolina will be the new destination, like what breweries are now.
Any new or original spirits in the works at Doc Porter's?
JH: That's the fun part. We have a single malt whiskey coming out this winter. We recently partnered with Lenny Boy and came out with a strawberry kombucha, and we have other collaborations with Sugar Creek and Wooden Robot. We're not sure when those will come out, but they're all aging right now, so probably 2020, maybe even early 2021.
What changes are you most excited to execute?
CR: Now we can demonstrate what can be done with our spirits. If we say, 'Try this drink,' and they ask what's in it, they can take a recipe card. Or they can sip a cocktail while they take a tour. It's sipping cocktails and sharing the culture.