On the Line: Greg Williams and Jamie Barnes of What The Fries
They met as roommates 16 years ago at Johnson & Wales University and serve Charlotte's best loaded fries from their food truck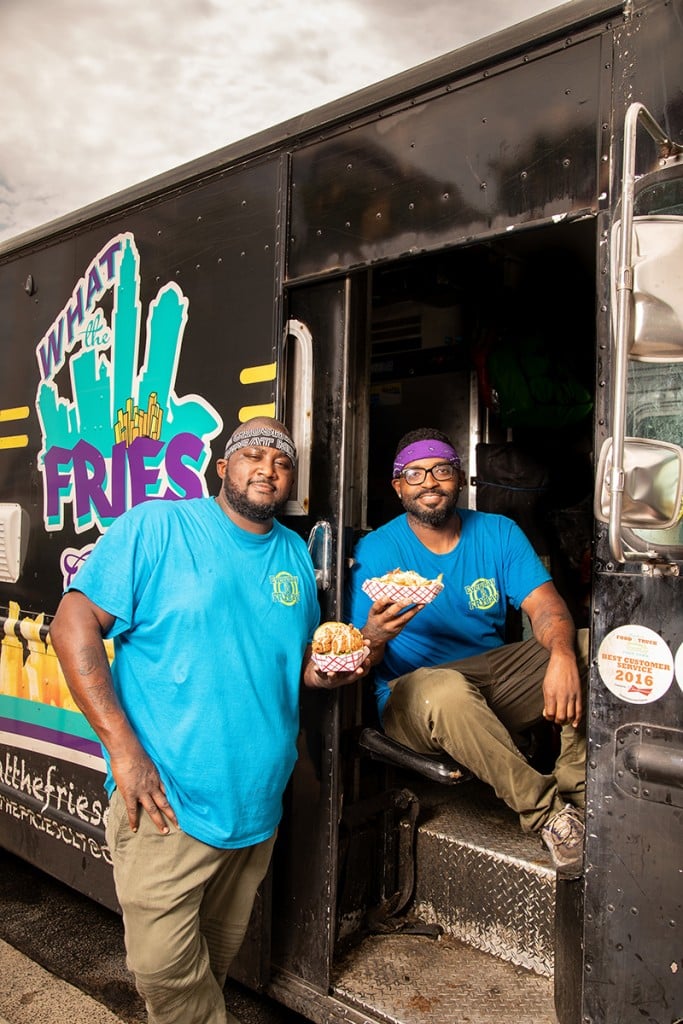 Greg Williams
Age: 34
Family status: Single with a 2-year-old daughter, Gabby
Hometown: Columbia, S.C.
Currently lives: Fort Mill
Favorite sports team: Dallas Cowboys
Why are fries such a good foundation for a meal? You can do so much with them. Everybody loves fries, so you can't go wrong.
How long was What The Fries a dream, and why did you put your business on wheels? Six years ago, we started talking about it after we tried a Food Network show that didn't work out. We did catering for a while. It took a year to get the truck, so we've had the truck about five years now. We finally hit our stride over the last two years.
What's been your biggest kitchen fail? The goat fritters we tried when we first started weren't a big winner. People weren't really ready for that (laughs). We tried banana ketchup, but we didn't keep that one around either.
What's one ingredient you always have on hand in your kitchen? Shrimp, always, and Yum-Yum sauce (a secret sauce also available by the bottle). We make about four or five gallons a week.
What's one dish you nail every single time? Hibachi fries or the steak-and-shrimp are just like clockwork now.
What shoes do you wear in the kitchen? Air Max.
What's your favorite restaurant in Charlotte? Leah & Louise.
What's your favorite adult beverage? Jack Daniel's, straight.
What's next for the What the Fries? We're scouting locations for a brick-and-mortar location right now, so we're hoping to have a permanent spot soon. It'll be called What The Fries, too, and we'll still have the food truck. It'll be the same concept, but a little bit more, like milkshakes, maybe more seafood, and some local beers.
---
Jamie Barnes
Age: 39
Family status: Wife, Alicia; 9-year-old daughter, Lily; 6-year-old son, Levi
Hometown: Newport News, Virginia
Currently lives: Lake Wylie
Favorite sports team: Kansas City Chiefs
Why do food trucks remain so popular? A lot of food trucks have more leeway to be creative. We can change our menus a lot, sometimes daily, and we have a lot of open space to do a lot of different things.
How do you come up with your food combinations? We're both fans of hibachi restaurants and Asian dishes. So we substitute out rice with fries and put our own twist on it with the Yum-Yum sauce.
What's your most popular fry dish? The steak-and-shrimp hibachi fries, followed by lobster mac and cheese.
Any happy accidents that made it on the menu? The bread pudding tots. We had a lot of bread left over from an event, so we made blueberry bread pudding, and it sold out, so we've been doing it ever since. Now we change it every week.
What's your favorite thing to cook? Seafood. I love searing fish and scallops.
What shoes do you wear in the kitchen? Birkenstocks, my kitchen slip-ons.
What's the hardest part about running a food truck versus a restaurant? It's a lot, man. Loading up the truck every day, traveling with the food, being on time, worrying about the maintenance of the truck. As summer rolls around, there's the heat element in the truck, too, with the space confinements. At any time, there's three or four of us in a 10-foot space.
What's your favorite restaurant in Charlotte? Uptown Yolk. It's great every time. 
What's your favorite adult beverage? A whiskey sour.
What's your guiltiest pleasure? Taco Bell.