On The Line: Move That Dough Baking Co. Owner Kacie Smagacz
She loves to mix it up with vegan and gluten-free treats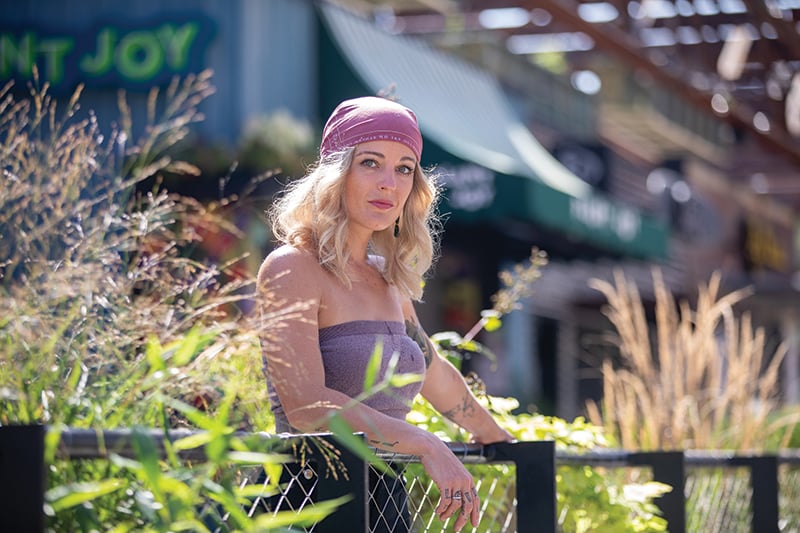 Age: 33
You might know her from: Common Market Oakwold, where she runs a pop-up bakery on weekends; and Common Market South End, Plant Joy, The Hobbyist, Green Brothers Juice Co., Press & Porter, Bart's Mart, and Queen City Grounds, all of which sell her treats.
Family status: Mom to a 3-year-old daughter
Hometown: Omaha, Nebraska
Currently lives: Oakwold
Currently reading: Divergent Mind: Thriving in a World That Wasn't Designed for You by Jenara Nerenberg
What inspired you to launch a vegan bakery?
I studied holistic nutrition and saw a lot of kids and adults developing allergies to wheat, soy, eggs, and dairy. I was also allergic to dairy as a kid. So I wanted to meet the needs of this growing community of people who don't feel like they had options anywhere.
Tell me about your menu. Every week it's different. The more I learn about the ADHD brain, the more it matters that I love what I'm doing. That's why I change my menu every weekend. But people get mad when I don't have cinnamon rolls or blueberry doughnuts, so I usually have those.
What's the story behind the name Move That Dough? It started as a mobile bakery, so I wanted people to know it was a mobile concept.
Where do you bake? I rent kitchen space at Common Market Oakwold. I've found this concept of sharing space in bigger cities, so I've always approached other businesses to work together and make that happen.
Was there a steep learning curve to vegan and gluten-free baking? There are already so many substitutes for vegan recipes, but with gluten-free, it's harder because you're working with different proteins and fats. So it's a lot of trial and error, and a lot of throwing ingredients away if a recipe doesn't work out. The biggest challenge with gluten-free is getting the texture right. It's more scientific and complicated.
Dessert for breakfast: hard no or hell, yes? Hell, yes, but I'm also a big fan of nachos for breakfast. I say do what you want when you want.
What do you think is an underappreciated flavor? Vanilla or maple. I have a braided yeast doughnut topped with crackly vanilla glaze, and it's probably my favorite thing on the menu.
What's the most creative dessert you've made? Anything involving something savory, like a basil-and-berry doughnut. You don't see a lot of herbs used in baked goods.
What's your favorite thing to cook? Nachos, but I make them interesting with toppings like sauerkraut and hempé.
What's your favorite adult beverage? I like gin because it's made from herbs instead of corn and wheat, so a gin and tonic.
Is there one recipe you'd still love to master? A gluten-free yeast doughnut. Like a fluffy Krispy Kreme doughnut but without gluten.
What's the most surprising thing about you? I study human behavior, and as an ADHD adult, I'm a huge advocate for neurodivergent people. I know a lot of ADHD kids who think they can't own a business or use their talent to make money, and I want to show them they can. That's my heartbeat right now.
Any rules to live by in the kitchen? Slow down. People are always in a rush in the kitchen.
THE TOUGH STUFF
Chocolate or cheese? Chocolate
Coffee or tea? Coffee
Beer or wine? Beer
Cake or pie? Cake
Doughnut or muffin? Doughnut
Red velvet or funfetti? Red velvet
Crunchy topping or sweet drizzle? Crunchy topping
Ice cream or hot chocolate? Ice cream
Sugar Rush or The Great British Baking Show? The Great British Baking Show
Street eats or sit-down? Street eats
Facebook or Instagram? Instagram