On the Line with Flipside's Chef Amy Fortes
Meet the owner/head chef of Flipside Cafe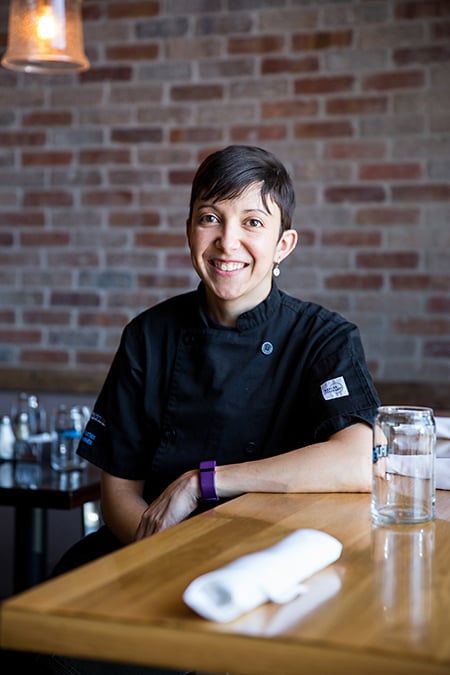 Best Known for: Flipside Cafe, Flipside Restaurant, Flipside Catering, Flipside's Corner Grind
Hometown: Buffalo, New York
Neighborhood: Fort Mill, South Carolina
Relationship Status: Married (Jon), two stepsons (Brennan and Dylan), daughter (Olive)
Favorite Sports Teams: Married into a Patriots family, but remains a Buffalo Bills fan at heart
Favorite Place to Eat: Ru Sans, Little Village Grille, Viva Chicken, Midwood Smokehouse
You were voted one of South Carolina's chef ambassadors this year. What was that like?
I didn't think I was well-known. Jon, my husband, is a little more well-known, being that he was the corporate chef of Harper's before we opened our own place, and he was the exec (chef) of Mimosa (Grill). So, it was a big surprise that I was on the radar. To know that you're nominated for this, and that people from your community and from surrounding communities nominated you for it, and that then-Governor Nikki Haley has the final decision on it, and that I was one of the people that she chose to represent South Carolina, it was a huge honor.
What do you think is the significance of connecting with our food and the farmers who grow it?
The restaurant industry is hard—especially owning your own place. It's not just a career anymore. It's your life, it's your well-being, it's how you put food on the table for your kids. And farming is very similar in that sense: You dedicate your blood, sweat, and tears to it.
Have you had to overcome any unanti­cipated obstacles to be both mom and a chef?
I haven't had as much time in the kitchen as I did before, which is totally fine because I'm still playing as much of a part in us owning a restaurant as I did before. I work front-of-house, I still do payroll, and all the books. We laugh about it, because (16-month-old) Olive is just as much a restaurateur as I am, because she's going to the store, and between restaurants, she's right there with me.
If it were up to your kids, what would they eat every night for dinner?
Pizza, mac-and-cheese, or tacos. Easily.
As a parent and as a chef, what's the best way to fancify kid foods such as pizza or tacos?
Instead of chicken nuggets, we started making the boys chicken alfredo with grilled chicken when they were young. That's actually become their favorite dish that they get from our restaurant. We usually sneak broccoli into that, because you can get away with covering green veggies with yummy, cheesy sauce. As for the tacos, we try and incorporate as many fresh ingredients as possible. Jon will make homemade salsa most of the time, and it makes a difference in the flavor.
It sounds as though your roles at the cafe, the restaurant, and the catering business vary. Have they broadened your perspective as a chef?
Getting into the café, I learned what it was to be a business owner. Jon had left Mimosa (Grill) at that point, and we didn't have any managers; the cooks were the managers, and we were short-staffed. And so I would go in there at 6 a.m. and open the kitchen, serve anybody that came in there for breakfast. I would take their order, ring it in, cook it, serve it, clear it, do the dishes, you know.
Where did the name Flipside come from?
I sarcastically used to say, "I'll see you on the flip side!" all the time to people. One night, we went to Duckworth's to have a pint together, and Jon ordered Sierra Nevada seasonal and it came out the Flipside Red IPA. We just kinda looked at each other and said, "Well, there it is!"
You used to be a trauma surgeon student, but later switched career paths after you developed a respect for the culinary world. Can you describe that experience?
When I went into the medical field, I was following my mother's footsteps. She runs a maternity ward. I wanted to be like her. … When I got to college, I did all of the bios, the math and science, and blah blah blah, and I started getting into the gen-ed classes, and I realized, I'm Italian. I am an emotional person and I am not going to do well with this. … I got out of school for a semester and I was living at home with my folks, and my dad said, "You need to work two jobs or you're out of here." He was being tough, but I'm glad for it. I started working at a restaurant around the corner. Being in that little mom-and-pop family Italian place—it was called Braccetto's— with all the camaraderie, it's kinda like war. It is a hard job and it's stressful, and it can be toxic sometimes. But going into battle every night, especially if you're on the sauté line and making sure that you got all your ducks in a row, and all your food prepped, knowing that you're about to get the same thing as being a doctor, you are about to have a huge mess. How are you going to get through it?
What's one food that's making a comeback?
Brussels sprouts have been a huge day player on our menu since we've opened. We fry them and then we do bacon bits and balsamic with them. There are people that come in that say, "I don't eat brussels sprouts; I've never eaten them my whole life," and I'm like "Sir, if you try them for me, you can tell me you hate them or you can tell me you love them."
What's your go-to comfort food?
If nothing else (in) the entire world sounds good, I make French toast. Sometimes I make a savory French toast with a loaf of rosemary olive oil bread, and I'll use that instead of syrup and cinnamon. Or, anything with bacon will make me happy.
What's one ingredient that's always stocked in your kitchen, either at work or at home?
Butter and eggs. Butter to flavor, and eggs, I mean, you can't bake without them. Butter and eggs for sure.