On The Line With Ken Aponte, ALCHEMY'S Head Chef
He never serves the same meal twice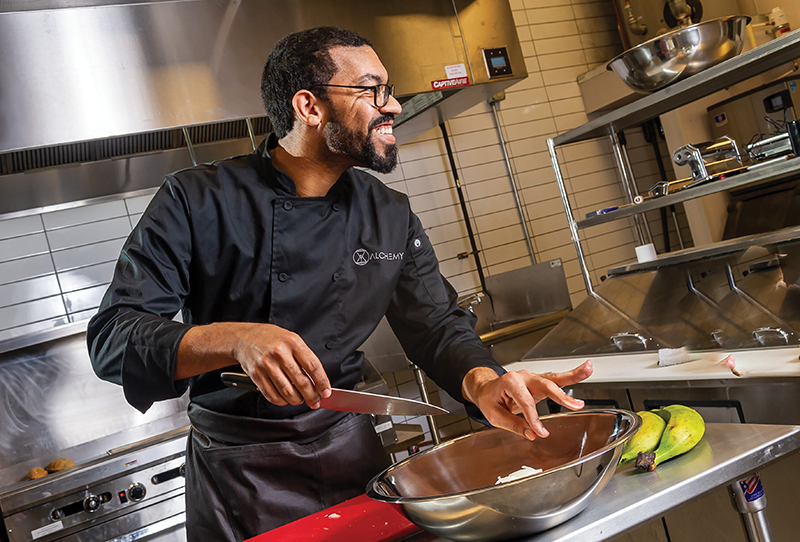 Where does your love of cooking come from? The science behind it. I've never been obsessed with eating food—I don't have a primal attraction to food like you'd think a chef would. I'm curious about the technique used to develop a flavor. What happens when fire touches food and changes its composition?
Tell me about your approach to cooking. I know this isn't a popular answer, but I don't necessarily believe in farm-to-fork. I don't believe the orange tree in my backyard produces the best oranges you've ever had. The best oranges in the world come from Florida. Just because it's local doesn't mean it's the best. If I can find it better somewhere else, that's what I'm going to serve you.
How would you describe the dining experience at ALCHEMY? Our dining room is gorgeous; there are sculptures and a huge glass window that looks out at the art gallery. I don't know too many art galleries you can eat in. The music is cool, lounge-y, and relaxing, not elevator music you'd hear at Applebee's. It'll never be the same experience twice, and I thrive on that.
Tell me about developing a plant-forward menu. We say we're plant-focused because we want to let people with dietary restrictions know that they're not an afterthought when they eat here. Everyone has an allergy or dietary restriction in 2021. It shouldn't be an ordeal if someone can't have onions. We also serve steak, burgers, poultry, and fish. A lot of things on the menu are vegan, but people don't know they're vegan because they're just good.
What's your favorite meal to cook? I get really bored cooking same thing over and over. The thing I haven't made yet is my favorite thing to make.
What do you think is an underappreciated flavor? Bitter. I eat things that are bitter on purpose to remind myself this is a taste than can be utilized.
What's the most creative dish you've ever made? I have a wine dinner coming up; it's during a gallery exhibition. I'm making a dessert where the paints, canvas, and easel will all be food. I use fondant paper for the canvas, and the easels I make out of chocolate. (The guests) get to paint whatever they want.
What do you eat at home? I eat homestyle food like rice and beans. I try to keep the flash at the restaurant.
What's one chain restaurant you're not ashamed to admit you love? Taco Bell. I think chains are fantastic. That's why they're chains. They all do something very well.
What's your favorite adult beverage? Beer. I'm an IPA drinker.
Any foods you won't touch? I don't like eggs. I can't get over the smell, taste, or texture.
What do you like to do outside of work? I'm a big kid inside. I paint. I play board games. I cycle. Hockey is my favorite sport; I've always wanted to join a league. I try to get my hands in everything.
Any rules to live by in the kitchen? It's hospitality, so let's make people feel special.
THE TOUGH STUFF
Chocolate or cheese?
Chocolate
Coffee or tea?
Coffee
Beer or wine?
Beer
Spaghetti and meatballs or spicy noodles?
Spaghetti
Lobster roll or egg roll?
Egg roll
Comedy or drama?
Comedy
More money or more free time?
More time
Street eats or sit-down?
Street eats
Facebook or Instagram?
Instagram