On The Line with Laney Jahkel-Parrish of 300 East
New pastry chef adds whimsy and nostalgia to the dessert program developed by her "pastry goddess" Ashley Bivens Boyd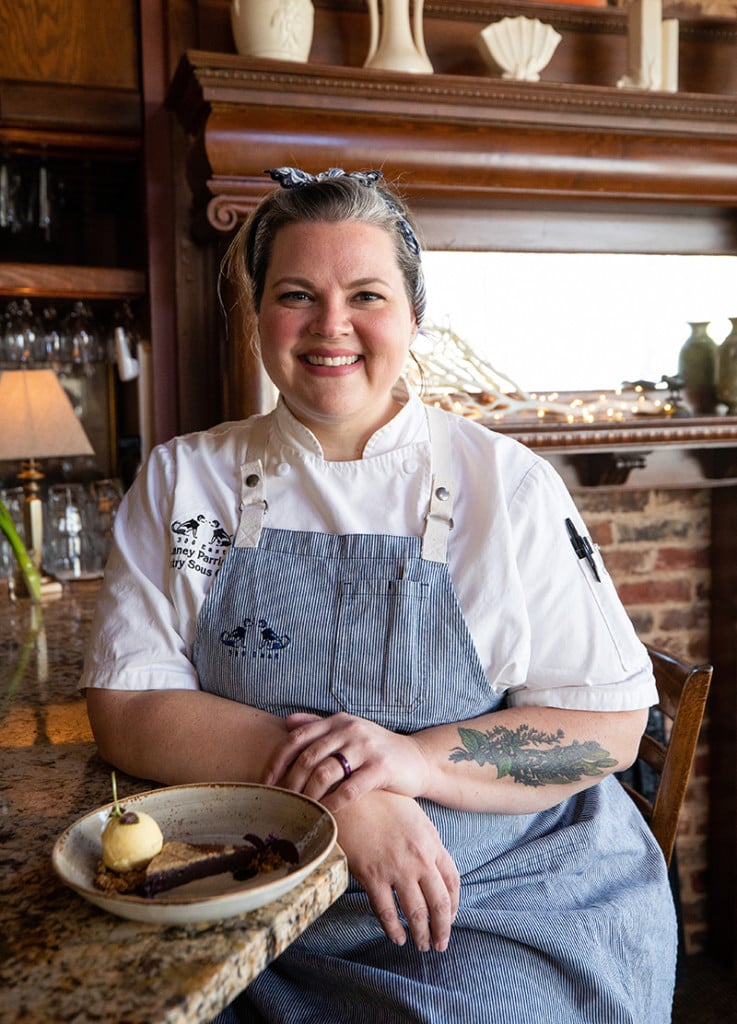 Age: 41
Relationship status: Married to husband Ben, mom to three cats
Hometown: Pensacola, Florida
Currently lives: University City
Favorite sports team: Panthers and Saints
Currently reading: Salt, Fat, Acid, Heat: Mastering the Elements of Good Cooking by Samin Nosrat
What is the most surprising thing about you?
I curse like a sailor, but I'm working on it.
What single ingredient do you always have on hand?
Salt, lots of salt.
What's the most unexpected ingredient in your arsenal?
Kids' cereals—they make really good ice cream flavors.
What do you like to do outside the kitchen?
I volunteer with a few organizations like my sorority, Phi Mu, and the 24 Foundation.
Any superstitious rituals for you in the kitchen?
If I spill salt, I always throw it over my shoulder. So I almost always have salt on my back.
What's your favorite restaurant in Charlotte other than your own?
It's a tie. I love Haberdish for fried chicken and cocktails. I also love Beef 'N Bottle because it's nostalgic Charlotte. I go on half-price wine night.
What's your favorite dessert?
I'm a sucker for anything chocolate. I love brownie à la mode.
What pastry chefs do you look up to?
Besides my pastry goddess, Ashley Boyd? Justin Burke-Samson (former pastry chef and manager at Kindred and Hello, Sailor). I had one of his cookies the other day, and my eyes rolled back into my head. Girl Scouts of America needs to get in touch with him. His take on a Tagalong was beyond.
How would you describe your approach to making desserts?
I tend to do things a little more whimsical and offbeat, where Ashley's plates are perfect works of art. I like throwback things and reenvisioning treats that were really popular, like a magic bar. It's a potluck favorite, but I add local pecans and goat's milk that I caramelize, and put purple sweet potato sorbet on top.
Tell me about the creative process behind a new recipe.
I get a lot of inspiration from the farmers' markets. Ashley or I go almost every week. We love seeing what's out there and talking with growers and tasting all of those things. Twenty-five varieties of sweet potatoes are all going to taste different, so I like to see what all of their characteristics are.
Did anything come of all those sweet potatoes?
Our sweet potato blondie was a lot of trial and error, and then we had a revelation. A blondie is like a flat chocolate chip cookie, but we kept getting cakey results. Then we went back and modified our brownie recipe, and jackpot. When we finally got it, we made them for an event. Vivian Howard was there and Ashley and I had a fan girl moment. It was so cool that Vivian ate our blondie.
Any new desserts we can expect from you at 300 East?
We have a feature every weekend, so I have a litany of things I'm working on. I'm going to feature a nostalgic cake once a month. I'm doing my mom's classic—a hummingbird cake—for Mother's Day. I love a good layer cake, so I'll bring a layer cake in once a month.
What is the quintessential 'sweet experience' for you?
Have everyone at the table order something different, then stick your fork into someone else's dessert.