On the Line with Todd Brinkman
Head of Eat & Drink for Charlotte Marriott City Center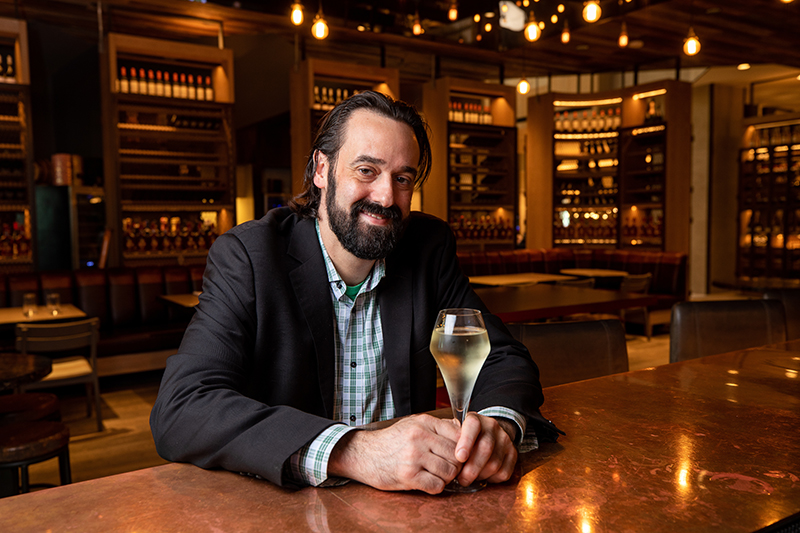 You might know him from: Stoke, The Dock, and Coco and the Director within the Marriott's campus uptown
Hometown: Parma, Ohio, near Cleveland
Relationship/family status: Divorced, three kids
Pets: None, but I'm a big dog lover
Favorite local restaurants (besides your own): The Cellar at Duckworth's, Soul Gastrolounge, Haymaker, La Belle Helene
Currently listening to: Band of Horses, LCD Soundsystem, Father John Misty
Why did you leave Ohio?
Have you ever been to Cleveland? It's a great place to be from. Far, far away from. I worked in restaurants all through college. But there were limited opportunities for growth. So I started looking elsewhere for positions and opportunities, and that's when I was like, 'OK, yeah, I can make a career out of this.'
You've also worked at hotels in Ohio, Maryland, and Arizona. What's your connection to North Carolina?
My dad opened a pizza restaurant in Holden Beach, North Carolina when I was 14. I'd go down in the summer and work at the restaurant. I couldn't drive a car, so I was the pizza doughboy. It was one of those things that wasn't really a passion; it was just something you did. But once I got out of college and I looked at all these different opportunities, I was like, 'No, I kinda dig this.'
What is it about the restaurant industry that you 'dig'?
I'm not built for a cubicle. I really enjoy the craziness of restaurants. And yes, restaurants are crazy, and people who work at them are a little crazy. I try to have a little filter, but not much of one.
How has that filter—or lack of one—helped or hurt you?
I think it's done a little bit of both. When I was interviewing for positions, I would shut down the goofy part of me. At the Ritz-Carlton, they used to have a very strict screening process, and I failed that test. I've taken personality tests with Marriott before, but the Ritz-Carlton gave me a zero. So I decided to lose my filter. Done. I've had other bosses tell me, 'Just be yourself,' and I always thought, 'No, I can't be this goofy dude. I need to be professional.' But I was shutting myself down. I got to a point where that was holding me back; I just need to be me, and that's helped me get to where I am.
Do you encourage your staff to embrace their goofy sides, too?
If you're a server or a mixologist doing fancy stuff, that's part of who you are. There are steps to follow, but once you nail those steps, just be you. People don't want fake. I've seen that with sommeliers. Somms have to know all the theory, and you have to know the three dessert wines of the Patras region of the Peloponnese. It's my favorite question of any test I've ever had, 'cause nobody needs to know that. But to pass the test, you do. I think a lot of floor somms think that's the information people want. And it's not. Instead, it's, 'Is this good?' and, 'Am I going to like it?'
You moved here a year ago. How do you like living in Charlotte so far?
I have three kids that live in Matthews, so I was always trying to get back closer to them. I've looked at moving here for several years, and it really wasn't that appealing of a city. The last two years, though, it's a palpable difference what's going on in the city versus how it was. The food scene used to be all corporate-driven, and all the hip, cool restaurants were in Raleigh/Durham. Now you're seeing all the corporate brands going to Raleigh/Durham and all these hip, cool restaurants popping up here.
What's to come at the Marriott?
Our cocktail side is going to continually push toward fresh ingredients and making all our own syrups. They used to use powdered ginger, for example, but now we're using fresh ginger. There are just these little things I want to fine-tune. I don't need to reinvent the wheel; the wheel is here. I just want to make sure there's enough air in the tires.
Interview has been edited for clarity and space.