On the Nose Cone
Ron Carlee and the high-altitude view of the Battle for CLT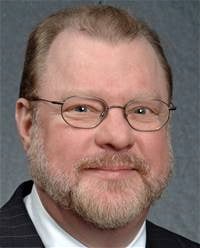 Forget the legislation creating an airport authority; forget whether airports do better under city or authority control; forget whether it's best to think of CLT as a Charlotte or regional asset; forget about Jerry Orr and Richard Vinroot and Curt Walton and Ron Carlee as individuals, even.
Ascend to cruising altitude, and the Siege of CLT reveals itself as an excellent case study in how and why government cannot, should not, operate like a business.
Carlee, Charlotte's city manager, granted an hour-long interview this week to the Business Journal's Erik Spanberg, and the ensuing ping-pong match between Carlee and Vinroot — Hiring a lawyer was unprecedented! No, it wasn't! — is less interesting than this central observation on Carlee's part:
"If the city has made any mistakes with the airport over the years, it probably has been to give it insufficient oversight, and you had an aviation director that resisted that. That's what started this whole (fight for control). When there are issues around the IRS, when there are security issues, what was happening in those was not meddling on the part of the mayor and council. It was professional management trying to ensure accountability and proper stewardship at the airport."
And there you go. This is an issue separate from the job Orr did as airport director (excellent, then good, then not so good) or whether the city provided proper oversight when it finally decided to provide it (arguable).
It's an issue about the way government is supposed to run, and how it's not, and how fiefdoms of any kind represent a hazard to the public trust, to the extent that it exists anymore in a country whose vital organs are showing signs of necrosis.