On The Verge
Director Jim Gloster says the new play he's directing just may give you your imagination back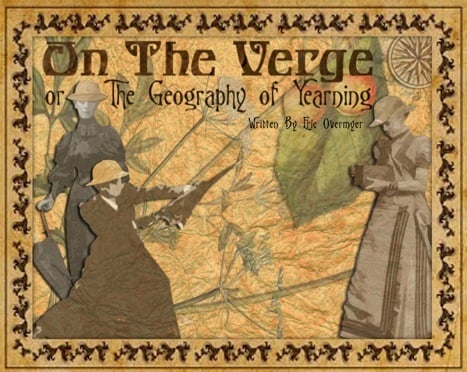 In Eric Overmyer's time-traveling comedy, On The Verge; Or, The Geography of Desire, three Victorian women explorers set out on an adventure that takes them to Africa, the Himalayas and into an unknown place and time in their future, but our recent past. The three heroines encounter Cool Whip, Essos, Egg Beaters and other mysteries. Jim Gloster, a local guy with Hollywood cred, directs. Gloster gave us the lowdown on the play, which will be at the Warehouse Performing Arts Center in Davidson. Details, tickets
Revue: What attracted you to this play about three women traveling through time?
Jim Gloster: I've seen this play before. It was done when I was a part of the Charlotte Shakespeare Company back in the late 1980s. I loved the show then, and I love it now. It underscores what theater should be about — language and imagination. If you come see this show, you just might get your imagination back.
Why does one actor play a myriad of male characters, but there's just one actress per female character? Is there a message there?
I'm sure there is. I believe the play is an allegory for the ascension of women intellectually, spiritually and sexually from 1888 to the present. The fact that each actress plays a whole character underscores that growth.
Who's the audience for this play?
The question might be, who isn't the audience? If you enjoy language, humor, and stretching your the imagination, you will enjoy this play.
What does the title On the Verge; or, The Geography of Yearning mean? What are these women on the verge of?
The three women are explorers. They love the adventure. They love discovery. What they don't realize is that they are on the verge of self discovery.
What lessons do these women learn on their time travels? (Or, is that for you to know and the audience to find out?)
Yes, it is for me to know and the audience to discover. I will say that it is an adventure for the audience to watch as each character awakens to her own future.
I've read that there are a lot of pop culture references (which I love). But, do you need to be a pop culture junkie to understand the play?
No. not at all. The pop culture references offer some of the most humorous moments in the play. The enjoyment comes from watching these ladies discover what the future holds … a future we are already familiar with.
I hear you're a big-time director of photography and that you've worked on Will Ferrell movies. What other Hollywood credits are on your resume? And, what can you tell us about Will Ferrell?
Actually, I am an art director, and "big-time" is debatable. As an art director, I am in charge of the scenery in feature films, TV, and commercials. A director of photography is in charge of the actual photography. What I do is what you see behind the big-time actor's head. I have done a lot of Will Ferrell's films because when I did Talladega Nights here in Charlotte I hooked up with a production designer who is a regular on Will's films. As an art director, I actually spend very little time on set because we are always jumping ahead to make sure the next day's locations are ready for the shooting company. So, it's not like I hang out a lot with Will Ferrell. I will say that from the interactions I have had with him that he is a really nice, down-to-earth guy.
What's your next project?
I am currently working in town on commercials. Next up is finishing the third season of HBO's Eastbound and Down.
Anything else our readers should know about the play, the actresses or the performance space?
We have a very power line-up of talent on this show. Donna Scott, Tonya Bludsworth, Chandler McIntyre, and Mark Scarborough are all seasoned performers who are a joy to work with and bring a high level of professionalism to the theater. The Warehouse Performing Arts Center is the perfect space for this show. It is an intimate black box that will have the audience feeling as if they are a part of the show, which of course they are.
The show runs Thursday, Jan 26 – Saturday, Jan 28 at 8 p.m.; Sunday, Jan 29 at 2 p.m. and Thursday, Feb 2 – Saturday, Feb 4 at 8 p.m.