One Museum, Two Narratives
At the Bechtler, questions from former staffers and a former board member about President John Boyer's outside activities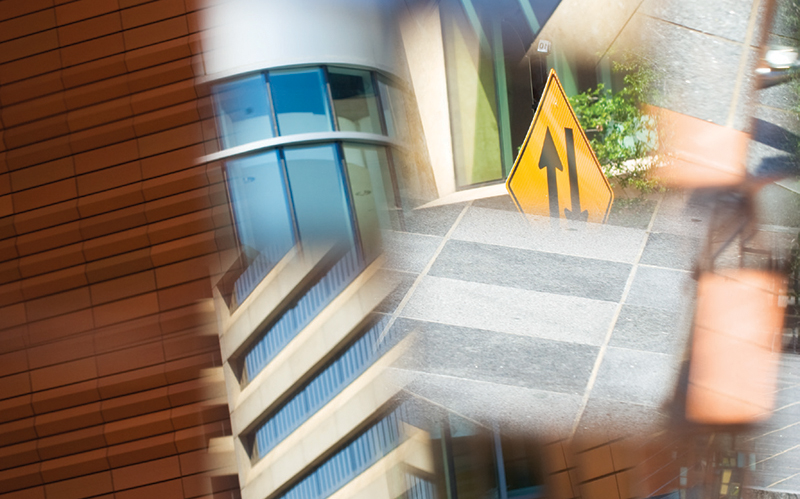 This story is the first in a series that focuses on accountability and transparency in Charlotte's cultural sector.
THE GROUNDBREAKING for the Levine Center for the Arts arrived a decade ago this month. The construction of this uptown campus was partly funded by taxpayers; the private-public partnership of Bechtler Museum of Modern Art and its sister facilities opened a couple of years later. The public's involvement invites accountability and conversation between the museum and its potential donors. However, between the museum and its board, recent questions offer a look at how complicated transparency can be even within an organization. Designer Wesley Mancini spent an entire three-year term on the Bechtler board without one major piece of information. "I didn't know (President/CEO) John Boyer had another job until I rolled off the board," Mancini says. "And I know others did not know that, as well."
Boyer's other role is chairperson of several funds within the Voya family of mutual funds in New York City, such as Voya Infrastructure, Industrials and Materials Fund and Voya International High Dividend Equity Income Fund. The funds are under Voya Financial, a Fortune 500 investment, retirement, and insurance company.
It's not uncommon for museum presidents to have board positions or at least part-time roles elsewhere. The nature of Boyer's role, former staffers say, is something else entirely. Boyer has been involved with the Voya family for the past 20 years and, most recently, a chairperson of multiple funds since 2014. His compensation for his Voya role was listed as $437,500 for one fiscal year in a 2016 proxy statement for shareholders. Additionally, he was to receive $10,000 per attendance of at least eight board meetings each year. The document also lists these responsibilities: "Coordinating with management in the preparation of agendas for Board meetings; presiding at Board meetings; between Board meetings, serving as a primary liaison with other Trustees, officers of the Fund, management personnel, and legal counsel to the Independent Trustees; and such other duties as the Board periodically may determine."
The Bechtler board regularly examines the performance and compensation of its president and facilitates discussions on goings-on inside the museum in a series of meetings throughout the year. The board of directors currently has more than two-dozen members, of varying backgrounds and expertise, who both strategize and make key decisions. Eight current board members contacted for this story either declined to comment or didn't respond to messages.
When reached for comment, Bechtler board chair Curt Fochtmann offered this statement, which he added was on behalf of the board:
"The Bechtler Board annually evaluates the performance of our President and CEO, John Boyer. Part of this evaluation includes Mr. Boyer's time commitment to the Bechtler, including recognition of his role with the Board of Voya Funds. In addition, the Board also recently considered this matter in greater depth and unanimously voted in support of Mr. Boyer in his roles at the Bechtler. The Board believes the Voya role does not detract from his performance at the Bechtler, and that in fact, the investment experience Mr. Boyer gains through his Voya Board role is an asset to the Bechtler and the entire Charlotte cultural community."
The board considered this matter "in greater depth," Fochtmann says, because a former board member had brought this to their attention and said that he or she was unaware of Boyer's Voya role for an entire term. The board then moved to "reexamine" this fact, among others, and came to the above conclusion, Fochtmann says.
Fochtmann has been with the Bechtler board for nearly two-and-a-half years, but maintains that Boyer's role with Voya has been established from the beginning, even documented. Longtime board member Bob Lilien concurs, saying that the role was known when he was a member of the hiring committee that brought Boyer to the Bechtler. When asked how he would account for former board members not being aware of Boyer's involvement with Voya, Fochtmann says, "Any former board members who didn't know that must not be paying enough attention."
Boyer previously served as executive director of the Mark Twain House & Museum in Hartford, Connecticut, from 1989 to 2006. He has been president and CEO of the Bechtler since 2010. On a 2014 IRS Form 990 filed by the Andreas H. Bechtler Arts Foundation, the foundation behind the museum, Boyer's position is listed as a 40-hour-per-week role. That form also confirms Boyer as one of the highest paid museum presidents in town, at a then-yearly compensation of nearly $221,000. As of a 2015 filing, he also receives an additional compensation of $56,872 per year for eight hours of work a week under the Bechtler Collection Preservation, which oversees the $20 million-plus art collection committed to the city of Charlotte.
A former staffer, who asked not to be named, also provides a statement that stands in contrast to the current board's and says Boyer's outside activities had a significant effect on the day-to-day operations at the Bechtler, as he was often out of the office. "It was out of the norm from all jobs that I have ever worked, the amount of time he was there," a former staffer says. "(Boyer's) availability was out of the norm for someone who was the gatekeeper for multiple layers of decision-making. When he wasn't there, it impacted our department's ability to get things done because we need his approval or a decision or we needed an action on his part. So when he would finally be back in the office, then he would have questions and send us off for more information. These things would ultimately be months out, and we would miss opportunities for both funding, things having to do with the exhibitions, or partnerships." Another former staff member, who also requested anonymity, expressed similar sentiments.
When reached for comment, Boyer says he works the normal "50 to 60 hours a week that any museum president works" and believes that the notion of any outside activities affecting his work at the Bechtler is "absolutely" without merit. Otherwise, Boyer referred questions to Lilien, who is the longest-tenured board member at the museum.
Former Bechtler staffers at the Bechtler believe individuals would be more emboldened to voice complaints if a human resources department or impartial chief financial officer were enstated at the museum. The infastructure currently in place, Fochtmann says, is a function of where the small-staffed museum is currently allocating funds, focusing on funding programing and exhibitions at the museum. "I'm open to the idea that we aren't perfect," Fochtmann says. "But we'll continue to stay focused externally."
The American Alliance of Museums offers guidelines for relationships between institutions and the communities they serve. "The museum is committed to public accountability and is transparent in its mission and its operations," it says. Transparency is a trait that leads to better community involvement, such as new museum members, donors, and potential volunteers, the alliance says. Nonprofit watchdog CharityNavigator archives 990 forms filed with the IRS by Charlotte museums. According to the most recent 990s available, neither the Bechtler Museum of Modern Art nor the Harvey B. Gantt Center for African-American Arts + Culture have a written whistleblower policy or a written retention and destruction policy. These are cornerstones of accountability and transparency, according to museum watchdogs, allowing opportunities for individuals to point out wrongdoings inside the organization without fear of retaliation and ensure that documents are not falsified. Lilien says that despite how it's documented in the 990, the whistleblower protection policy and document protection policy is in the Bechtler employee handbook.
During the past two years, leadership changes have swept through Charlotte's museums. In the case of the McColl Center and Levine Museum of the New South, respective former leaders Suzanne Fetscher and Emily Zimmern retired and left behind popular legacies. Other cases, such as the Mint Museum's recently exited president Kathleen Jameson, are less clear, as no explicit statement was given on the circumstances around the move. Boyer and the Gantt Center's David Taylor are the last remaining original museum leaders in uptown.
This story has been updated.