One Week in the Charlotte Music Scene
Where to jam out every night of the week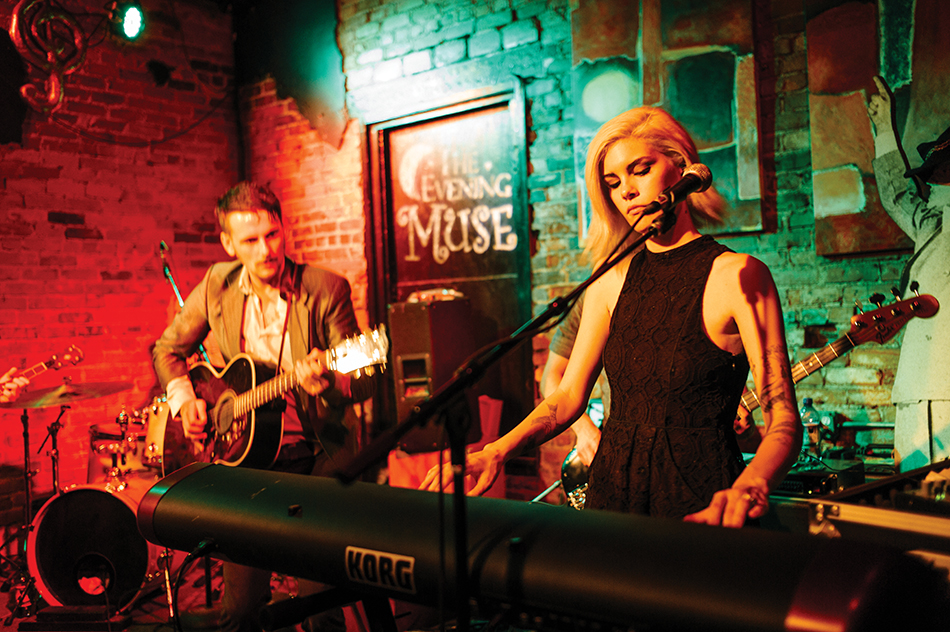 Monday
Open Mic Night
The Evening Muse
Acts at the Muse range from acoustic soloists to full electric bands, but Monday nights are reserved for Find Your Muse Open Mic. Each performer gets 10 minutes—enough time for about two songs or a comedy set or a poetry recitation. Almost anything goes … except cover songs. 8 p.m., $3. 3227 N. Davidson St.
---
Tuesday
The Smokin' J's Open Jam
Smokey Joe's Café
This weekly jam session welcomes professional and amateur musicians to perform with members of the Smokin' J's, the venue's house band. One of the dive-iest of Charlotte's few dive bars, this neighborhood joint has pool tables, ping pong, foosball, walls that are lined with rock 'n' roll memorabilia, a waterfall, and $1 Pabst Blue Ribbons on Tuesday. 9 p.m., $3. 510 Briar Creek Rd.
---
Wednesday
Open Mic Night
JackBeagle's
There's no official signup form for this relaxed open mic night, so performers who arrive first get the most time on the outdoor patio stage, which feels like a neighbor's backyard. This one draws a bigger crowd during the summer months, but the pub food is good no matter what the season. 8 p.m., free. 3213 N. Davidson St.
---
Thursday
Atherton Jazz Jam
Not Just Coffee
On the last Thursday of every month, Not Just Coffee hosts Jazz Jam at its Atherton Mill location. Tim Scott, an artist-in-residence with Center City Partners, and James Yoder, owner of Not Just Coffee, created the event, which typically features three or four local musicians but invites anyone to bring instruments and join in. It's not unusual for a handful of folks to be pounding their drums after a few sets. Arrive early to snag a seat; it's usually standing room only by the end of night.
7 p.m., $5. 2000 South Blvd.
---
Friday
Blow Your Head
Snug Harbor
Unapologetically grungy, Snug Harbor in Plaza Midwood is where you can hear eardrum-blasting rock one night and groovy funk tracks the next. The first Friday of every month is called Blow Your Head, and the back patio pulsates with boogie, disco, funk, rare-groove, and more. With resident DJs Flock of Slagles and Jah Freedom spinning, dancing is always encouraged. 10 p.m., free. 1228 Gordon St.
---
Saturday
#LocalOnly​
The Milestone Club
If you like a venue with a story, The Milestone Club is your spot. Since 1969, it's been a touchstone for live music, cheap drinks, and wild parties. The club's classic stage, covered in graffiti, has hosted more than 8,000 bands. From 4 p.m. to 8 p.m., Milestone offers #LocalOnly Saturday, where it pairs local music with a beer from a Charlotte brewery. 4 p.m., free. 3400 Tuckaseegee Rd.
---
Sunday
Omari and the Hellhounds
The Comet Grill
This two-story bar in the Park Square shopping complex in Dilworth often flies under the radar, but the Comet Grill has been around for 23 years, hosting live music six nights a week. The walls are decorated with music memorabilia from bands that have played there over the years, from The Lenny Federal Band to John Wickes, a previous owner of the bar. One of the venue's most beloved local acts, Omari and the Hellhounds, performs every Sunday night. The group's soulful sounds, mixed with yacht rock-style songs from the late '70s and early '80s, will make you want to get up and dance. 9:30 p.m., free. 2224 Park Rd.