One Year After the Flood in Lumberton
One year after Hurricane Matthew, some people are still without homes, but nobody's lost hope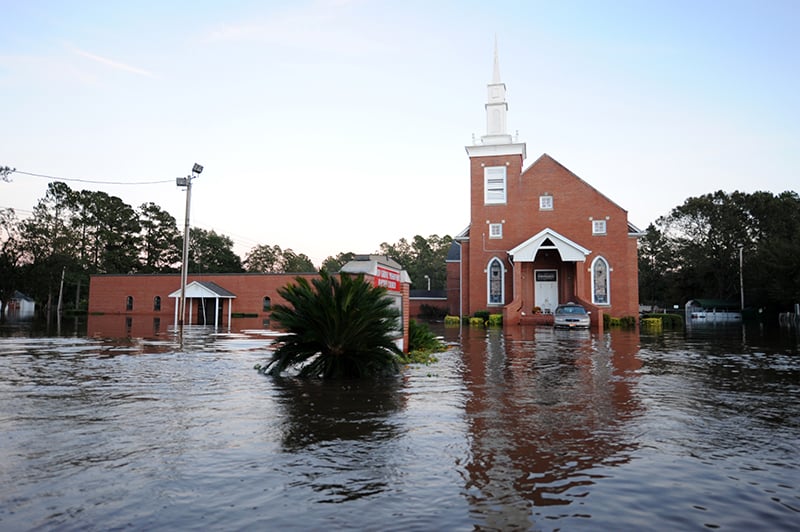 THE LEVEE didn't fail, but the floodwaters still fought their way through. Rapids had already torn over and under Interstate 95, when water started seeping under Angela Freeman Culler's door.
First it was just a shallow pool, her black tennis shoes splashing around as she paced back and forth in the four-bedroom apartment she shared with her adult son, Gage, and another family. Water soaked the frayed edges of her couch and washed over the living room carpet. It rose fast, peaking at knee-high on her 5-foot-2 frame, soaking her jeans and weighing her down as she tried to find refuge—higher ground, or maybe a boat. She craved a cigarette.
Outside, she climbed onto a car's roof to stay dry and avoid the snakes swimming around her. She felt her pulse quicken, and grabbed her chest. For two hours she waited, the stench of sewage and gasoline floating above the murky water and clinging to her clothes. She watched as her neighbors, many of them unable to swim, held tight to tires. Cars drifted down her street, Sinclair Street, dragged by the Lumber River's currents.
Before her home started flooding, Angela didn't even know a storm was coming. The day before, Saturday, October 8, 2016, it rained nonstop. Trees snapped and windows rattled as Hurricane Matthew's Category One winds ripped through her low-income housing community on the southwestern side of town. Without cable or radio, Angela had missed the warnings. By Sunday, the rains settled and there was even some sun, but the historic rainfall of more than 16 inches had to drain somewhere.
It was only when the parking lot at the Holly Ridge apartments started to flood on Sunday that her neighbors murmured the word "hurricane." Those murmurs soon turned into shouts. Lumberton was drowning.
***
IN THE EARLY 18th century, members of the Cheraw tribe sold their land on the Great Pee Dee River in South Carolina and settled across the border in North Carolina, next to Drowning Creek. Its foggy torrents reflected the deep green colors from the trees that surrounded it, and its swampy banks became home to the Lumbee tribe of Robeson County, North Carolina.
Pembroke, just 12 miles northwest of Lumberton, is the heart of the Lumbee community, and there's never been much contention about that. There were no wars fought and no treaties drawn. When the Lumbees settled at Drowning Creek, no one wanted the land; the terrain was miry, and its subtropical climate reared copperhead snakes, mosquitos, and disease.
But the Lumbees were proud of their piece of land. They built one- and two-room wooden cabins with clay floors, where men sought shade after hours plowing their couple of acres for potatoes, rice, or corn. Eventually, Drowning Creek became known as the Lumber River, named for the area's lumber industry, but among the tribe, it's still called the Lumbee.
Locals say the Lumber River looks like sweet tea once the ice cubes have melted and the tea is a little too watery. The river runs through the county from the northwest to the southeast, past Lumberton and Pembroke, creating outcrops of ponds in its path. Heavy rains passed through the county a week before Matthew hit, creating a flood warning in the area while the hurricane tracked toward it.
In a span of 24 hours, the patches of swamps became a gargantuan lake. Roads became impassable. Shiny, steel car roofs peeked out over the blanket of water in downtown Lumberton, and residents sat on the tops of their homes, waiting for the chopping sounds of helicopters to inch closer and swoop in to take them to emergency shelters in Pembroke.
As water rushed east down VFW Road and under the I-95 overpass, gravel was ripped out from underneath the train tracks that connect Charlotte to Wilmington, leaving the rails suspended in the air. Cars were whipped and wedged into a border fence surrounding a used car dealership.
Lumberton was without power for five days, and after the water treatment plant flooded, the people here found themselves without water for three weeks, craving the exact resource that destroyed their homes in the first place. Even after water service was restored, a boil order wasn't lifted for more than a month.
At Exit 20, Roberts Avenue sunk into Cox Pond, taking the life of Barbara Feldman, who was traveling from Florida to New York for her father-in-law's funeral when the water swept her car into the pond and trapped her inside. She was one of three people who died in Robeson County during the hurricane, and one of 28 in North Carolina.
***
GLASS SHATTERED across the floor of Adrienne Kennedy's living room on Saturday night, October 8. A branch snapped and fell on her air-conditioning unit, taking the windowpane down with it. She grabbed a few pieces of wood from the bed of her Chevy Trailblazer, boarded it up with some screws, and went to sleep.
She woke up in the morning with the broken window and no electricity, but a dry house. It was sunny, and she thought the worst had passed. Kennedy walked around the Swann Drive loop, her neighborhood, to her grandmother Hazel's house to use her natural gas. They talked about Hurricane Hazel, the infamous hurricane her grandmother had lived through in 1954 when it made landfall on the southern North Carolina coast in Brunswick County, just east of Lumberton. While they were telling stories, Kennedy's neighbor called.
"She said that our street was flooding," Kennedy remembers. "The water was rising."
She stops and wipes her eyes with a napkin. A couple of tears fall on our table at a Panera Bread in Fayetteville, a little more than a half-hour north of Lumberton. She combs a couple curls of her short, red hair back with her fingers. "I cry every time I talk about it," she says.
By the time she got back to her house, water was up to her knees. Kennedy began walking her block again, this time with urgency, telling her neighbors to evacuate and head to higher ground at the Family Dollar on Martin Luther King Jr. Drive, just less than a half-mile away.
She is the mother of three children and takes care of her autistic cousin, and she piled them all into her truck and left them at the tutoring center where she worked, then rolled up her pants and headed back. A man in a rowboat looped around the south side of Swann Drive, carting entire families to higher ground, while Kennedy wrote down names. When FEMA arrived, she stayed put, offering help as someone who knows Lumberton and the people in it.
Around Lumberton, Kennedy is known as feisty—a word she uses to describe herself, too. She is the vice chairperson of the Robeson County Disaster Recovery Committee, a long-term planning team that's creating a community-based relief case management plan for future natural disasters, while also working on the slow recovery process from Hurricane Matthew. The committee estimates it'll take about five or six years to fully recover. The scariest part is that, during those five or six years, it could happen again.
Kennedy grew up here. She says people never used to lock doors and she never heard gunshots. She'd walk around barefoot and reach into her neighbor's fridge without asking. Later, when Lumberton gained its reputation as one of the most dangerous cities in the United States during the 1980s and '90s, mostly due to its violent crime statistics, she still loved the fact that this was her home.
Now, she sips a hot chocolate 40 miles away, near what she hopes is a temporary residence in Fayetteville: "It's just now starting to set in that I can't go back home."
***
"TONIGHT, WE CELEBRATE the two realities of our people," Kayla Jean Oxendine, a young Lumbee actress, shouts from atop a fake tree stump, feet planted firmly to the stage prop and right hand outstretched, reaching up. She has command of the stage, encircled by the rest of the cast echoing her words.
The audience is silent; all you can hear is the crescendo of drums. Minutes earlier, the Givens Performing Arts Center's theater on the UNC Pembroke campus was buzzing, parents wrangling young children into their laps while waving to a distant cousin or childhood friend across the room.
For Pembroke, this show is a big deal. Strike at the Wind!, an outdoor musical drama that tells the story of Henry Berry Lowrie, a Lumbee rebel who straddled the line of heroism and crime while fighting for tribal civil rights, had been on hiatus for 10 years after interest dwindled. This year, the show is back with a new director and new stage indoors.
Lowrie was born in 1845, just 10 years after North Carolina adopted a new state constitution. While the constitution promised greater political accessibility for white citizens, it steered African American and Native American freedoms backward. Lumbees were stripped of their rights to vote. During the Civil War, many Lumbees and other "free men of color" were drafted to build defense infrastructure, such as Fort Fisher. Fueled by the military's use of forced labor and later by witnessing both his father's and brother's murders, Lowrie formed the Lowry Gang, a group feared by outsiders and revered by those within the tribe. Lowrie, sometimes spelled Lowry or Lowrey, disappeared in 1872.
Harvey Godwin Jr., a stocky man with a tribal medallion hanging from his neck, pulls out the show's program from 1977. "That's me," he says pointing to a 22-year-old version of himself. Godwin, now the chairman of the Lumbee tribe, later played Henry Berry Lowrie for six years.
The name Lumbee is unique, in that it comes from the land, not a Native American dialect. The tribe chose the name as a tribute to their territory and their lifeline to industry, the Lumber River. Lumbees are a mixture of many tribes: Cherokee, Cheraw, Siouan. While many Native Americans were forced onto reservations in the mid-1800s, the Lumbees stayed in the swamps and assimilated with Americans, both black and white.
As a child, Godwin had low self-esteem and questioned what being Lumbee meant to him. Naysayers told him, "Lumbees aren't Indians; they don't have a true culture." It was Strike of the Wind! that helped him understand his cultural identity, and it was his portrayal of Lowrie that strengthened his own commitment to Lumbee rights.
More than 60,000 people identify themselves as Lumbee, and more than half are enrolled members of the tribe, having proven their connection to the tribe by blood and culture. The federal government, though, still doesn't fully recognize them as a Native American tribe, despite the fact that people here have been fighting for that recognition for nearly 130 years.
For Godwin, the federal recognition is a matter of pride. He sees children now who, like him, suffer with low self-confidence. He tells them, "You are as much Indian as any other Indian in North America."
Pride is just part of it, though. In the days leading up to Hurricane Matthew, Godwin and others in the tribe worked to create an emergency plan and petitioned for "imminent threat" funds from the Department of Housing and Urban Development grant program designed to help Native American tribes prepare for disasters. He was told the tribe would be eligible for up to $1 million in funds before the hurricane hit—but only if the Lumbee tribe were fully recognized. Instead, they received nothing. "We hear that a lot," he says. "It took a hurricane to highlight why we should be federally recognized."
***
WHEN THE RESCUE BOATS arrived at Angela Culler's apartment complex on the Sunday of the storm, she and her neighbors were taken to the top of a hill and spent hours chain smoking and praying. God, help me find food and help me find shelter.
She says she's always prayed. At age five, she was removed from her parents' abusive home in Rockingham and placed in an orphanage. Abuse followed her there, too. "God, help me find food and help me find shelter" was the same prayer she said to herself when she started running away from foster homes at age 11. She'd hitchhike to the beach and sleep wrapped up in a sheet of plastic. By 13, she had four tattoos. One is visible on her forearm, a heart faded from the sun.
Culler is half Native American—Cherokee from her father—so her skin always turns a deep bronze every summer. Freckles are scattered on her cheeks, signs of the years she's spent outside, and if you look closely, her nose is a little crooked. It was broken during a domestic assault, she tells me. She meets me for the first time on a Saturday in early July, nine months after the flood. Using a crutch for support, she walks with a limp on knees that soon will require surgery.
She needs knee surgery, and with Medicaid, that's possible. The problem is that she doesn't have a home to recover in. Nearly a year after the flood, she still lives in a room at the Super 8 Motel in Lumberton.
Just a five-minute walk across Fayetteville Road from her motel room, through a strip mall parking lot, there's a shallow, muddy creek. Next to the creek is a dirt path and a fence. If you look closely through the chain links, you can see back of the Burkes Outlet discount store and a U.S. Army recruiting office.
"Right there," she says, pointing at a damp mattress next to a small pile of Pepsi bottles, cans of Campbell's soup, and a Little Caesar's pizza box. "The tent was right there. Gage and I slept there."
For three months after the storm, Culler would walk across the parking lot to Burger King to brush her teeth and bathe as much as she could, often alongside travelers passing through on their way to someplace else—wide-eyed children wearing Mickey Mouse ears on their way home from Disney World, or honeymooners headed to Key West, still holding hands while ordering a Whopper.
Culler cries thinking about the damp tent she shared with her son. Back at the Super 8, a few prescription bottles sit next to her bed in room 107. They're to treat her post-traumatic stress, depression, and bipolar disorder—all remnants of an abusive childhood and decades spent drifting in and out of homelessness.
Every story of hers ends the same: "But I survived."
***
WE'RE CREEPING along at about eight miles per hour through west Lumberton one day this summer. For every occupied house, there are about a dozen left vacant. Lime green stickers, each marked with a black "X," brand the doors—uninhabitable, do not enter.
"This is one we're working on rebuilding," Gary Locklear says, as he parks his truck in front of a one-story home. Grass is overgrown, and there's a weathered wheelchair ramp. But from the road, you can't tell that less than a year ago, the house was underwater, slammed by water rushing east.
Inside, the home has been completely stripped; the floor is just beams and loose plywood with grass and mud poking through. A shower is tipped over on its side, and a line of dirt traces the wall, right at window-height, showing how high the water got.
Locklear retired from a ministry eight days before Matthew hit. He even went out and bought colorful Hawaiian T-shirts for the occasion. But after the storm, he was called out of retirement to help lead recovery efforts as the regional director of the North Carolina Conference of the United Methodist Church's Disaster Response team.
For almost a year now, he has rebuilt homes and organized volunteer groups in Robeson County, working seven days a week.
Back in his truck, he rubs his eyes; they're watering. In the first nine months after the hurricane, he saw his ear, nose, and throat doctor four times. He's on an inhaler and uses nasal spray. Mold and mildew haven't been kind to his 69-year-old respiratory system.
In May, Governor Roy Cooper requested an additional $929 million in federal recovery aid, more than half for housing repairs and buyouts. The Department of Housing and Urban Development granted just $6.1 million. That's less than one percent of the request.
Meanwhile, last fall, the state of North Carolina appropriated approximately $200 million in tax dollars to disaster relief under then-Governor Pat McCrory. As of May, about half of that remained unused.
As of late July, North Carolina has received about $530 million in aid from the federal government, not including FEMA grants of more than $119 million and rising as more individuals request assistance. But with an estimated $2.8 billion in damage and more than $2 billion in economic loss, there's just not enough money.
To fill the gaps, Robeson County leans on volunteers.
Locklear remembers the day after the hurricane, when he drove his truck from Pembroke to Lumberton to assess the damage to the church he'd just retired from, and to his community. "It smelled like fuel and trash. The airport was underwater and the hospital was nearing a shutdown," he says. "It was like a nightmare."
He went home and wept. "But then I stood up," he says. He found a few blue tarps and began draping them over roofs. Retirement was over.
***
WHEN IT COMES to federal recognition, Lumbees lean on three words: We still believe. Although they were partially recognized in the mid-1950s, their status still keeps them from millions of dollars in benefits, such as economic development programs and disaster aid, that fully recognized Native American tribes see throughout the country.
At the Lumbee Nation Economic Summit in May, Governor Cooper said, "We know that response would have been better and funding would have been greater had the Lumbee tribe had the recognition that they have deserved, that you have deserved, all along."
Congress has said no dozens of times, but Godwin and the Lumbee tribe are optimistic that yes is coming. They're hopeful for their community, and not just for other Lumbees. In the days after the hurricane, the Lumbee tribe opened the doors of its tribal center on N.C. Highway 711 to everyone. Members of the tribe fed people of all races, about 40,000 people in six days. Recognition doesn't help just tribal members; it helps the county and the state as a whole.
In the past year, Mac Legerton, who cofounded the Center for Community Action with his wife, Donna, says he and other survivors have been traumatized twice: first by the hurricane and then by the recovery process. Giving someone a toll-free phone number to call isn't enough to lift a person out of a disaster, he says.
Kennedy, Legerton, and others on the Robeson County Disaster Recovery Committee are working to add three key steps to the recovery process: support, development, and advocacy. With community-based recovery, survivors get more than a toll-free number. They get one-on-one help filling out the FEMA assistance form. They get an advocate such as Legerton, who, on the day we meet this past summer, is still working hours before his daughter's wedding.
"For low-income survivors, our present model of disaster relief and recovery magnifies every division, demoralizes every spirit, and disempowers every family and community," Legerton says. Nearly 32 percent of Robeson County's 134,000 citizens live below the poverty line. Lumberton is safer, based on violent crime statistics, than zero percent of American cities.
But the numbers can't show the "Thank you Jesus" signs propped in the middle of lawns across Lumberton. They don't represent the survivors who sobbed as they were whisked away by a speedboat, looking behind them to see their houses sinking. They were losing more than money and property—they were losing memories, losing their homes.
If you look only at poverty and crime numbers, you'll miss the singing that pours out of Lumberton churches on Sunday mornings. You'll forget business owners such as Felicia Evans Long, who reopened her shop, Sweet Candy Café, just three weeks after the hurricane so she could give away candy bags to Lumberton kids.
If you look only at the numbers, you'll keep driving right past Lumberton on your road trip north on I-95 or east on U.S. 74.
***
CULLER'S FINGER TRACES the hymn's lyrics. She's singing: Hear us as we seek release from the pain of earlier living; set us free and grant us peace.
She tries to stand up for communion, but her knees pull her back down to the pew.
It's a Sunday in July, and there are only 25 people in the small church. At 50 years old, Culler is one of the youngest people here. St. Mark's Lutheran Church is traditional; you sit and stand for bible verses and hymns. Culler keeps trying, acting as though her knees don't need surgery, as though they'll be healed through faith.
The sermon today is about Matthew chapter 13, the parable of the sower, or in the pastor's words, "when what you're doing doesn't seem to matter."
In the story, the sower tries and tries to plant seeds—birds eat some, some are scorched by the sun, while thorns choke others. But a few seeds find good soil and sprout plentiful grain.
A few weeks later, on the first week in August, Culler is moving into an apartment at First Baptist Homes, a low-income housing facility for survivors of Hurricane Matthew. It's just six days before her double knee surgery. She drapes a soft, gray throw blanket over her flowered couch and smiles, turning around slowly to take in her new place. Picture frames are still empty in this one-bedroom apartment on Marion Road, but her pantry is full and she has a television. Her crutches rest against the far right corner of her living room.
Faith can't correct the damage five decades of living on and off the streets will do to a person's knees, but it's enough for Culler to set the crutches aside for a few hours as she moves into her first real home since Matthew. Faith can rouse Locklear to put down his retirement plans and pick up a hammer. Faith can push Godwin to appeal to Congress again—and again. Faith can give Kennedy hope that one day her address will again have the 28358 zip code.
Faith alone can't rebuild houses or secure federal recognition for the Lumbees. But faith can inspire citizens to lock arms and push through Matthew's floodwaters together, forming a human chain that's stronger than any levee.
Emma Way is a regular contributor to this magazine. Reach her at emmaway94@gmail.com or on Twitter: @emmaway5.