One Year Later, the Keith Scott Shooting's Last Piece of Official Business
Policy changes are welcome. They go only so far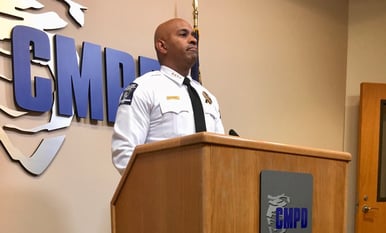 It'll be one year on Wednesday since a Charlotte-Mecklenburg Police officer named Brentley Vinson shot and killed a Charlotte resident named Keith Lamont Scott. The disruption and anger that followed was profound enough for the police chief to preface a news conference about policy Friday by referring to the city's lingering trauma.
"First of all, let's give due deference to this ordeal that has been difficult for us as a community, for the city as a whole," Kerr Putney said. "Thoughts and prayers remain with the Scott family as with the Vinson family, and with all the families impacted … I don't want that to be missed in all the legalese and the recommendations and responses."
The department had called the news conference to wrap up one of the final pieces of official business from the Scott shooting: its responses to recommendations from the city's Citizens Review Board, the public oversight body with the power to suggest, but not enforce, changes to CMPD policy. Last month, for the first time in its 20-year history, the CRB did not endorse a CMPD chief's determination that an officer acted in accordance with department policy when he or she used lethal force against a citizen. The 11-member board, missing three members, deadlocked on the decision but voted unanimously to recommend the policy changes. Vinson remains on the force.
Some of the recommendations, which involve personnel matters, were not available to the public. But those that involved general department policy were (see below), and Putney said CMPD will continue to work on refining police tactics on so-called "vehicle takedowns"—when police block a stationary vehicle's path with their own cars to prevent the driver from fleeing—and de-escalation techniques. Putney also made a more specific promise, to employ an external consultant to study "reaction time," or the precise odds that an armed subject in a police encounter can fire his or her gun before an officer has time to react. "We need to validate that scientifically," Putney said Friday. "Our community deserves no less."
The department's responses fulfill at least some of the public calls for improved police training and de-escalation tactics that emerged after the Scott shooting. There's a tendency among police reform organizations, and often the public, to see police reform as a panacea for the disease of police encounters with citizens that turn deadly. But reform has its limits, as illustrated by an exchange during the news conference between Putney and reporter Rad Berky of WCNC-TV.
"This may be an impossible question …" Berky began.
"Probably," Putney said.
"… but if the same circumstances were to occur later this afternoon, based on the changes that you say you've already started to make, would the outcome have been the same?"
"Listen, we can talk hypotheticals all day," the chief replied. "But here's what I'll tell you. In an armed encounter, we have very limited options. We can talk crisis intervention training, we can talk de-escalation, we can talk anything you might think of. But until it's no longer an armed encounter where our lives and the lives of others are in jeopardy, there is no opportunity for de-escalation."
That was a point the chief returned to time and again Friday afternoon, and a refrain heard often from law enforcement. Policy can cover a host of scenarios, and cops in general ought to receive as much training as possible about how to identify genuine threats to life and limb and how to defuse situations that aren't.
But when law enforcement officers, as they often do, come across people who are armed and potentially threats to themselves and others, the law allows them to kill. The legal standard sets a formal threshold for that decision; whether lethal force is "objectively reasonable" under the circumstances. The officer has to make that decision in a split-second. Training might add a layer of forethought. But policy changes won't necessarily reduce the number of times police encounter armed subjects such as Iaroslav Mosiiuk, whom police killed in March after he emerged from his north Charlotte home with a rifle; or Rueben Galindo, a man shot and killed by two officers in north Charlotte last week after, police say, he drew a handgun from his waistband.
"In an armed encounter, where a subject is noncompliant, until we can resolve the immediate threat that the gun poses, all de-escalation tactics become irrelevant," Putney said. "If we can't get compliance and you don't cooperate, and it's an armed encounter, lives are in jeopardy. … And keep in mind, an officer never really knows what a subject is thinking. Unfortunately, we don't have the luxury of getting in somebody's head."
So there will be more incidents like the one that ended with Keith Scott dead, even if the reaction to it doesn't leave uptown businesses vandalized, an interstate set afire, and another man shot dead in front of an uptown hotel. Exactly how the community will react to each case is a mystery, just as no one knows what next week will elicit from the citizens commemorating Scott's death. You can predict, and plan for, only so much. "What I anticipate is that there will be a lot of emotion, a lot of lawful protests, and that's fine," Putney said. "Anything else, we're going to have to address it. It's just that simple."