Ones to Watch
A player and a game (or two) you can't miss this fall.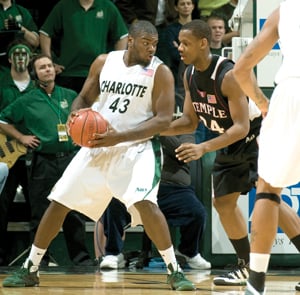 Senior forward Shamari Spears will try to help the Charlotte 49ers rebound from a season that ended badly. (The team started off hot, bringing a 16-5 record into February, but then lost seven of its final eight and missed the NCAA Tournament.) Spears's 16 points and 6 rebounds per game will help propel an experienced team that has only one freshman on its roster and begins a new chapter under new head coach Alan Major.
After not playing each other the past two years, the Davidson Wildcats and Charlotte resume their crosstown rivalry December 11 at Belk Arena. Even though Davidson will have home-court advantage, you can expect plenty of UNCC students and alumni in the bleachers at this Saturday-night game that's sure to sell out. The Wildcats have the more experienced coach (Bob McKillop is in his twenty-third season), but they'll be going to battle with a young team—nine freshmen and sophomores. davidsonwildcats.com
Charlotte 49er fans will need to pack the house wearing their proud green when the team faces the Tennessee Volunteers on December 17. Since the game will be played at Time Warner Cable Arena, where Bobcat orange is only a shade off Tennessee's color, UNCC will need to leave no doubt as to whose city this is. But this will be one of the 49ers' toughest games this season as this is a preseason ranked opponent. charlotte 49ers.com.