OnQ Caps 10 Years with Miles and Coltrane
Charlotte's OnQ Performing Arts Theater Company celebrates a decade of pushing boundaries with a tribute to jazz legends Miles Davis and John Coltrane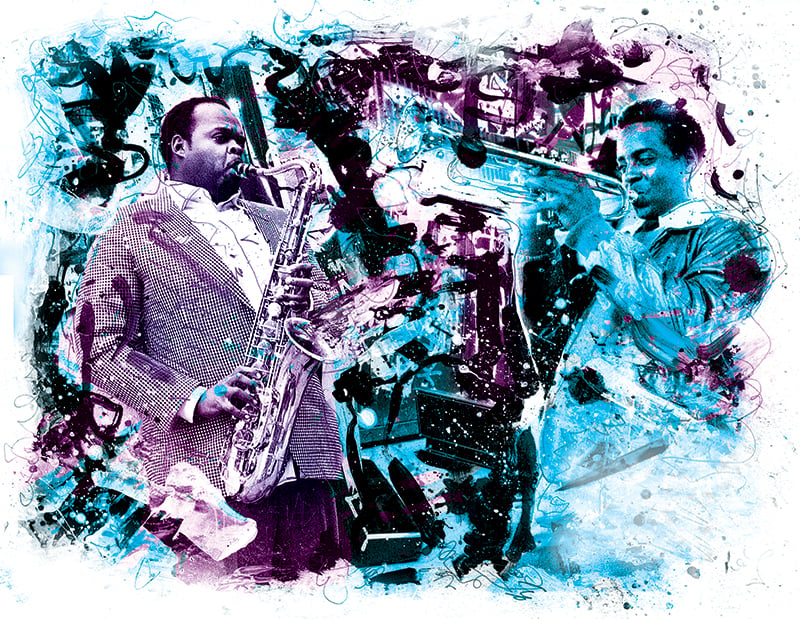 UNTIL THIS MOMENT, Quentin Talley and Sultan Omar El-Amin didn't realize they'd both starred in high school productions of Bye Bye Birdie, more than a decade before they first met.
"Wow, man, why didn't I know this?" asks Talley, the stocky, 37-year-old creative dynamo whose raucous laugh and beaming, deeply dimpled smile offset the taut, more reserved El-Amin. "What else are you holding out on me about?"
El-Amin, 35, whose deep-set, hooded eyes suggest still waters, responds with a casual, "Less is more, man."
Their genial banter highlights countless hours of sparring, collaborating, and navigating Charlotte's creative and theater realms. Their friendship fueled the birth of the city's first full-fledged African-American theater company, OnQ Performing Arts, in 2006.
Talley and El-Amin are also the engine for OnQ's most ambitious project, a poetic and musical tribute to two legendary figures in American music, Miles Davis and John Coltrane. Miles and Coltrane: Blue, in which Talley takes on the role of Coltrane and El-Amin becomes Davis, is scheduled for March 21 through April 1 at Duke Energy Theater. Talley is also the director and cowriter. After more than 100 performances nationwide and several abroad, this staging caps a decade of conversations, challenges, and triumphs for OnQ, the durable African-American theater company that many believe Charlotte deserved decades ago.
"The talent and the energy have always been here," says Talley, citing local theater legends Ruth E. Sloane and Sidney Horton. The city's now-defunct Ebony Group and Company, which operated during the mid-1970s and '80s, and the Afro American Children's Theater, which operated between 1982 and 2002, were creative benchmarks for a time. To try to fill the void they left, Talley says, "theater companies were doing the 'black shows' in February, but that was it. Throughout the year, everybody was looking for parts to do. I didn't feel like there was a voice for black artists. And I just love black people." Talley punctuates that last part with his trademark belly laugh.
***
TALLEY'S ROOTS in theater were planted in Greenwood, South Carolina, where he grew up with his mother, sister, and grandmother. He was drawn to music through his mother's love of opera. "I was listening to Kathleen Battle and Jessye Norman when other kids were listening to hip-hop," he says. Talley caught the acting bug in church: "We all know there's drama every Sunday in church."
At age 16, Talley produced his first play, Black and Blue. The title came from the last line in the epilogue of Talley's favorite book, Invisible Man.
"I took that and just made this abstract, stream-of-thought script about being black and blue," Talley says. With support from one Thelma Griffith, who let him use the Greenwood rec center she owned, Talley staged a production that ran for three nights and filled seats at $5 a ticket. And he did it without spending a lot of money, mostly because he didn't have any. "I've always believed that lighting is the most important thing, and maybe decent costumes," Talley says. "But if you have the talent, it doesn't matter if you have million-dollar scenery or an empty stage. You can make it do what it do."
He embedded himself in the realm of stage production throughout high school and college. But by the time Talley earned a theater performance degree from Winthrop University in 2003, he was burned out on theater. That's when he started traveling back and forth to Charlotte to explore the vibrant poetry/spoken word performance scene.
It opened a new creative channel for Talley. He quickly became a member of several nationally recognized slam poetry teams.
In 2005, Talley was organizing a poetry series at Charlotte's Afro American Cultural Center in uptown when he met El-Amin, a 2004 North Carolina A&T State University theater graduate. He was one of a large group of local actors with skill and ambition, but no place to perform.
El-Amin worked the front desk and oversaw staging for Afro Center events. He kept a wary eye on Talley, the outspoken producer who was trying to take over. "I'm doing the lights, and he's telling me, 'I want lights downstage left,' and I'm thinking, 'That's downstage right.' I knew that he was a performer because of how he was carrying himself, but when he was giving directions, I kept correcting him. It was like a battle between us."
After those first few skirmishes, the two men started sitting on the front steps of the Afro Center. They'd talk about theater, the shows they'd seen and those they wanted to develop. "We both knew we didn't want to do 'chit'lin' circuit' theater, or gospel-type, 'Mama, I Went to Church and Got Saved' shows," Talley says. "We wanted to do classical work: Douglas Turner Ward, Amiri Baraka, Suzan-Lori Parks, Pearl Cleage, and, though it almost goes without saying, August Wilson."
Talley soon applied for a grant from the Arts and Science Council, and that funding fueled the first OnQ production, a November 2006 performance of Parks' In The Blood at the Hart Witzen Gallery. Next came Baraka's Dutchman at the Carolina Actors Studio Theatre, followed by Turner Ward's Day of Absence at the Levine Museum of the New South and Ntozake Shange's For Colored Girls at the Mint Museum.
OnQ's crown jewel performance would have to wait. Talley and company had decided early on that they wouldn't attempt to stage an August Wilson play until they could do it right, and that moment came during the eighth season, with the production of Seven Guitars in 2014.
***
ONE NIGHT IN 2007, at the former Wine Up lounge and performance space in NoDa, Talley was sitting on the back steps with saxophonist Corey McClure, discussing the artists and musical styles they admired. When Davis and Coltrane came up, a spark flared. The two men are considered the most influential jazz musicians of all time. Coltrane's saxophone prowess and passion for experimentation fueled new genres, as did Davis's genius as a trumpeter, bandleader, and composer. They collaborated on one of the best-selling jazz albums of all time, Kind of Blue, in 1959.
"Corey says, 'I don't think there's ever been a show about them.' For them to be two of the most well-known musicians ever, that seemed kind of strange to me. Corey said, 'Well, y'all should write it.'"
Slam poet Carlos Robson, cofounder of Charlotte's Concrete Generation poetry/writers' collaborative, was riding in a car with Talley shortly after that conversation.
"I recall the original idea was, 'Let's just play some music and have poets write poems about these two dudes,'" Robson says. "But any idea in Quentin's mind quickly grows into something far greater. As any great artistic director knows to do, it was a very simple step from poems and music to this theatrical expression."
Talley reached out to a handful of Concrete Generation poets, including Robson, slam poetry master Boris "Bluz" Rogers, Charles Perry, aka "C. P. Maze," and the late Norris Guest. Miles Davis was Guest's favorite artist of all time, which made it easy for Guest to produce the first few pages of material very quickly. Perry, who's now based in Houston, took on the challenge of writing for Coltrane, a North Carolina native.
"When we originally started it, I just told all the contributors to write about them, but that it wasn't going to be an homage," Talley says. "They were interesting people who had a lot of complex issues going on."
The artists wrote in bursts, but didn't focus on the project until a year later. OnQ needed to mount an original production, and Talley knew it was time to take on Miles and Coltrane. He also knew the piece needed some female energy.
He called on poets Maisha Rice and Kendrea "Mekkah" Griffith to help round out the group, along with Filmore Johnson and the late Tavis Brunson. Rice communicated the anger Davis's wife felt due to his frequent infidelity, and Griffith wrote a poem about the time Alice Coltrane locked her husband in a closet as he endured drug withdrawal symptoms.
"Once I had everybody's pieces, I just stayed in my room one weekend reading them," Talley says. He barely slept, can't remember if he ate. "And I would just randomly come out at different points and be like, 'I love y'all. Y'all nailed it.'"
***
MILES AND COLTRANE: BLUE premiered at the Duke Energy Theater in April 2008. Since then, the show has received solid reviews across the United States, and the OnQ cast performed it twice at the Edinburgh Fringe Festival in Scotland.
Assuming the persona of John Coltrane wasn't difficult for Talley.
"The more I started researching him, the more I saw the similarities. He was a country kid, grew up with his grandma like me. His whole spiritual path and how he looked at music, how he brought the spirituality out of his music, really spoke to me as an artist. I feel like I have my own aesthetic that I bring to the company, which is really similar to Coltrane's 'sheets of sound,'" Talley says.
The entire OnQ company points to Omar El-Amin's performance as Davis as the centerpiece of Miles and Coltrane.
"I knew Omar was the right person, because a week after I asked him to do the role and had given him one of the poems, he scared the shit out of me!" Talley laughs.
El-Amin leans in to clarify.
"I became Miles," he says, laughing at the memory of his colleagues' response to his preparation for the role. "It was dangerous. I've never shot heroin, never done any hardcore drugs. But I will say, his music is like a drug, because it produces a certain feeling or emotion, or it can take you certain places that you never knew you were going, similar to like what drugs can do at times."
El-Amin listened to Davis's music daily, read his autobiography, and watched videotaped interviews with him, wanting to absorb every nuance: "In trying to capture all of those things, I wanted to do less of thinking about trying to be him and just be him."
The performers say the greatest measure of their work happens when the Old Head jazz enthusiasts offer praise after shows. "With our audiences, people are serious about the music, and they let you know really quick when you screw it up," El-Amin says.
Talley and company believe this production of Miles and Coltrane will do more than just anchor OnQ's 10th season. They believe the evolution of the project—and how its music and flow differ in every performance—highlights their ability to grow and change as they begin the next 10 years.
"We're introducing this legendary music to a whole new generation of people," Talley says. "That's a big responsibility, and knowing that makes us work even harder to stay honest to their craft, and our craft."
RACHEL JONES is a freelance writer based in Charlotte. Reach her at rjconsults@gmail.com.