Open-Air Affair
Iconic artist Niki de Saint Phalle's creations head outside this spring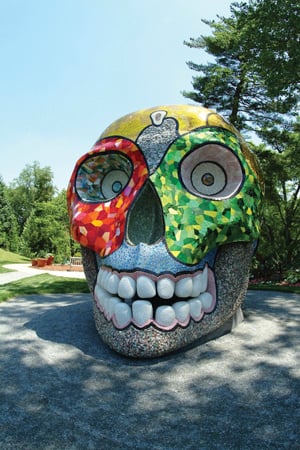 Make way for La Cabeza, aka The Firebird's cousin. On March 18, the Bechtler Museum of Modern Art will open Niki de Saint Phalle: Creation of a New Mythology. Five of de Saint Phalle's colorful sculptures (totaling about 12,000 pounds) will be on display on The Green in uptown, including a couple of interactive pieces—one of which, La Cabeza, is an enormous, Mexican-inspired skull that little ones can crawl into. The fourth-floor gallery inside the museum, too, will house sixty more prints, paintings, and sculptures by de Saint Phalle.
The new Bechtler exhibit featuring artist Niki de Saint Phalle's work covers plenty of uptown ground—here's where to go and what to look for to get the most out of the exciting new show.
Head Inside
While much local hype has surrounded the five outdoor sculptures, the Bechtler now has fifty-five works by both de Saint Phalle and her husband, Jean Tinguely, a close friend of Andreas Bechtler There are paintings, prints, and more sculptures for viewing inside, including the electronic Goddess of Light, created in 1981: a painted, half-human figure surrounded in colored lights. Also be sure to check out de Saint Phalle's series of totems, inspired by Native American religions.
La Cabeza
This piece, inspired by Mexico's Day of the Dead, was created in 2000, stands 14 feet high and is studded with abalone shells, glass pebbles, mirrors, and stained glass. It's one of two sculptures in the exhibit that you can physically walk through, with a child-high entryway to the inside of the sculpture. De Saint Phalle's interest in the mythology and religions of other cultures (including Mesoamerica) drives most of the pieces in this exhibit.
Cat
Also next to Tryon Street is the 2,300-pound Cat, created by de Saint Phalle in 1999. The figure, portrayed sitting on its hind legs, stands nine feet tall and wraps its arms around a carved out bench in its belly. Bechtler president John Boyer says that this piece and La Cabeza—both photo opps if we've ever seen them—"have proven to be two of the most electrifying pieces" in previous exhibitions.
Star Fountain
Directly in the middle of The Green is the 1999 Star Fountain, a mosaic nude woman pouring water from two vases, covered in blue glass and ceramic. Niki was a fashion model in her youth, and as Boyer points out, "notions of beauty were quite formative for her. She spent the rest of her life exploring the great variety of forms of beautiful women." Niki, fascinated by astronomy and astrology, also covered the figure in tiled stars.
Miles Davis
This orange-haired sculpture with gold pants and a gold trumpet stands on The Green next to College Street. Built in 1999, he'll be an imposing onlooker during the Jazz at the Bechtler concert on April 1, when the Ziad Jazz Quartet moves its monthly show to The Green and performs Davis classics like Nardis, Blue In Green, and Milestones.
Golf Player
Quail Hollow won't be the only green in town hosting champion golfers this spring. This polo-clad sculpture, pumping his first in victory, stands almost 9 feet tall and is decorated with stainless steel, tumbled glass, and mirrors. The 680-pound frame, however, makes him more of a heavyweight than Tiger. De Saint Phalle created him in 2001, and while Boyer says that "in certain instances, she claims very overtly who [her subjects are]," she left Golf Player to our imaginations.