Open Mics of Charlotte
Whether you're looking to entertain or be entertained, we have the spots for you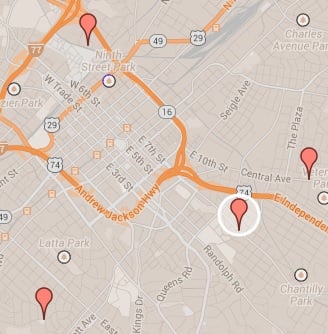 From burgeoning comedians to aspiring singer-songwriters, no venue provides a greater opportunity to grow artistically than the open mic night.
It's a vital part of any arts scene. It's where young entertainers get their start and seasoned artists work on new material. It's the kind of free-flowing situation with "you had to be there" moments, ones marked by sudden and powerful inspiration or the kind of weirdness that ensues when you give anyone off the street a chance to talk.
It's no easy feat to take the stage, but the right venue can lessen the tension and give performers room to grow. Thankfully, Charlotte has plenty of consistent options. With this map, the Revue blog provides 10 venues that host music, comedy or spoken word nights open to anyone willing to give it a try. The Evening Muse's night features a different guest performer every week. UpStage has dedicated evenings to both spoken word and singer-songwriter types. And The Comedy Zone invites those with a knack for the funny who don't mind serious competition.
Every night of the week is represented through these options. Whether you have the urge to perform or just want to take in a show, these are your quick fixes. Click on each location for more information, including days, times, websites and descriptions. Click here to view the full version of the map.
If you think we're missing an important open mic, let us know in the comment section below. Be sure to check our calendar for one-off open mic opportunities from other venues, as compared to the regular nights we've provided.