Opening d'Art
An inside look at the new Bechtler Museum of Modern Art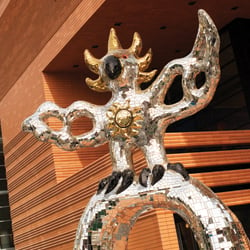 Coming Soon: Hear Andreas Bechtler discuss the collection and the museum in an exclusive interview.
The Bechtler Museum of Modern Art is not just a new museum. It is something new. The striking building houses works from the Bechtler family's stunning 1,400-piece collection of mid-twentieth-century modernism. With works by Pablo Picasso, Max Ernst, Jasper Johns, and Andy Warhol, you won't find a perspective like this anywhere else in the South. Here's an advance look at what has art lovers salivating.
Level Four
The fourth floor houses the main exhibition space. It is punctuated by skylights that bathe the interior with natural light. Alexander Calder's Glacier with Colored Petals, reminiscent of the American artist's well-known mobile sculpture, is one of several tapestries purchased to give the museum larger-scale works.
Level Three
A strength of the collection is work in different media by the same artist. On the third floor, you'll find a drawing, painting, print, and sculpture by Alberto Giacometti.
Level Two
On the second floor, Jean Tinguely's Le Buffle, a kinetic sculpture, features the head of a water buffalo shot by Andreas Bechtler's father on an African safari. With Andreas's help, Tinguely liberated it from the family attic in Zurich. On the outdoor sculpture terrace sits Germaine Richier's bronze of an abstract crouching figure and works by Barbara Hepworth and Max Bill.
Level One
The café offers sandwiches, coffee, and wine. The hope is it will become a gathering spot beginning in April when it—and the museum—will be open until 9 p.m. on the first and third Fridays of the month.
The shop has the usual T-shirts, mugs, and note cards with images from the collection—works by Leger, Dègas. It also has a high-end feel, with jewelry such as a watch designed by Botta, and a Swiss vibe—Swiss chocolate, Swiss army knives, Sigg water bottles, and Caran d'Ache pens.
| | |
| --- | --- |
| | When he came to the United States in 1970, Andreas Bechtler (pictured) did not know an ancestor had preceded him. Christopher Bechtler immigrated to Rutherford County in 1831 and set up a private mint, fashioning gold coins from ore mined in and around Charlotte during America's first gold rush. |
| | The Andy Warhol portraits of Andreas Bechtler with his father, mother, and sister, and also of his former wife and their three daughters, reflect a central theme of the museum: the Bechtler family as art lovers. |
| | The Bechtler is covered with about 68,000 terra cotta tiles. They were attached, without mortar, to a metal frame that covers the building. Any broken tile can be unclipped and replaced. Look closely and you can see some variation in the color. The lighter tiles are in the back. |
| | Architect Mario Botta, who designed the Bechtler, has an international reputation. He is known for his strong geometric shapes and materials such as brick and stone. This is only his second building in the United States. The other is the San Francisco Museum of Modern Art. Charlotte firm Wagner Murray Architects worked with Botta. |
| | The fourth floor cantilevers over an open plaza, give the building a bold profile. A forty-five-foot-tall bulbous column, also clad in tile, helps support it. It is made of extra-dense concrete able to support 15,000 pounds per square inch, almost four times the PSI of a typical concrete floor. |
| | Firebird, a mirror-covered sculpture more than seventeen feet tall, greets visitors. Andreas Bechtler wanted something fun and playful for the exterior, and this work by the late French artist Niki de Saint Phalle fits the bill. |