Opening of Moo & Brew, The Bachelor/Bachelorette Casting Call, Friday Night Lights Cornhole Tourney and More, June 2 to June 5
The old Joe Hooper's spot officially reopens today as Moo & Brew, The Bachelor/Bachelorette is holding a casting call Thursday, and there's a whole lot more more this weekend.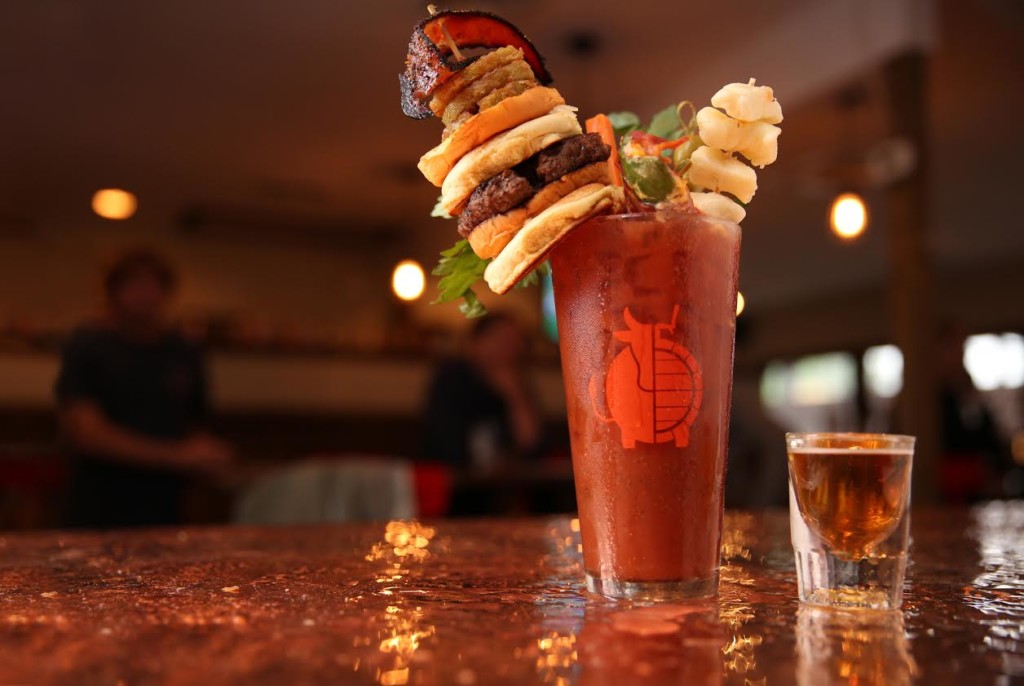 Last week, Charlotte magazine visited the old Joe Hooper's spot, which is reopening today as Moo & Brew. And what a welcome opening day it is. With the near-constant dust settling around apartment complexes along Plaza Midwood's Central Avenue, Moo & Brew provides a respite, an antidote to the cries of cultural dearth in a neighborhood so known for it.
You might recognize the name. Moo & Brew takes its name from the popular April festival of the same name, and it brings with it all the same charm in addition to being Charlotte's official UNC-Chapel Hill bar.
Aside from the soon-to-be legendary (is it already?) Large Marge — an $18 20-ounce Bloody Mary served only on weekends and holidays that comes with bacon, fried green tomatoes, cheese curds, two grilled cheese sandwiches, a hamburger, pimiento cheese-stuffed jalapeno and a Miller High Life shot – Moo & Brew features 40 taps, including, Tito's. On tap. Repeat: Tito's on tap. Pay homage to old Joe Hooper this weekend by visiting Moo & Brew and just hope this spot doesn't become someone's apartment too. Moo & Brew is located at 1300 Central Ave.
With Memorial Day weekend behind us, let's embrace the warmer weather and the start of summer. Charlotte Symphony Summer Pops return this weekend along with ABC coming to Suite this Thursday to potentially find its next Bachelor or Bachelorette. It looks like another great one, Charlotte. See y'all out there!
Thursday, June 2
The Bachelor/The Bachelorette Casting Call
Will you accept this rose? It could be you answering that question after tonight at the ABC Casting Call. Try your luck tonight from 5 until 8 at Suite, 210 E. Trade St. The event is free.
Cookie and Beer Pairing
Cookies: Good. Beer: Good. Both together: Good. Head south of the border tonight to get a perfect pairing of cookie and local beer at Full Spectrum Brewing, 2168 Carolina Place Drive in Fort Mill. The sweet mix gets underway at 7 p.m.
Friday, June 3
Friday Night Lights Cornhole Tourney
If cornhole's your thing, tonight's your night. Draught, 601 S. Cedar St., is throwing a cornhole tournament with prizes that include Charlotte Knights tickets, beer for a year and more. Registration begins at 7 p.m., and the tournament begins at 8 p.m. A ticket for a team of two costs $10. Register your team here.
PLG After Work First Fridays
It's your first Friday of the month, so take a load off and unwind at Howl at the Moon, 210 E. Trade St. Your $5 ticket gets you two $1 drink tickets and access to the free food buffet from 5 p.m. until 8 p.m. Get your weekend started right. You've earned it.
Saturday, June 4
The Annual Mega Rose Tasting
As summer creeps closer, the rose wines come out. To celebrate rose season, Foxcroft Wine hosts eight distributors with more than 30 roses from across the globe for you to sample on in addition to heavy appetizers. The event is from 1 p.m. until 4 p.m. at 7824 Fairview Road. A ticket costs $25 at the door.
Dudeapalooza
The "dude-focused" fair is back. This free pop-up market, which features more than 35 local vendors looking to sell their man-minded fare, is at C-3 Lab, 2525 Distribution St., from noon until 6 p.m. Food and beer will also be on site.
Charlotte Swim Week After Party
Olde Mecklenburg Brewery hosts "Charlotte Swim Week" with its showcase of both men's and women's swimwear. That sounds like enough fun to watch on its own, but the official after party (with live music from the band 89 Reasons) is enough reason to make us stay. The event starts at 6 p.m., and tickets start at $35. Buy them here.
Carowinds BrewFest
For the first time, at a place where the Carolinas connect, Carowinds is hosting its BrewFest to celebrate Carolina beers. The two-day festival starts at noon and ends at 6 p.m. today and Sunday at Harmony Hall. There will be 30 brews to sample, and each four-ounce sample of beer costs $2.66. The BrewFest will also feature live music, and bar games. Oh, but you'll also have to purchase an admission ticket to Carowinds to enjoy. Find more information on admission prices here.
Sunday, June 5
Charlotte Symphony Summer Pops
In Charlotte, summer starts when the symphony says it does. Every summer, the Charlotte Symphony invites you to Symphony Park throughout June for a series of summer evening picnics. Bring your own booze, food and get ready for summer music. The gates to Symphony Park, 4400 Sharon Road, open at 5 p.m., and the concert begins at 8:15 p.m. Tickets cost $12. Buy them here.
Front Porch Sundays
Dozens of vendors from The Dog Photog to Wood N Mirror Gifts will be on hand today from 1 until 5 along with food trucks and several Latin American vendors to celebrate the return of this Saturday afternoon local shopping event. The free drop-in event is at the Shook Kelley Building, 2151 Hawkins St.
Verify dates, times, prices, and other info at the web addresses listed for each event.
Be sure to bookmark www.charlottemagazine.com/Blogs/Dusk-Till-Dawn to stay plugged into Charlotte's nightlife and social scene. Click here to sign up to receive the weekly Dusk Till Dawn e-newsletter.
Want your event featured in Dusk Till Dawn? Follow me on Twitter @Jared_misner and let me know about your event, or send me an email at dusktilldawnblog@gmail.com.
Send Jared an email at DuskTillDawnblog@gmail.com, or send him a tweet @Jared_Misner.

Also by Jared Misner:

→This Weekend's Social Events
→Bowling For Books, First Friday Fort Mill, Electric Luau Party, Soulmatic Carolina Music Fest and More, Aug. 6 to Aug. 9
→The Moon Walk, Candy Fest, Silly String Party, Booze Cruise and More, July 30 to Aug. 2
→Christmas in July, More Christmas in July, National Dance Day, National Tequila Day and More, July 23 to July 26