Opening Soon: Pickles & Ice Cream Maternity Apparel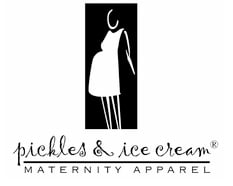 Rockin' a baby bump? You're in luck! A brand new maternity boutique, Pickles & Ice Cream featuring lines like Michael Stars (those super comfy stretchy t-shirts), Maternal America and Olian is opening THIS FRIDAY at the Specialty Shops on the Park across the street from SouthPark Mall. We love their cutesy name (inspired by those inexplicable pregnancy cravings).
Since the exit of Beaux Belly, we've been dying for a new chic-mama spot to open up, and this one fits the bill!
While you're there, stop in at Nesting, which was recently voted Best Baby and Kids' Store in our Annual Best of the Best issue! They're offering 20% off of any furniture and bedding orders placed before May 15.