Opinion: A Tale of Two Chiefs
One's trying to close the breach. The other? 'Tough. I don't care.'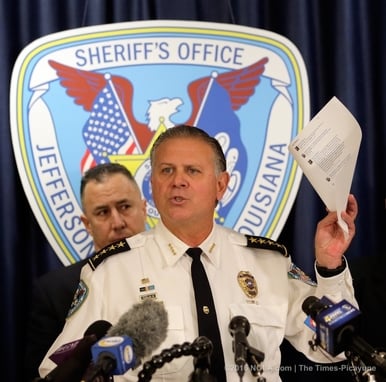 Let me tell you a few things about the place where I'm from. Growing up, the n-word wasn't unfamiliar to me. I heard it at the grocery store, on the schoolyard, at home. It was an early catch basin for white flight, home to a lot of so-called "ethnic whites"—of French, Italian, Irish, and South Slavic descent, almost all of them Catholic. The specific area where I grew up is named after the French term for "tenant farm." A portion of it elected a former Imperial Wizard of the Ku Klux Klan to the state legislature—in 1989. From the time I was 10 until his death in 2007, the local sheriff was an obese, racially insensitive (at least) son of Chinese immigrants who wore a white cowboy hat and whose younger sister was Playboy's first playmate of Asian descent. (I'm from a strange, at times incomprehensible place.)
I'm talking about my home "county" of Jefferson Parish, Louisiana, where on Tuesday morning the man who succeeded the Chinese cowboy as sheriff, Newell Normand, held a news conference to announce a manslaughter charge against a white man named Ronald Gasser. The Sheriff's Office accuses Gasser of shooting and killing former NFL player Joe McKnight, a black man, in a case of road rage.
Yet Normand devoted most of his time and energy Tuesday not to the arrest but to his emotional response to the online legions who in predictably nasty terms had trashed the sheriff, parish officials, the whole damn system. McKnight was killed on a Thursday, a week ago. The Sheriff's Office arrested Gasser, then released him the next day. On Tuesday, Normand explained that some witnesses wouldn't have come forward if Gasser had been arrested immediately. But that left a four-day window for people to vent on the web, and that was what Normand was angriest about (from The New Orleans Advocate):
Normand said the decision to release Gasser last week had nothing to do with his race. In extended remarks to the media, he quoted from comments posted on social media — omitting none of the offensive epithets they contained — and suggested that both men involved in the altercation bore some of the blame.
"Let us not try to make this out to be something that it is not," Normand said. "What we had were two adult males engaged in unacceptable behavior."
The sheriff took particular offense at the online abuse directed at Mark Spears, the sole black member of the Jefferson Parish Council, who had stood next to the sheriff during a news conference on the case last week.
"It's not fair," Normand said. "It's not fair for him to be called 'You punk-ass, Uncle Tom coon, we saw you sell out to him, you rat-ass, faggot punk.' "
Normand continued at length, citing other online comments containing racist and homophobic language, though without mentioning who wrote them. At one point, MSNBC, which had been carrying his comments live, cut away and apologized to viewers.
Asked by a reporter why he thought it was necessary to repeat racial epithets, Normand said, "I hope it gets everybody to realize how crazy we're getting."
That's something most people would seem to realize by now, which raises the obvious question of why the sheriff would want to contribute to the craziness by amplifying it during a televised news conference. "Don't feed the trolls" is useful advice for anyone in pretty much any situation, much less for a law enforcement official making an arrest in a widely publicized manslaughter case.
Normand thought his was a point worth making. But he left the impression that he cared more about online comments from random people and the psyches of parish officials than the case itself—not a stance that would make anyone think twice about castigating the parish or Normand. If you criticized his department, he added Tuesday, he has a simple message for you: "Tough. I don't care."
We're all living in a hot-take world now. No one wants to be the object of online bile dribbled out one semi-literate rant at a time. But, for public officials, especially in law enforcement, taking it and maintaining a sense of professionalism anyway is now, unavoidably, part of the job. It's taking awhile for some of them to realize that.
Less than 12 hours later, another head of a law enforcement agency faced the public in another setting, in Charlotte. Since late summer, the Charlotte-Mecklenburg Police Department has been holding community forums to talk about policing, especially in minority neighborhoods. This was the latest one, at East Mecklenburg High School, in the department's Independence Division. Plenty has gone down since these conversations began: Keith Scott's death, the demonstrations and riots that followed, and the district attorney's decision not to charge the officer who shot him.
A couple of hundred people packed the school media center Tuesday night. Braxton Winston, maybe the most visible of the Charlotte Uprising protesters who have taken to Charlotte streets since September, was there, too, Facebook-Living the proceedings. On the night of the DA's Office decision in the Keith Scott case, Winston stood face-to-face in the rain with police Major Mike Campagna, who's leading a police "conversation unit," and engaged in a heated but respectful conversation as fellow protesters shouted slogans—and, at times, abuse—around them in front of CMPD headquarters.
On Tuesday, Chief Kerr Putney finished his presentation and asked if anyone had questions for him. Winston, in the back, was the third person Putney called on. Winston wondered why Putney hadn't come out instead of Campagna. He's the boss, right? "You never showed up," Winston said. "You won't go out into the street. … That is a bit troubling."
Putney responded that he's willing to have a one-on-one conversation with Winston. "But am I going to come out and get into a shouting match with you? No," he said. "If you want to talk about solutions, changing policy, come see me. Yelling at me? Not going to work."
The two men agreed to meet face-to-face in the next couple of weeks. But Winston's recitation stirred up another kind of response in the room. The next question came from Deanna Long, a 73-year-old retiree, who's white. "How long," she asked pointedly, "do we have to tolerate the disrespect shown by these protesters?" The small group of older white women around her burst into applause. Take that.
Putney looked at Long and said something remarkable. "Ma'am," the chief said evenly, "we don't tolerate protests. We encourage them."
So you see the comparison I'm trying to make. The relationship between law enforcement and minority communities, especially poor and black, is complicated and dismal, and social media enable one community's flashpoint to turn into everyone's. That's something Putney realizes, which is why he's doing what he's doing. How much more smoothly might the broader conversation here have gone without the elephant of the Keith Scott shooting in the room? We'll never know.
But I know this much. When law enforcement starts from, "Tough. I don't care," and people with legitimate grievances against law enforcement start from, "F*ck the police," nothing changes. Putney and CMPD have a lot to answer for. So do law enforcement agencies everywhere. But CMPD, like a handful of others around the country, is at least trying. I don't think any of the rest of us can shrug off the responsibility to try, too.