Opinion: Alma Adams' Pied-á-Terre Faux Pas
The incumbent Congresswoman trips over her own home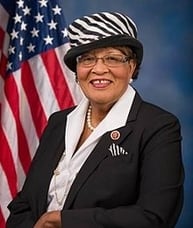 U.S. Rep. Alma Adams, as you can tell from her official Congressional portrait, is known for her array of colorful and stylish hats. She tried on a new one Monday. It was neither a good fit nor a good look.
I doubt strongly that the fraction of 12th Congressional District voters who'll bother to cast ballots in the Democratic primary June 7 care how much time Adams spends at her Fourth Ward townhome, where she "moved" in early April. She's a Greensboro lady. Anyone who knows anything about her knows that. The legislature redrew the ridiculously gerrymandered district after a federal court told it to. The new district is contained entirely within Mecklenburg County. That's not her fault. It's the way the redistricting ball bounced.
Besides, WBTV chose to launch its sting operation on Memorial Day, for heaven's sake. Couldn't it have waited until Tuesday? Is it that unreasonable for Adams to stay at her home in Greensboro over a holiday weekend? But even with that break, Adams did the one thing that guaranteed the worst impression and, more important, the most damning video. She ran away.
Well, drove away. If anything makes TV journalists quiver with pleasure, it's the sight of their quarry fleeing the figurative extended mic—"Congresswoman? Congresswoman, we've just got a couple of questions for you"—and the knowledge that it's all on camera. That'll look awesome on the 6 o'clock. We're on your side.
Adams did consent to an interview Tuesday, but the damage was done, and it didn't help that she took off the lapel mic when reporter Nick Ochsner persisted in his questioning. Look, this is what TV news does. It's out to make you look foolish. The more petulant you get, the more foolish you look, and by the end, Adams certainly looked that, even with a typically fly summer hat and matching necklace.
And it was all so unnecessary. As WBTV pointed out, there's no legal requirement for Adams to live in Mecklenburg County; she chose to. When she saw the van outside her Greensboro home Monday, the wise course of action would've been to get out, ask, "Hey, what's up?," and explain that she was in Greensboro visiting family for the holiday, just like untold millions across America. (She made that argument on camera, but a day late, and angrily.) Tell Nick you were campaigning in Charlotte on Saturday and Sunday, and you'll be right back to it Tuesday, and you hope to see everybody and shake their hands. Remain calm. Crack a smile. Wish the Fourth Estate a Happy Memorial Day and say something nice about our veterans. Done.
Instead, she or her staff sanitized her campaign bio to remove any reference to Greensboro, then tried to dodge questions about it, then fled the Greensboro house like someone under investigation. It was going to be a tough election for Adams anyway—three of her five Democratic primary opponents, all present or former holders of public office, are from Charlotte—but this episode probably sealed it. She'll be left with her hat collection and a pied-á-terre in Charlotte that she might as well make some use of, since it's not doing much of anything for her now.