Opinion: An Attempt to Criminalize Protests
Gaston County legislator's bill would establish 'economic terrorism'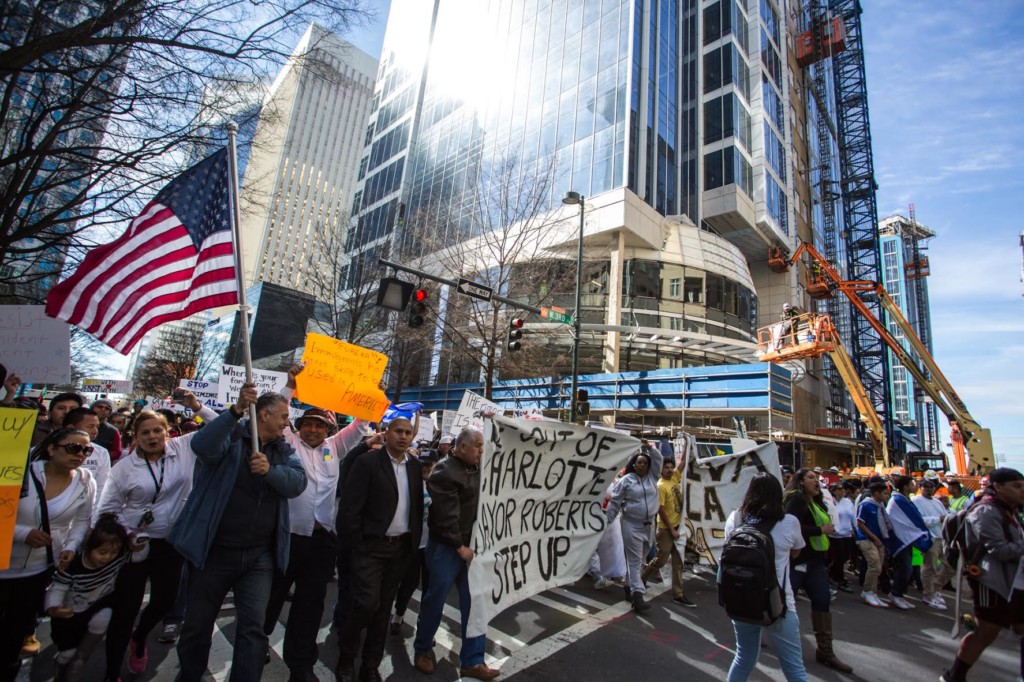 Thursday was a busy day in Raleigh. Larry Hall finally slid through the first lock of the new confirmation process for Cabinet appointees. Legislative Democrats filed a quixotic bill to raise the state's minimum wage. Senate President Pro Tem Phil Berger dropped by the media room in the Legislative Building to deliver the dubious claim that a recent court ruling had effectively eliminated the state Board of Elections and Ethics Commission.
So it's somewhat understandable that the legislative press corps and public might have missed a bill that dropped Thursday that, if passed, would make protesting an act of terrorism.
Specifically, "economic terrorism." And not all protesting—just the kind that "impedes or disrupts the regular course of business" when that disruption causes more than $1,000 in damage and is intended to "intimidate" (or "influence, through intimidation") the public or any unit of government.
You do not have to be a constitutional scholar to notice that these definitions are broad enough to allow an aircraft carrier safe passage. Disrupting "the regular course of business" is the entire point of a public protest, is it not? If someone takes part in a public demonstration, and a member of that demonstration throws a brick through a window, would everyone on the street be subject to arrest? Who gets to decide what is and what is not "intimidation" under these circumstances?
More to the point, why shouldn't this bill be immediately flung into the nearest recycling bin on the grounds that it's a flagrant violation of the First Amendment? The bill's primary sponsor is Rep. John Torbett, a Republican from Gaston County who, during protests of the legislature's kneecapping of incoming Governor Roy Cooper in December, said, "There's always going to be criticism, and I thoroughly expect that from people who don't support what we're trying to do." The bill would fix that problem. You needn't expect the criticism, thoroughly or not, if it's been declared a felony.
We'll see where this goes besides, if necessary, the federal courts. But House Bill 249 does not come as a complete shock. There's a movement afoot in at least 16 states controlled by Republican-dominated legislatures to make certain acts of public protest illegal, according to a New York Times report from Thursday. North Dakota's governor signed four such bills into law last week, mere hours after the last of the Standing Rock protesters were evicted from their campsite. A Washington state legislator made headlines when he proposed something similar in November. Not all of the bills will become law, and a few have already died in committee.
But the pattern is clear enough. This is happening in one-third of the states. The North Carolina bill's references to "intimidation" and "influence through intimidation" take on a new meaning in that context. "They're looking for clever ways to send chilling effects," one of the Dakota Access Pipeline protesters told the Times—and the bills don't have to become law to have their desired effect.