Opinion: Anthony Foxx's Stump Speech for Government That Works
The former Charlotte mayor's remarks had an extra layer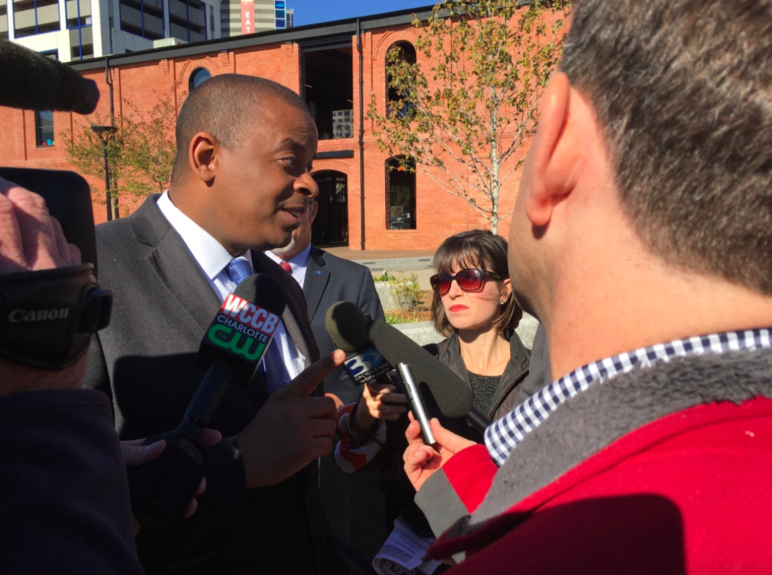 The former mayor and current U.S. transportation secretary, Anthony Foxx, was in town Tuesday for a tour and news conference that was as heavy on subtext as text.
The Obama Administration's budget director, Shaun Donovan, accompanied Foxx, along with Charlotte Mayor Jennifer Roberts, Mecklenburg County Board of Commissioners Chair Trevor Fuller, and other local officials. They set up a lectern in the recently opened First Ward Park, the Hearst Tower rising above them and a crane oscillating atop a nearby hotel under construction, not far from the existing light rail line and the extended one scheduled to open next year, mere blocks from the Gateway Station transit hub scheduled to open in 2018.
The announced purpose, according to the federal department Foxx oversees, was "to highlight the economic progress that Charlotte and the nation have made, and the economic challenges that remain." The activity around them, and the context of both the looming election and the Keith Scott protests from last month, made another kind of point, one Foxx made his way to in the middle of his remarks: "We want a community where the wealthiest person and the poorest person have some place where they can meet … and infrastructure can do that for us," he said, and, "The most important thing is that the federal government is willing to be a partner."
This is not a message much of the country, or maybe even much of Charlotte, wants to hear. A little less than two weeks from now, a significant portion of the electorate will vote for candidates for President and on down the ballot who at some level reject the idea of national government itself. To the extent that government is even necessary, local and state officials know best, the thinking goes; aside from national defense, the best thing "the feds" can do is nothing.
But look, Foxx and Donovan argued in the park Tuesday, that light rail line that transformed South End and paved the way, literally, for business growth? The feds helped pay for that. The Gold Line that may yet achieve the same for the east and west sides? The feds can help pay for that, too. The Gateway Station, a center for buses, Amtrak, commuter rail to and from Lake Norman, light rail? Wouldn't be possible without a $25 million federal grant from a year ago. Want more of this? Vote in the next couple of weeks for candidates who understand the need for the national government to help build local infrastructure to boost local economies.
So, yes, it was, and is, a case for good government—not necessarily big government or small, but one that works. "Good things like this are hard," Foxx said. It's a fact that's sunk into the policy-bereft cesspool of this year's Presidential election but hasn't disappeared completely. The New Yorker magazine just published a long story about class issues in the race, and it starts with Hillary Clinton's acceptance of a hard reality about her party:
I sat down across from her. With only a few weeks left until the election, I wanted to ask her about the voters she's had the most trouble winning. Why were so many downwardly mobile white Americans supporting Donald Trump?
"It's 'Pox on both your houses,' " Clinton said. "It was certainly a rejection of every other Republican running. So pick the guy who's the outsider, pick the guy who's giving you an explanation—in my view, a trumped-up one, not convincing—but, nevertheless, people are hungry for that." Voters needed a narrative for their lives, she said, including someone to blame for what had gone wrong. "Donald Trump came up with a fairly simple, easily understood, and to some extent satisfying story. And I think we Democrats have not provided as clear a message about how we see the economy as we need to." She continued, "We need to get back to claiming the economic mantle—that we are the ones who create the jobs, who provide the support that is needed to get more fairness into the economy."
Clinton has given a lot of thought to economic policy. She wants to use tax incentives and other enticements to nudge corporations into focussing less on share price and more on "long-term investments," in research, equipment, and workers. She said, "We have come to heavily favor the financial markets over the otherwise productive markets," including manufacturing, "which have been pushed to a narrower place within the overall economy while an enormous amount of intelligence, effort, and dollars went into spinning transactions." As she plunged into the details, her eyes widened, her color rose, and her finger occasionally gave the table a thump for emphasis. "I want to really marry the public and the private sector," she said. Her ideas are progressive but incrementalist: raise the federal minimum wage to twelve dollars an hour, but not fifteen; support free trade, as long as workers' rights are protected and corporations aren't allowed to evade regulations.
The thumps got harder when Clinton turned to the Democratic Party. In her acceptance speech at the Philadelphia Convention, she said, "Americans are willing to work—and work hard. But right now an awful lot of people feel there is less and less respect for the work they do. And less respect for them, period. Democrats, we are the party of working people, but we haven't done a good enough job showing we get what you're going through." One didn't often hear that thought from Democratic politicians, and I asked Clinton what she had meant by it.
"We have been fighting out elections in general on a lot of noneconomic issues over the past thirty years," she said—social issues, welfare, crime, war. "Sometimes we win, sometimes we lose, but we haven't had a coherent, compelling economic case that needs to be made in order to lay down a foundation on which to both conduct politics and do policy."
Marrying the public and private sectors by using the power of government to spur business growth seems to fit right in. On Tuesday, Foxx didn't hesitate to connect resistance to that idea to the conditions that led to the post-Keith Scott protests and riots. "We can look back at the ways some people talked about the streetcar," he said, for clues about the link between transportation and opportunity for poor and minority citizens. "I'm hopeful that Charlotte will get through this stronger and better." It can, he implied, if voters make the right choices on and before November 8.