Opinion: Branding Idiocy in Charleston
You can check out anytime you like. Just crop us out of the photo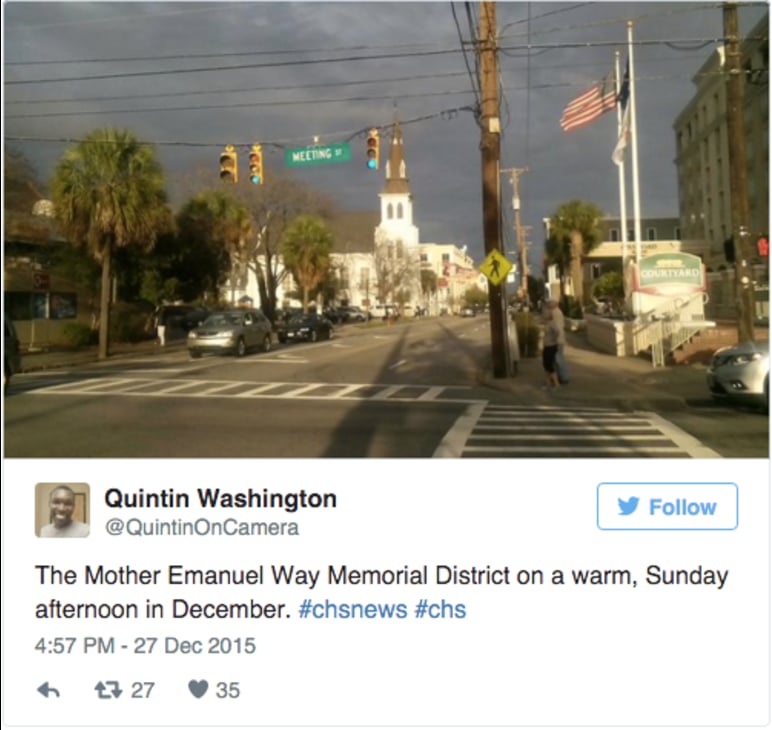 Take a good look at the image above. It's by Quintin Washington, an independent journalist in Charleston, S.C. Washington took it just before sundown Sunday. He framed it beautifully. Emanuel A.M.E. Church, the famed Mother Emanuel, rises like a sentinel in the exact center of the photo. In the golden light of late afternoon, the shadows of what appear to be telephone poles extend like outstretched arms toward the church spire as gray clouds hover in the background.
But you'll perceive what's in the right-hand frame, a difficult thing for an Instagrammer on the run to avoid: the Courtyard by Marriott. Yesterday, someone with admin access to the hotel's Twitter account sent Washington a message:
"We respectfully ask you not to include the hotel in mother AME photos. TY"
Washington complied, which drew a follow-up, which any branding expert will tell you is important to any community outreach.
"apprecatite it :)"
By now, most people understand what Mother Emanuel's significance is, and why the massacre there in June was such a profound horror, and perhaps why—if you think about it for no more than a quarter of a second—a hotel employee might want to disassociate the C by M with an event so distasteful. (Standard rate: $209 per night, minimum.)
And then you think about for a full second and conclude: Jeez. Marriott corporate took care of things, to its credit. Peter Hoffman, a vice president for the company that owns the hotel, apologized to Washington, and the corporate office issued this statement:
"We apologize for our request that a photo of the property and the Mother Emanuel AME Church be removed from a local journalist's Twitter feed. The staff mishandled the situation. As an independently owned and operated hotel, we're taking steps to prevent this mistake from happening in the future."
One would hope, and we apprecatite it. (TY.) As the example of Mother Emanuel illustrates, this world holds many dangers, slavery and domestic terrorism among them. But I swear, branding through social media is what's going to end up extinguishing the species.