Opinion: Chaos at Charlotte City Council
The raw rage of black Charlotte occupied the chambers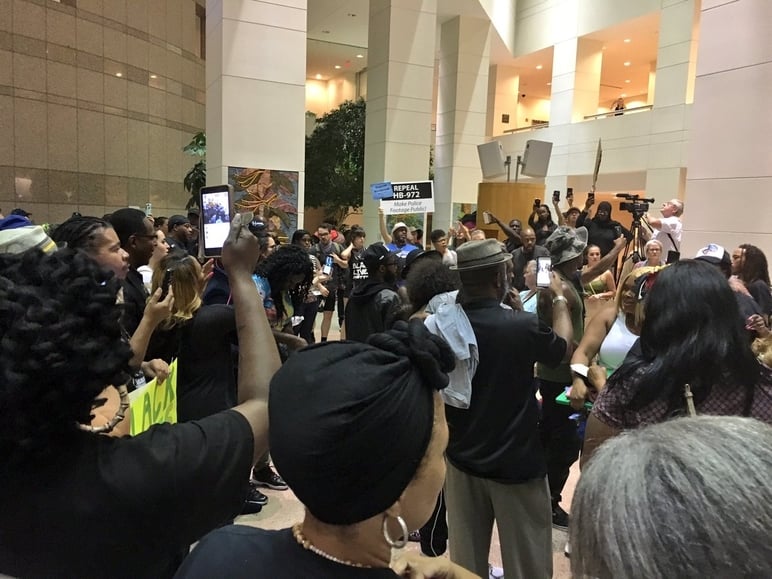 There's never been an official meeting of the Charlotte City Council quite like Monday night's—in which black Charlotte took its fury straight from the streets into the normally sedate chambers at the Government Center.
Could anyone in this city, a week ago, have imagined a speaker telling the assembled mayor and council Monday night, "Fuck all y'all," and see the council just sit there and take it? Or watching a flustered Mayor Jennifer Roberts, whom the week before had entered the council chambers to applause because of her stand on HB2, addressed this way: "Shut your goddamn mouth!"?
Some of it was invigorating, witnessing public officials face the raw voice of the people at their most passionate. But the passion threatened to overwhelm the place. More than one speaker hinted at violence. Most promised economic or electoral retribution. Roberts couldn't control the ones who stayed to shout down council members as they tried to speak. After more than three hours of mayhem, she finally moved to adjourn and scurried for safety.
What now? In an op-ed published in the Observer on Monday, Roberts said she'd lead "a series of town hall meetings across the city" in the next few months, although you have to wonder after Monday night whether anyone in minority neighborhoods will listen to her. Mayor Pro Tem Vi Lyles, one of five black council members, released a "7-point plan" Monday that outlines next steps, including an overhaul of the city's Citizens Review Board and updated policies to more aggressively solve problems in minority hiring and affordable housing.
Those are good starts. But any long-term solutions will take time to develop and implement. The people who filled the council chambers Monday, having moved from "Hands up—don't shoot" to "Hands down—shoot back," aren't in any mood to wait. It's hard to blame them. None of us can say with any certainty where this is all going. The people who for years assumed they had a tight grip on the reins of the city saw again Monday, as they did last week, that they didn't. It's going to take time they may not have to recover from the shock.