Opinion: Charlotte, Dunked On—Again
Charlotte does nothing wrong. Charlotte pays anyway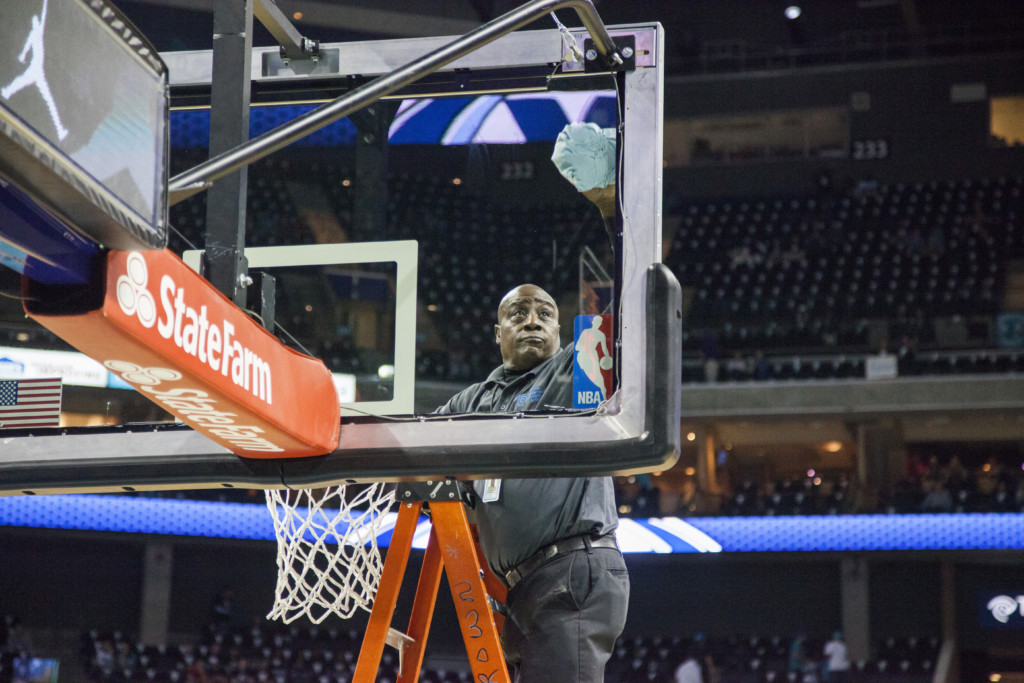 Sadly, this is how a particular piece of post-House Bill 2 Charlotte was always likely to end: with the city, the only good-faith participant in the whole sorry mess, left holding an empty net. And to scrub the wound a little rawer, the NBA is reportedly considering New Orleans as a replacement host for the All-Star Game the league announced Thursday it was yanking away from Charlotte. The Crescent City was, of course, the other woman George Shinn and Ray Wooldridge ran to in 2002, taking the original Hornets with them. Now the replacement Hornets, and the entire city, have to swallow this indignity. Professional basketball first made Charlotte a big-league sports town back in 1988. But it's been a rocky relationship, and you can add this to the list of vases hurled against the wall. The bill for the damage could reach $100 million.
What happens now is a long and nerve-wracking waiting game. The damage isn't just in the city's loss of tourism-related revenue—for what is, after all, a one-time event—but the precedent the NBA's decision sets for the National Collegiate Athletic Association and Atlantic Coast Conference, which plan a series of events in North Carolina over the next few years. Neither the NCAA nor ACC have announced any cancellations. But both organizations have said they won't hold events in places hostile to diversity, and the NBA's decision Thursday gives them another reason to lean toward relocating, for example, the ACC football championship game, held at Bank of America Stadium since 2010.
There's nothing to do but wait and, if you're in the right position, lobby. Which is the final twist of the knife: Charlotte having to beg purveyors of tourism events not to punish the city for the state's codified discrimination. Back in March, two days after House Bill 2 passed, Mecklenburg County Commissioner Bill James—a reliable barometer of the hearts and minds of the Knucklehead Caucus—had this to say on Facebook (unedited):
Might I also suggest moving the CIAA games which occurs EACH year. Come on liberals send a REAL message – move the CIAA from Charlotte. Think of the ammo it will save.
Where's the outrage. Mostly these NBA officials are petty functionaries making standard boiler plate commentary to appease the very small and angry liberal mob.
If they did remove the NBA and CIAA they would be making most conservatives day.
Well, the CIAA decided to stay, but James and the lawmakers in Raleigh who never pass up an opportunity to kick North Carolina's cities in the teeth can lie back in the comfort of a half-day made. Because if you harbor any illusion that the NBA's pullout from Charlotte might make them reconsider what they've done, snap out of it. The state's largest city just got dunked on, and they're replaying the video and giggling like schoolchildren.