Opinion: Charlotte's North End and a Choice In Helping the Homeless
Developing the North Tryon corridor doesn't have to displace services for the homeless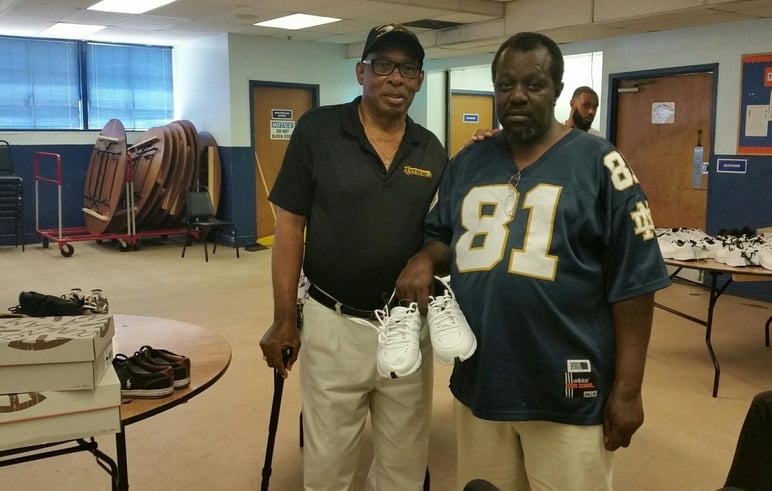 Developers are eyeing the North Tryon Street corridor as the next ripe growth spot. Problem: a pair of homeless shelters and service providers, Men's Shelter of Charlotte and Urban Ministry Center, sit right on North Tryon near uptown.
Developers and landowners are worried about you-know-what. So the president of North End Partners, a nonprofit booster organization for the area, held a meeting this week to discuss what to do about the homeless folks and the agencies that serve them. Mark Middlesworth's suggestion—in addition to a volunteer task force to propose solutions—is to move the agencies, their clients, and services to vacant land off Statesville Avenue. He cites a five-year-old, 22-acre San Antonio development, Haven for Hope, as a model.
Thing is, though, Haven for Hope hasn't exactly been a runaway success. Neighbors in the area have complained about center clients peeing (and worse) in their yards, having sex with prostitutes in view of their kids, using drugs, and breaking into their homes. Besides, some Charlotte officials said at the North End Partners meeting, the Statesville Avenue suggestion smacks of gathering up the unsightly, property-devaluing homeless folks and shipping them to a less conspicuous location far from uptown and, importantly, other needed services.
Nothing's been decided, and Charlotte's in the early stages of deciding what to do. But aside from the obvious growth-versus-compassion, rich-versus-poor conflict here, what's interesting is how Middlesworth's Haven for Hope-in-Charlotte idea flies against a major local initiative, Housing First Charlotte-Mecklenburg, that proposes something fairly radical: Placing the chronically homeless in houses at the front end, then helping them with job training and other services. The idea has been catching on across the country over the last decade, since Utah began a Housing First program that's succeeded not only at getting people off the streets but saving taxpayers money:
Handing mentally ill substance abusers the keys to a new place may sound like an example of wasteful government spending. But it turned out to be the opposite: over time, Housing First has saved the government money. Homeless people are not cheap to take care of. The cost of shelters, emergency-room visits, ambulances, police, and so on quickly piles up. Lloyd Pendleton, the director of Utah's Homeless Task Force, told me of one individual whose care one year cost nearly a million dollars, and said that, with the traditional approach, the average chronically homeless person used to cost Salt Lake City more than twenty thousand dollars a year. Putting someone into permanent housing costs the state just eight thousand dollars, and that's after you include the cost of the case managers who work with the formerly homeless to help them adjust. The same is true elsewhere. A Colorado study found that the average homeless person cost the state forty-three thousand dollars a year, while housing that person would cost just seventeen thousand dollars.
Housing First isn't just cost-effective. It's more effective, period. The old model assumed that before you could put people into permanent homes you had to deal with their underlying issues—get them to stop drinking, take their medication, and so on. Otherwise, it was thought, they'd end up back on the streets. But it's ridiculously hard to get people to make such changes while they're living in a shelter or on the street. "If you move people into permanent supportive housing first, and then give them help, it seems to work better," Nan Roman, the president and C.E.O. of the National Alliance for Homelessness, told me. "It's intuitive, in a way. People do better when they have stability."
One of the local officials at the North End Partners meeting this week was Dale Mullennix, the Urban Ministry Center's executive director, the project manager for Housing First Charlotte-Mecklenburg, and one of this magazine's Charlotteans of the Year. Mullennix reiterated a point he made to our own Matt Crossman in an interview for this month's issue:
One day we went out in the soup kitchen line, and we invited 20 people who we knew were chronically homeless to be a part of a research project. We got 13 of them to sign waivers. Then we went to the county, we went to the jails, we went to the hospitals, and said, here are waivers, we want to get these peoples' records.
What we discovered just blew us away.
Those 13 people, in the previous three years, using [emergency rooms, mental health facilities, hospitals, jails, and detox facilities] had cost our community $1.4 million. One woman had been to the ER 88 times. Her average bill was $1,029, and then she died. Eighty-eight visits to the ER did nothing to improve her health. As a community we had spent almost $100,000, and we couldn't point to any positive outcome. That didn't make any sense at all.
When you divided up that $1.4 between the 13 over the three years, it came up to [about] $36,000 per person per year that it was costing us as a community to have these people on the street. You would think it would cost nothing to have them live on the street. But they were very expensive. That was a mind-blower.
So we did this pilot project [which moved chronically homeless people into housing]. We saw them getting healthier, safer, paying rent, reconnecting with family. And it cost us $10,800 per person per year. Who would have thought? So here's $36,000 to do nothing. We invested $10,800, and their lives were totally transformed. That just made no sense at all. But it's true.
There would seem to be a rare opportunity here to do right by everybody: people who need homes, people who want to develop a run-down part of town, and the rest of us who pay taxes. Everyone with a stake in a reborn North End ought to make the most of it.