Opinion: Dan Bishop, Atwitter
State senator from Charlotte had an active Thursday, in 140-character increments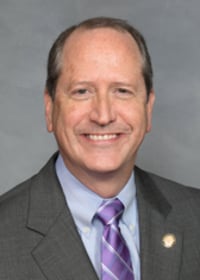 State Senator Dan Bishop, a Mecklenburg County Republican, had a pretty active day yesterday on Twitter. Between 3:30 and 11:15 p.m., he tweeted or retweeted 46 times on such matters as the Comey hearing, legislative Republicans' rejection of Governor Cooper's call for a special session on district lines, and the perfidy of the "cloak and dagger big media." Bishop, a former county commissioner and state representative, is best known for his co-sponsorship of House Bill 2.
He's also well-known for proposing legislation that would provide a State Highway Patrol member as security for a former governor for a year after he or she leaves office. Bishop was prompted to do this after former Governor Pat McCrory was confronted by a group of chanting activists in Washington, D.C., in January. Bishop's bill was filed March 9 and remains in committee.
Below is a sampling of his Thursday tweets, presented without amplification as a kind of public service. Click the links to see the tweets that induced his responses. Should you wish to peruse the entire batch, click here.
And idiotic or corrupt AP writes that the President also revealed. He's the President. And not by sneaking around leaking. U guys r clueless https://t.co/BfAncnymSb

— Dan Bishop (@jdanbishop) June 8, 2017
Colin Campbell is a legislative reporter for the News & Observer in Raleigh.
Defensive corporate media circle wagons. https://t.co/hnQxzsdl0Z

— Dan Bishop (@jdanbishop) June 8, 2017
Believe me, he quotes selectively and with purpose. https://t.co/o8EkWOHjkY

— Dan Bishop (@jdanbishop) June 8, 2017
All the adjuncts to DNC: deep state, corporate media and academe. Trifecta. https://t.co/2FcXstpDuc

— Dan Bishop (@jdanbishop) June 8, 2017
I take no pleasure in it. Well maybe a little. But he represents asymmetric warfare against your fortress. And you are taking a pounding. https://t.co/nTEoKocK6r

— Dan Bishop (@jdanbishop) June 8, 2017
If you are a Star Trek fan, remember dampening fields? Google it. Trump is the establishment left's dampening field. https://t.co/lIVll9VxyQ

— Dan Bishop (@jdanbishop) June 8, 2017
Might not have been intentional. https://t.co/FMaCXt2xBz

— Dan Bishop (@jdanbishop) June 8, 2017
I suppose that means stop before it's too late. https://t.co/9KfDPslgxl

— Dan Bishop (@jdanbishop) June 8, 2017