Opinion: Elegy for an Uptown Shoebox
Old newspaper buildings are fading away. That's not necessarily a bad thing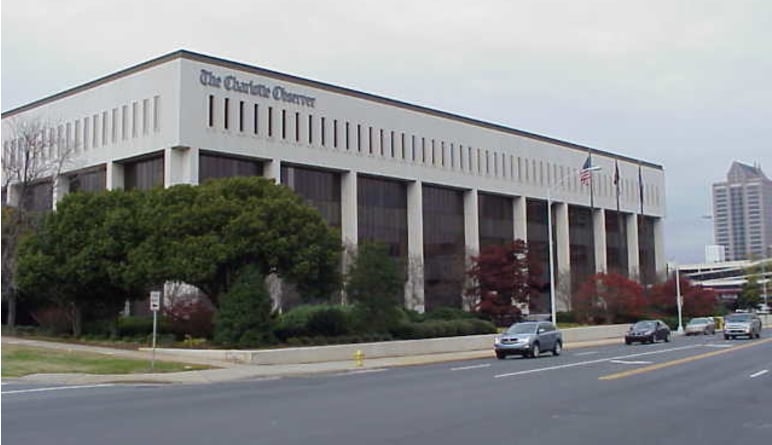 The old newspaper buildings, like the broadsheets and tabloids that once sprang from them in robust bundles, are disappearing.
The 50-year-old Miami Herald headquarters, a steel-and-glass monument overlooking Biscayne Bay, underwent a piece-by-piece, 18-month dismantling finished only last spring. The Washington Post, where Woodward and Bernstein assaulted their electric typewriters with news of slush funds and ratf*cking, abandoned its building for new digs in September; the old building is set for demolition this year. Last year, the Minneapolis Star Tribune left the downtown edifice it had occupied for a century.
A few developers are trying to convert some of the older, more romantic structures into a mixed-use development here, a farmer's market there, as you would with a long-shuttered textile mill. But that's not the same. The daily newspaper once sat at the head of a city's media table, a civic institution that wasn't to be trifled with or discarded, and to demonstrate it set up in a foursquare fortress that took up an entire downtown block. Tear that down, you might as well raze City Hall and the train station, too.
We needn't get too nostalgic here. The newspaper industry's decline over the last decade has left too few people inside cavernous, aging buildings on prime real estate. In the case of the 45-year-old Charlotte Observer building at 600 South Tryon Street, which the paper's staff might soon abandon for space in the NASCAR Plaza tower a couple of blocks down East Stonewall Street, it's especially hard to summon up much sentiment.
Even as institutional buildings go, it's not a pretty sight and never has been. It was built in 1971 in the International style, although I always thought of it as Eastern Bloc Shoebox, a slab of pure functionality and aggressive rejection of aesthetics, the kind of thing you'd find in suburban Kiev. The newsroom was dark and dingy. The escalator broke down every other day, it seemed. Clearly it's time to leave. "Movin' on up!," longtime Observer photographer Todd Sumlin posted to his Facebook page Monday. "Our new office space is going to be great!"
It makes practical sense as well, since a "newspaper" nowadays isn't so much a newspaper as a multimedia, digital-first operation that doesn't need space for a press or nearly as many staffers. (The Observer moved its printing operations from South Tryon to University City in 2014.) It's still unclear when the building would actually come down, or what would take its place; the Charlotte commercial real estate developer Lincoln Harris is under contract to buy the 9.4-acre site that includes the building and its adjoining parking lots, although the deal hasn't been closed. Still, it seems likely that apartments, offices, or some mixed-use combination will eventually take up the space.
Well, that's progress. The frequent comparison of newspapers to dinosaurs is more apt than people realize. Dinosaurs went extinct, but lizards didn't; they just got smaller, nimbler, and less significant. All the T. Rexes are starting to accept their downgrades to iguana status, not a bad thing. Iguanas are more fun and require far less overhead.