Opinion: Expand Medicaid? In NORTH CAROLINA?
And a Republican legislator filed the bill?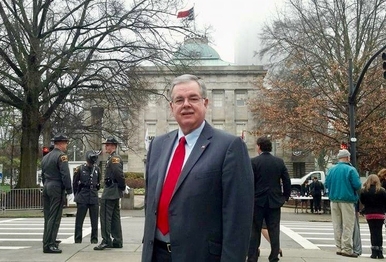 Buried in last week's absurdist mess in the North Carolina legislature—with demented, DOA bills and a particularly deranged historical analogy; here's to you, Rep. Larry Pittman of Concord—was a tiny nugget of sanity, and it came from an unexpected place: a Republican member of the state House of Representatives.
Donny Lambeth, a third-term former hospital president from Winston-Salem, filed a bill that would expand Medicaid.
Yes, expand Medicaid.
We turn to Tom Bullock of WFAE:
Democrats have long called for the expansion of Medicaid to cover more poor North Carolinians or those who now earn just above the threshold for coverage.
Governor Roy Cooper tried to do this by executive action earlier this year. Powerful Republican leaders in the General Assembly sued to stop the effort.
Now, one of their own has sponsored a bill to do what so many others have failed to do. "This bill is an option to provide health insurance to low income residents of North Carolina under a new product offering called Carolina Cares." That's how Representative Donny Lambeth introduced his bill. And Lambeth is a heavy hitter in the Republican led General Assembly. He serves as chair of both the Health and Health Care Reform Committees in the House.
And even though he doesn't directly call it Medicaid expansion, Lambeth acknowledges that's what it is. But with some specific requirements. "The residents are between the age of 19 and no older than 64. The resident must be employed or engaged in activities to promote employment."
That is a provision borrowed from Medicaid expansion in Indiana, which was then run by Republican Governor Mike Pence.
And like Indiana's plan, Carolina Cares would also require participants to have "skin in the game" by charging them a small premium and some co-pays.  
But that's where the similarities end says Lambeth. "A major difference that makes this different than other states is that the participants must make certain commitments which focus on preventative care with a wellness emphasis."
Things like regular checkups, trips to the dentist, colonoscopies, mammograms and weight management programs.
Lambeth estimates this would help roughly 200,000 North Carolinians who do not qualify for standard Medicaid and who can't qualify for or don't get insurance through other means.
As of this writing, the bill reclines in the House Committee on Health Care Reform, which, as correspondent Bullock notes wryly, "actually meets."
The bill is extraordinary for a few reasons. First, it's worth acknowledging a piece of proposed legislation that attempts to solve, through public policy, an actual problem that affects hundreds of thousands of North Carolinians. (This used to be the norm.) Second, it's a testament to the value of professional experience—the idea that workable policy can and should emerge from someone who actually knows the subject matter.
Finally, it's heartening to consider that this bill could come from a Republican willing to buck the trend in his own party. Certainly there's not much political upside for Lambeth, as Bullock notes; he'll have to push it through the GOP supermajorities in the House and Senate, which aren't keen on passing related costs to private health care providers. And let's acknowledge, too, that House Bill 662 is a long way from a full-blown cure. It would require poor North Carolinians to put "skin in the game"—that loathsome phrase—through premium payments, co-pays, and mandated preventive care.
Beats nothing, though. There's no guarantee the bill will make it to Governor Cooper's desk. But it's an encouraging sign, however tiny, that someone in Raleigh still has enough faith in the ability of public officials to solve public problems to render that faith in writing. That the someone has an R after his name is a miracle worthy of church bells.