Opinion: For Charlotte Muslims, An Uneasy Night of Support For the Victims of San Bernardino
An expression of support, act of self-defense, or both?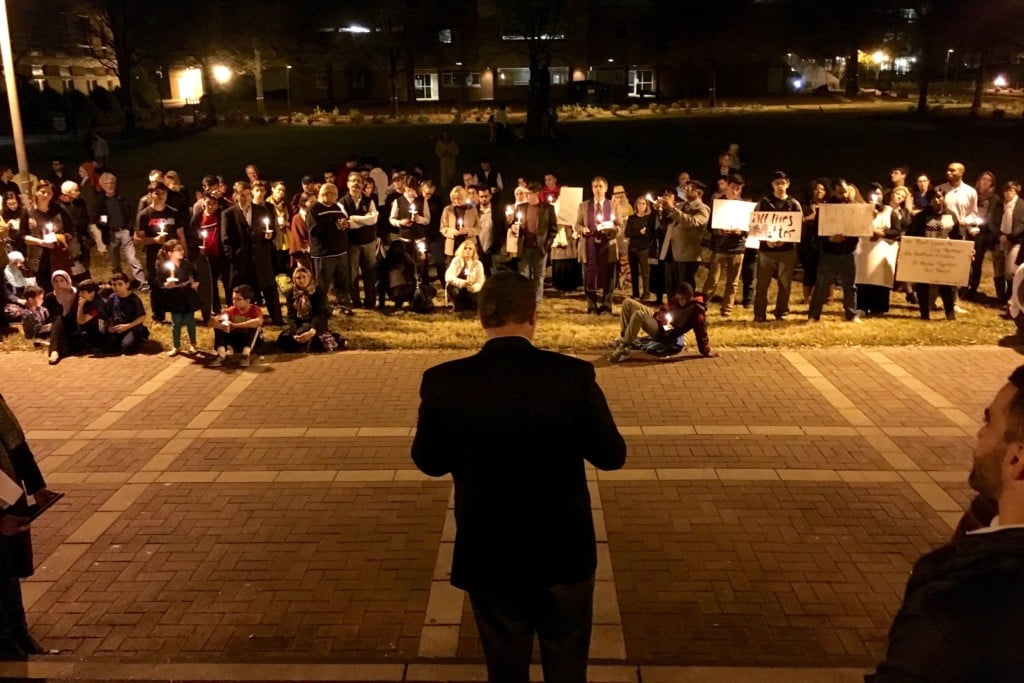 Catherine Mitchell, a 58-year old real estate agent and daughter of a Methodist minister, had never before attended a vigil or protest or anything like it. But something compelled her to drive from her home uptown to UNC Charlotte on a warm Friday night to carry a candle and join with strangers "to show respect and compassion"—for the 14 people killed in the Dec. 2 shooting massacre in San Bernardino, California.
But for more than that. For American Muslims tarred with the terrorist brush; for non-Muslims who befriend or fear them; for everyone. "There's a lot of fear and lack of tolerance," Mitchell said. Since San Bernardino, she'd been looking for a way to express what she was feeling, "that there's no reason to shun a religion because of one outrageous act. That's just not what America is like."
Sadly, Mitchell is mistaken. That is what America is like in this season; part of it, anyway, given license and encouragement by a con man and narcissist who happens to be running for president. His name was mentioned multiple times Friday night, as the accelerant of the problem, whose comments after the California massacre moved Catherine Mitchell to an act of public protest for the first time in her life.
On its face, it was yet another post-mass shooting candlelight vigil, this one an interfaith demonstration to honor the memory of the San Bernardino victims; the university's Center for Holocaust, Genocide, & Human Rights Studies organized it along with local Muslim organizations, mosques, and activists, who stood and listened in a semicircle of light at the edge of a dark quad. Around the nation, Muslims are joining with people of other faiths and no faith to offer support for the victims.
As it stretched out over two hours, though, before a crowd of about 100, through speeches by Muslims, Christians, Jews, academics, and community leaders, it turned into something more than an expression of sympathy, something like an act of pre-emptive self-defense.
From sea to shining sea, Muslim Americans are coming under attack.
In New York City, a shop owner was savagely beaten Saturday by a stranger promising to "kill Muslims." In California, a man was playing volleyball and praying in a park on Sunday when a woman accused of him of being a terrorist, struck him and splashed him in the face with coffee. And in Philadelphia, a severed pig's head was tossed outside of a mosque on Monday.
On Wednesday, a Muslim American congressman linked the "rise in Islamophobia" — including a death threat he received on Monday — to the "demagoguery" of Donald Trump.
"You have other politicians who are joining the bandwagon and who are fanning the flames of bigotry," Rep. André Carson (D-Ind.) told interviewer Jake Tapper. "That concerns me because we're putting people — i.e. Muslims, Sikhs, Hindus and others — into the line of fire exposing them to death threats, discrimination at the workplace and assaults."
The speakers on Friday surrounded the issue, each clutching a piece of it.
Hadia Mubarak, a religious studies professor at UNC Charlotte and Davidson College, urged Muslims "not to hide, to reach out to your neighbors" to counteract the image of Muslims as terrorists and extremists.
Ken Stringfellow, a history teacher at Charlotte Islamic Academy and Muslim convert, deferred to history: "I see a country as divided as it's ever been. We have to stand together, and it all begins with each one of us."
Rob Spach, the chaplain at Davidson College—a Presbyterian institution—began his address with "As-salamu alaykum" and "May the peace of Christ be with you." Spach noted that Judaism, Christianity, and Islam were the major Abrahamic religions, which to his mind makes Jews, Christians, and Muslims cousins: "What would it be like if we all treated each other as cousins?"
The question went unanswered. Earlier and nearby, deeper into the grassy quad, a pair of 13-year-old girls laughed and chatted as they lit their candles. "We wanted to show we care about the people who were killed and wounded in San Bernardino," said 13-year-old Ayah Idlibi, the daughter of parents who fled Syria in the early 1980s. (Her father, Dr. Omar Idlibi, a pathologist, was another speaker Friday.) "The people who did this call themselves Muslim. But they don't act like Muslims."
Ayah and her friend Lamis Hamnouda, the child of Algerian parents, said they haven't encountered any harassment for being Muslim. Ayah wears her hijab, or head scarf, at school; Lamis is working her way up to it. Ayah, the more assertive of the two, prodded her. "But you're going to do it, right?"
When a classmate asks her about her religion, Ayah said, "I just have to stay confident, because if I sound like a weak person, it's like I'm inviting people to make fun of me or bully me." Behind her, younger children played in the quad, running toward and around the statue of Queen Charlotte. One child began crying, somewhere beyond the dim line of light, where the dark covered all.