Opinion: Goodwill's Working Accomplishment
New Goodwill Opportunity Campus merges mission and function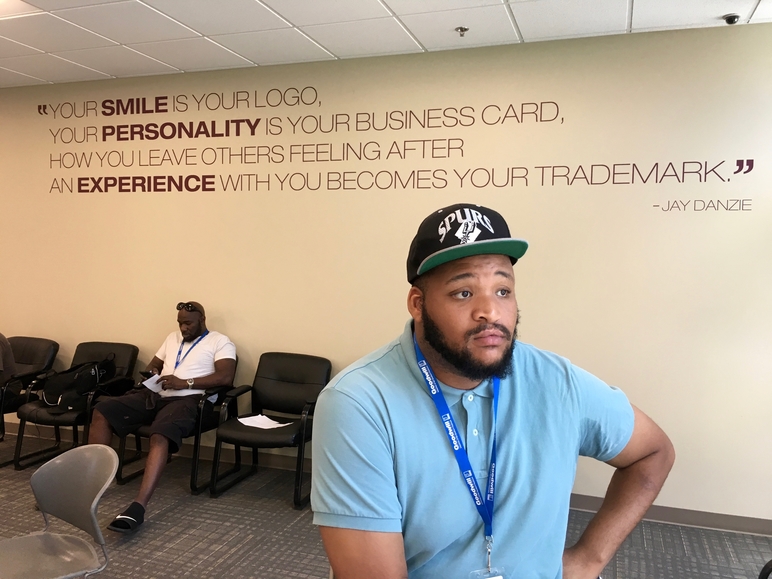 Donté Montague moved from the Bronx to Charlotte a year ago to be with a girlfriend who's now pregnant. A laborer, he found work at a pallet company but got in a car accident that aggravated a bad back. Montague, 28, knew he needed a new job that wasn't as physically taxing.
He'd already bought some furniture from Goodwill Industries of the Southern Piedmont's retail store on Freedom Drive. Now he thought Goodwill might be able to help train him as a forklift operator. But he discovered that Goodwill had made some changes. The Freedom Drive store was closed. Goodwill had moved its operations to its new Opportunity Campus on Wilkinson Boulevard near the airport—which includes the Levine Opportunity Center, a 160,000-square-foot complex that houses not just Goodwill but a health clinic, a bank branch, a restaurant, classrooms for job training, and community nonprofits. "Wraparound services," Goodwill calls it.
On Wednesday, he settled in a chair to fill out paperwork in a spacious, brightly lit room, surrounded by others seeking training and jobs, preparing to start a free five-day training course that will earn him his forklift operator's certificate—something he would have had trouble affording if it weren't for Goodwill. He'll be able to go back to work in another couple of weeks.
"I didn't even know" about the new campus, which opened June 30, Montague said. "When I got off the bus, I saw that everything was in one place, and that's awesome."
One of the disconcerting things about the new complex is how much sense, in so many ways, it makes. Touring it, as I did at Goodwill's invitation Wednesday, made me wonder why it hadn't happened before, and why more cities haven't copied the idea. Money is an obvious impediment—the total cost was $22 million; $14 million from Goodwill, $8 million from only the second capital campaign in the organization's history—but will and coordination are, too. Once the project was announced last year, though, partner organizations signed on almost immediately. (See a complete list of Goodwill's partners at the campus here.)
"What's jumped out at us, as far as something that's beyond our expectations, is the degree of collaboration among the partners," said Michael Elder, Goodwill Southern Piedmont's president and CEO. "We had never experienced putting it all together under one roof, and with food service, which gives folks a kind of gathering place. I'm not sure we anticipated the impact that would have."
That's only because no one had ever tried it. Now that they have, it's slap-your-forehead obvious. The governing principle behind the whole thing is proximity. The west side is the part of Charlotte where the most low-income people live. Many of those people depend on public transit to get around. The Opportunity Campus houses nearly every service poor people need in one location. The only thing it lacks is a food market—although it does have a garden in the courtyard, with vegetables and herbs that Goodwill clients plant, and which then go into meals served at the Community Table Bistro (the on-site restaurant).
It all … works. We ought to take a moment and appreciate that. We're living in a time when institutions, be they private, governmental, or charitable, seem to have difficulty accomplishing big things. Incompetence, avarice, ego, and myopia undermine grand visions like termites feeding on mansions, and we lose confidence in anyone's ability to construct a common place for the common good.
Except these folks, and their partners and contributors, pulled it off. It'll benefit thousands of people on the west side, and the west side itself, and it didn't cost taxpayers a dime. Somebody cue up that Leonardo DeCaprio toasting meme. Well done, y'all.