Opinion: Gov Pro Quo
A new revelation on McCrory's prison contract influence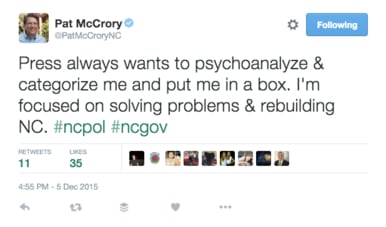 Pat McCrory's been even more peevish than usual lately toward the Fourth Estate, which is saying something. Last week, he offered to $5 campaign contributors a "limited-edition, online-only" bumper sticker that reads, "I Don't Believe the Raleigh News & Observer," as if the N&O was some foreign catechism. Yesterday, in apparent response to this Rob Christensen column in the paper, he tweeted the message to the left.
Well, look what the enemies of the state just dug up:
Gov. Pat McCrory twice told his secretary of public safety about his concerns that private prison maintenance contracts held by his friend and political contributor would expire, according to a recently released memo from a top prison administrator.
The memo, written earlier this year by Joe Prater, a deputy commissioner of correction, recounts events leading up to the McCrory administration's renewal of the contracts over the objection of senior prison officials.
Prater's memo dates the phone calls as coming prior to a meeting that McCrory arranged and attended in October 2014 in Charlotte. In that meeting, Graeme Keith Sr. is said to have discussed his political contributions and said he wanted "something in return."
The three contracts, which are the subject of an FBI inquiry, are worth about $3 million annually and are held by The Keith Corp. of Charlotte, where McCrory was mayor for 14 years. The owners, Graeme Keith Sr. and Graeme "Greg" Keith Jr., are friends of McCrory and contributed $12,000 to the governor's political committee from 2008 through 2012.
Prater's memo, placed in a state file, was released in response to a public records request from The News & Observer. The memo says McCrory called Secretary of Public Safety Frank Perry in September 2014, after prison officials decided to cancel the contracts with a subsidiary of The Keith Corp.
Prater had drafted letters for Perry to sign that would inform the Keiths that the contracts would be allowed to expire, an action Perry has said he supported.
At an employee's going-away reception, Perry approached Prater "and indicated that he had some concerns about signing the notification (about ending the contracts) as the governor had concerns about our allowing the contracts to expire," says the memo, written Jan. 28, 2015.
During another conversation, "Sec. Perry told JP (Joe Prater) in the basement parking lot that the governor had called him again, concerned about our allowing the Keith contract to expire, as Keith is a friend of his (the governor's)."
The governor has claimed that during the October 2014 meeting in Charlotte, he was in "a side conversation" and missed Keith's "something in return" comment. Maybe, maybe not, but this revelation renders his claim irrelevant, "as Keith is a friend of his."
It doesn't take a psychology degree to perceive that McCrory is and always has been hypersensitive to criticism, going back to his days as Charlotte's mayor. This revelation renders that irrelevant, too. Who needs psychoanalysis when you have the state open records law?