Opinion: Government By Troll in South Carolina
Rep. Mike Pitts' tantrum of a 'journalist registry' bill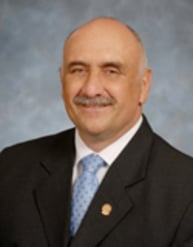 Leave it to South Carolina to turn representative democracy into an exercise in trolling.
Today, a Republican state representative from Laurens named Mike Pitts introduced a bill that would establish state requirements for journalists and media outlets and a "responsible journalism registry" to be maintained by the Secretary of State's Office. Pitts is a retired Greenville police officer; member of the North American Hunting Club, ALEC, and National Wild Turkey Federation (that last is a hunting organization, nothing to do with the whiskey); and a "life member" of the National Rifle Association.
So it won't shock you to learn of Rep. Pitts' justification for introducing this silliness (from The Post and Courier in Charleston):
Pitts told The Post and Courier his bill is not a reaction to any news story featuring him, calling himself "not a press hater," rather it's to stimulate discussion over how he sees Second Amendment rights being treated by the printed press and television news. He added that the bill is modeled directly after the "concealed weapons permitting law."
"It strikes me as ironic that the first question is constitutionality from a press that has no problem demonizing firearms," Pitts said. "With this statement I'm talking primarily about printed press and TV. The TV stations, the six o'clock news and the printed press has no qualms demonizing gun owners and gun ownership."
Pitts said the criminal penalties mentioned in his bill for violations would be "minor fines" similar to those concealed weapons permit holders face.
The Laurens lawmaker questioned whether working journalists actually follow the Society of Professional Journalists' Code of Ethics, which outlines principles for professional journalists to follow to ensure fair and accurate reporting.
"Do journalists, by definition, really adhere to a code of ethics?," Pitts asked. "The problem that I have with the printed press is, like I said, it appears especially in the last decade to me each story has become more editorial than reporting. It might just be my perception."
Want a "discussion"? Here you go. The First Amendment prohibits Congress (and by extension state legislatures) from passing any law abridging freedom of speech or the press. The Second guarantees the right to "a well-regulated militia." (I know, that's supposedly a major point of contention, even the minority view, but really, come on, that's bullshit.) In other words, the First Amendment specifically abjures regulation of the press; the Second specifically insists on regulation of gun owners. End of discussion.
This bill will go nowhere. If the South Carolina Legislature is stupid enough to pass this, the courts will slap it down. That's not the issue. Nobody likes the media, and Donald Trump is inciting his followers with anti-media insults to the point at which a physical assault on journalists seems imminent. He knows this kind of thing plays well with a certain segment of the electorate, and a certain segment of that segment lives in upstate South Carolina. There's certainly no political downside for Mike Pitts. He'll be hailed as a hero-statesman.
But reality remains reality, and it's this:
Pitts was part of a Post and Courier report on money in Columbia and the weak requirements of the state's ethics laws. Pitts, a member of the House Ethics Committee, has enjoyed multiple trips out West for what he called hobnobs with "sportsmen legislators."
On one occasion he received a $1,104 trip in 2014 to attend the annual National Assembly of Sportsmen's Caucuses Summit in Sunriver, Ore., where he was also went hunting. He used campaign money to gas up his rental car on the trip. There was nothing illegal in the spending.
Pitts also was the leading advocate for keeping the Confederate flag flying outside the Statehouse during last summer's flag debate in the wake of the Emanuel AME Church shootings.
This man was saying something about codes of ethics earlier, I believe. Feel free to laugh, because it's all downright amusing, even gratifying. Back by popular demand, ladies and gentlemen, America's incorrigible eight-year-old, South Carolina! Barring our placement on a state registry, we'll let you know about its next tantrum!