Opinion: How Alma Adams Won the 12th
And how three Mecklenburgers lost it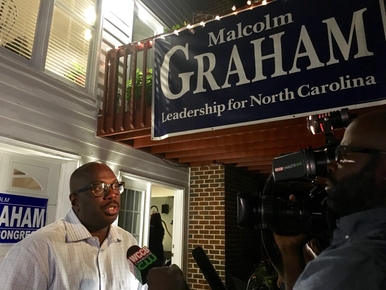 I assumed Malcolm Graham would win the Democratic primary for the 12th Congressional District, for what I thought were good and valid and reasonable reasons. The redrawn district was now contained entirely within Mecklenburg County, and Graham was a former Charlotte City Council member and state senator who had lived in Charlotte for 35 years. The incumbent, Alma Adams, was a Greensboro resident who'd only recently "moved" to Charlotte. When the two faced each other in the primary two years ago, Graham finished ahead of Adams in Mecklenburg County.
On Tuesday, all of those presumed advantages added up to … bupkis. Nothing. Graham lost. So did the other two Charlotteans on the ballot, state legislators Tricia Cotham and Carla Cunningham. Adams turned out to have some critical factors batting for her: Low turnout (8.27 percent in Mecklenburg County, and I'm surprised it was that high), incumbency, and, especially, money.
Graham knew it, too. Adams raised more than $623,000 and spent about two-thirds of that. Graham, who also came in second among the six candidates in contributions, raised just less than $85,000 and spent half. "When you've got $500,000, you can fill mailboxes and TVs," he said last night after his concession speech. "That makes a difference."
There was another factor that, in retrospect, I should have seen coming. Adams' Charlotte challengers based their candidacies on the admittedly outrageous idea that the people of Mecklenburg County, in a district contained entirely within Mecklenburg County, ought to be represented in Congress by someone from Mecklenburg County. The result was simply too many Mecklenburgers on the ballot. Graham, Cotham, and Cunningham together earned 54 percent of the vote—which, split among three, led to Adams winning with 43 percent.
So, in their zeal to out-Meck the field, they effectively guaranteed victory for the lady from Guilford. Isn't that just like 2016, though, the election season in which up is down, black is white, Trump is a thing, and now, apparently, Charlotte is Greensboro? Adams would seem to be a shoo-in for victory in the general, but the way this year's going, Charlotte might as well end up represented in Washington by a black Republican minister and supporter of House Bill 2 who began his career in Okinawa.
Update: Still another likely factor: The most likely 12th District voters Tuesday—especially in a low-turnout election—were older black women, according to Catawba College's political guru Dr. Michael Bitzer. See this blog post from Sunday for deeper analysis. (And thanks to Andria Krewson for the reference.)