Opinion: In Court With Bowe Bergdahl
None of us can get the answers we want.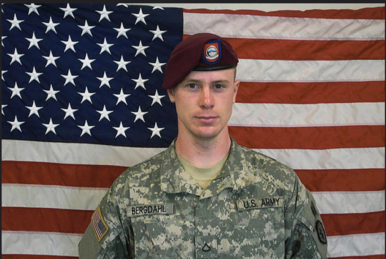 He sat at the defense table about 20 feet away, a six-foot-tall question mark in dress blues. The hearing Tuesday lasted for two-and-a-half hours, and here's what was notable about what Army Sergeant Bowe Bergdahl did as he sat: next to nothing.
He sat up straight, arms resting on his thighs. He answered the judge's initial questions about his satisfaction with his counsel in a strong, clear, "Yes, sir," and otherwise didn't speak. He moved his head, barely, once or twice, as his lawyer argued with passion over a discovery order in the courtroom where this year a judge or jury will decide whether to imprison Bergdahl again, this time for life and by his own country.
He's been free—if that's the right word—since May 2014, when the Taliban let him go after more than five years of imprisonment and torture; he'd deserted his outpost in Afghanistan in 2009. This past December, the Army ordered a general court-martial at Fort Bragg, which is expected to begin in August. Through it all, Bergdahl hasn't spoken publicly about his desertion, capture and imprisonment. The only word from Bergdahl has come from interviews with a filmmaker, Mark Boal, made public recently through the popular Serial podcast.
But even those interviews, at least through Serial's first four Season 2 episodes, haven't plugged the gaps in our understanding of who Bergdahl is and why, really, he decided to walk away from his post. He says he was frustrated with his unit's leadership in Afghanistan and wanted to call attention to it by creating the ruckus that only a soldier's disappearance could ignite. It's a head-scratcher of an explanation. Did he not consider his capture or death? Did he know or care that hundreds of American soldiers would risk even more than they were to try to find him? What did he imagine his life would be like afterward, even if his ploy worked?
We haven't gotten clear answers yet, although we're loaded up with details about when and how and in what fashion his captors treated and mistreated him. In Episode 4, released a week ago, Bergdahl describes his attempts to weaken the particle board floor of his portable cell so he could reach, and possibly break through, the poorly welded steel bars below. Instead, the particle board swelled, making it even harder to move in the cage. He spent an entire night trying to shave down the edges of the board with a makeshift knife fashioned from a discarded AAA battery—and failed.
"I don't know how to explain it, but in that night, it left me exhausted and drained for, like, months. I don't think I ever came back from it," Bergdahl tells Boal. "I never stopped trying to escape, but that night seemed to burn something out of me that never came back. I just lost something inside of me that—it's hard to explain, but it was just—things didn't matter anymore."
Fans of the podcast's first season—trust me, I was one of them; I knocked out the first nine episodes in a single day—have been taking to social media to complain that they're just not into this season like the first. In an era when renderings of real life are our most popular entertainment, the Bergdahl story seems too big, complex, and gray-shaded compared to the whodunit clarity of a murder case seasoned by a garrulous and charming man in prison for a crime he may not have committed.
Bergdahl is something else. We know what he did and why he was imprisoned. The questions concern why he did it, what he was thinking, whether his country should have exchanged five Taliban detainees for his release—"Was He Worth It?," asked a Time magazine cover—and what it means. How is someone who decided during his captivity that things didn't matter anymore articulate what it means? It's hard to explain.
If you've never witnessed military jurisprudence in action, it's a different kind of animal, I'll tell you. (Reuters sent me to Fort Bragg to cover the hearing.) The judge, Col. Jeffery Nance, would hear pretrial motions at 10 a.m. The public affairs office at Fort Bragg instructed media to check in at the base fairgrounds, across a highway from the post proper, at no later than oh-seven-four-five. Worried I'd be late, I arrived at oh-seven-hundred, signed in, and acquired my media credential, with instructions to turn it back in before leaving the post. Then I waited for an hour.
The Army had buses ready to take the assembled media, about 20 of us, to the Media Operations Center, or MOC. (The Army loves acronyms. Loves them.) It was cold, and the sun was barely up, so we took our seats in the heated buses. A sergeant ordered us off for a security screening, which involved a sniffer dog/K-9 unit that performed an olfactory reconnoiter of everyone's gear. A public affairs officer conducted a pre-bus briefing. Under no circumstances were we to rush at Sgt. Bergdahl for photos or video. The defense had complained. Back on the bus.
At the MOC, we were introduced to coffee, doughnuts, WiFi hotspots, and their passwords. A captain in fatigues conducted the post-bus briefing. We were encouraged to leave our electronic gear at the MOC. A first sergeant explained that enlisted personnel were on hand to escort us across a parking lot to the courthouse, about 1,000 yards away. Time to departure: five minutes. Security was waiting with a metal detector and wands. Pockets were emptied, limbs wanded. Then we waited for another 45 minutes for the hearing to start.
If we had questions afterward, we were directed to another sergeant assigned to a booth in the MOC. This sergeant spoke to us through a window. She had forms. The sergeant took down our names, affiliations, email addresses, and questions, and promised to deliver them to the Fort Bragg public affairs office, which would reply ASAP via email.
I had a question; it went partially answered. I asked for the other part. I was directed to a section of Army regulations that turned out to be a 206-page document. As I was on deadline, I asked for public affairs to be more specific. It wouldn't. Two hours later, my editor received the answer I was looking for.
Most of the hearing concerned potentially classified documents that would be introduced into the case, and the Army's concern that Bergdahl or others might have access to information they're not allowed to see. I have witnessed the Army's handling of potentially sensitive information and media access to it, and I'm confident that any documents damaging to national security will remain under wraps.