Opinion: McCrory's Near-Meaningless HB2 Order
The real goal here? Forcing Roy Cooper's hand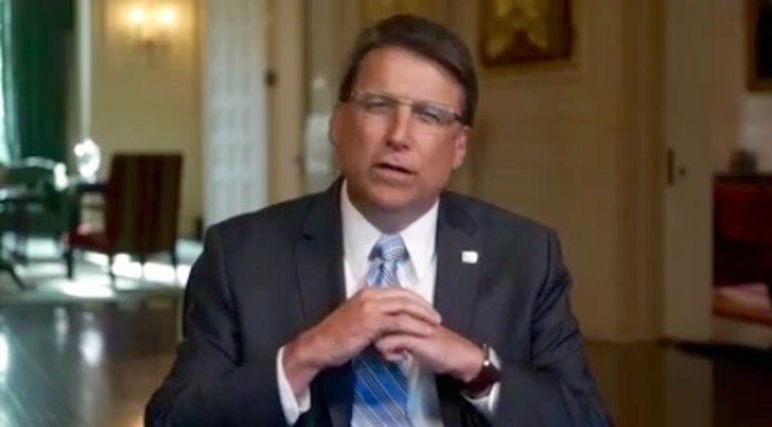 Well, it's … something. Very, very little, when you examine it closely, but something.
What's most notable about Governor Pat McCrory's Executive Order No. 93 To Protect Privacy and Equality, which he signed Tuesday afternoon, is what it doesn't do: change anything of substance in House Bill 2, which continues to cost North Carolina jobs, events, prestige, and Springsteen.
The key line in the order, in fact, is the last one: "Nothing in this section shall be interpreted as an abrogation of any requirements otherwise imposed by applicable federal or state laws or regulations." Put more simply, HB2 remains the law. Any change is subject to the General Assembly's, not the governor's, approval. Businesses and nonprofits can refuse to serve or employ LGBT people because they're LGBT.
Breaking it down more specifically:
The only benefit to McCrory's order is its clarification that local governments have the authority to adopt nondiscrimination policies for their own employees—which local officials, such as those in Charlotte, had assumed was the case but couldn't rely on because the law wasn't clear. It's a good thing for McCrory to clear up. But it changes nothing.
Another provision that seems a lot more encouraging than it is: "I support and encourage the General Assembly to take all necessary steps to restore a State cause of action for wrongful discharge based on unlawful employment discrimination." This refers to a section of the law, unrelated to any LGBT issue, that nullifies the right of employees fired because of race, religion, color, national origin, age, sex, or disability to seek relief in North Carolina courts.
The problem here is that the decision lies with the General Assembly, not McCrory (it's odd for a governor to work a suggestion into an executive order, but that's our Pat). Republicans have veto-proof majorities in both legislative houses and don't have to do a thing, as everyone involved surely knows. If the General Assembly ends up removing the state courts provision, that would be a good thing. But it's by no means guaranteed just because the governor "encourage[s]" it.
But here's the real shell game. At first blush, the governor seems to have enacted a significant change in state policy, adding sexual orientation and gender identity to the list of protected classes for state employees. But keep reading. In the next section:
Under current law, every multiple occupancy restroom, locker room or shower facility located in a cabinet agency must be designated for and only used by persons based on their biological sex. Agencies may make reasonable accommodations upon a person's request due to special circumstances.
Therefore, when readily available and when practicable in the best judgment of the agency, all cabinet agencies shall provide a reasonable accommodation of a single occupancy restroom, locker room or shower facility upon request due to special circumstances.
Catch that? It is the policy of the state of North Carolina not to discriminate against state employees who may be transgender—but they have to use the bathrooms that correspond to their birth genders, and it's up to each agency to provide "reasonable accommodations upon a person's request."
So the inclusion of sexual orientation and gender identity amounts to, no pun intended, a pat on the head. "I'm not sure it makes any difference," Luke Largess, a Charlotte employment attorney, told me this afternoon. "It's a commitment by the governor, but it doesn't give anyone any rights to assert anything."
So why's it even in there? Attorney General Roy Cooper, McCrory's Democratic opponent in this year's gubernatorial race, has refused to defend North Carolina against the ACLU's HB2-related lawsuit in part because the law runs counter to his own office's nondiscrimination policy. Including sexual orientation and gender identity as mere gestures amounts to an effort to undermine Cooper's argument while leaving HB2 intact.
McCrory's order isn't an olive branch to anyone. It's cover for a thornbush.