Opinion: North Carolina, #WeAreThis
No one comes out of the failed HB2 repeal with dignity intact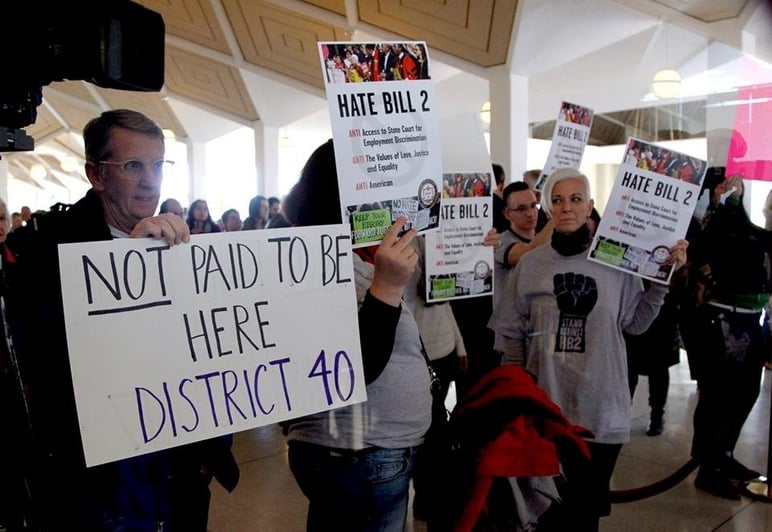 Wednesday was guaranteed to be a farce. The only question was what kind. It ended up as one that made a huge mess and a lot of noise; left everyone cranky, exhausted, and diminished; and maintained the public policy ogre, House Bill 2, that caused the rabble in the first place. That survived the day without a scratch.
We're at a point now at which everyone's going to carry the mark of this thing. We can forget about an HB2 repeal, barring a significant change in the composition of the legislature years from now. Even with a repeal, the law's done more damage to North Carolina's national reputation—not to mention last week's Tar Heel coup; remember that?—than the state can easily undo.
Since March, the city of Charlotte could argue with justification that it stood firm on its commitment to including gay and transgender people in its nondiscrimination ordinance. It voluntarily tossed that aside Wednesday morning. Repeal didn't happen anyway, and legislative Republicans took turns accusing the two-timing City Council and Governor-elect Roy Cooper for sabotaging the repeal effort. That should make for a delightful long session beginning next month.
Late in the day, after the Senate voted down an HB2 repeal that carried with it a massive catch—a moratorium on local governments passing any nondiscrimination language until 30 days after the end of the long session, a move that would have maintained statewide discrimination against LGBT people for much of the year—Senator Floyd McKissick, a Durham Democrat, noted, "The worst part is that we're worse off now than we were when we arrived." I'm not sure whether to laugh, vomit, laugh while vomiting, or vomit while laughing. I can't think of a more fitting way for this year in North Carolina politics to end. The next may be even worse.