Opinion: North Carolina's Damaged Democracy
The WSJ waves away legitimate concerns about democracy in North Carolina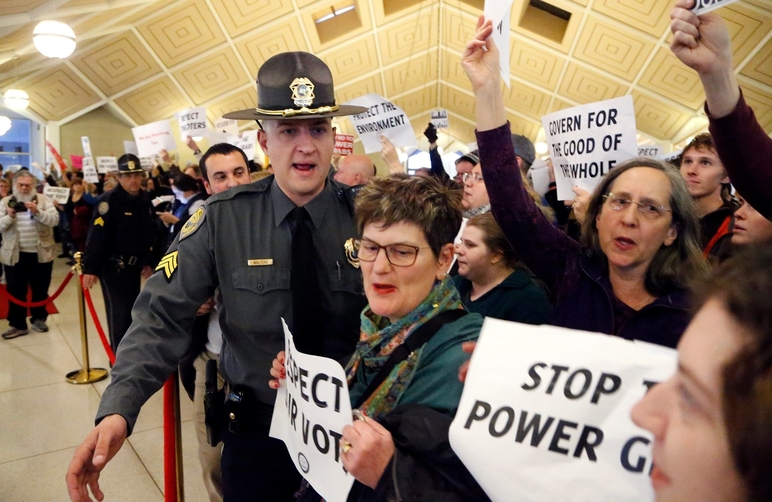 Just before Christmas—and just after the legislature's stripping of authority away from incoming Governor Roy Cooper and failure to repeal House Bill 2—The News & Observer ran an op-ed by a UNC Chapel Hill political science professor that elicited countless dropped jaws and shares on social media. A group called the Electoral Integrity Project had determined that North Carolina was no longer a full, functioning democracy, that it ranked "alongside authoritarian states and pseudo-democracies like Cuba, Indonesia and Sierra Leone," wrote Andrew Reynolds, who's an EIP board member.
It quickly made the viral rounds. "After thousands of retweets, reaching over 5 million accounts, I stopped checking the stats," Reynolds wrote in a follow-up six days later. "There were features in The New York Times, Washington Post, The Atlantic, Slate, Huffington Post, Politico, even PerezHilton.com. Paul Krugman, Howard Dean and Fareed Zakaria tweeted it out to their millions of followers. The story ran around the world. On Christmas Eve the op-ed became the lead on the Twitter home page."
The backlash was inevitable. The most prominent came last week from a predictable source, the editorial board of The Wall Street Journal, which dismissed the EIP findings on their face. "If the readout of your model is that North Carolina is as repressive as Cuba, maybe the problem is your model rather than North Carolina," the editorial reads. (Who says smugness is the exclusive property of big-city progressives?) "The state is peacefully transferring power to a Democratic attorney general from a former Republican mayor of Charlotte, not deputizing the secret police."
That whole bit about "peaceful transfer" is the first clue that the Journal isn't engaging with the core idea here, that the GOP-controlled legislature has deliberately stacked the deck in their favor through gerrymandering, voter suppression, and outright abuses of power. Sure, the transfer of power from Pat McCrory to Cooper was "peaceful" compared to, say, an Egyptian-style storming of the palace by armed guards.
But coups don't have to be violent, and the EIP makes clear that it's gauging levels of election integrity, access, and convenience, not necessarily their effects. It's a warning, in other words, and a call for independent redistricting to prevent one party—either party, any party—from enshrining their own power. To dismiss a comparison between North Carolina and Cuba as obviously ridiculous ignores Cuba's nearly 60-year head start; it also ignores the inherent dangers of unchecked political power.
"That so many progressives are taking such results as academic gospel," the Journal wrote, "shows that the real crisis isn't democracy but common sense." That's a straw man; you don't have to take the study as gospel to find it disturbing, and common sense dictates that any erosion of democracy is something to be fought before, not when, our state turns into a full-blown autocracy.