Opinion: 'One Charlotte'? Solution? Yes? No?
Can this corporate-led community initiative help solve Charlotte's social ills?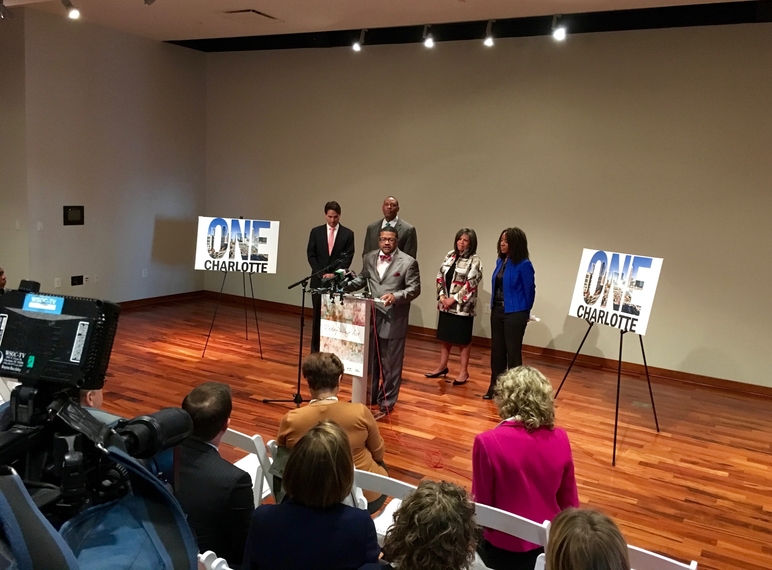 This was Braxton Winston, Charlotte resident, speaking before the City Council on September 26.
"I am here to indict the Charlotte government for crimes against the humanity of the City of Charlotte. Everything I say has evidence on tape; I have been here since day one. I am calling for the resignation immediately of Mayor Jennifer Roberts; I'm calling for the immediate resignation of Chief Kerr Putney …  I have been here since day one, and I saw how the police attacked us. They attacked us! They pulled that crime scene line after we were expressing our First Amendment rights to those uniformed officers. We were not disrupting the crime scene. They pulled that tape and instead of standing there and taking our grief, our anger, they tried to drive a cop car through a crowd of people. They tried to drive a cop car down over a woman holding a child. There was a woman with her hands on the hood, and they tried to drive her over. You incited this. You did this."
This was Braxton Winston, Charlotte resident, 31 days later, having calmed down some, wrapping up a Facebook Live webcast of a news conference Thursday at the Gantt Center.
"Obviously, a lot of change needs to happen, and balls need to get rolling all over," he told me. It was just after the announcement of a new civic initiative, One Charlotte, intended to solve longstanding social problems in Charlotte's poor and minority neighborhoods in the aftermath of the September 20 Keith Scott shooting and resulting protests. "We were very upset with the response of leaders to the shooting—city officials, the corporate community—so it is possible that different groups can get those balls rolling."
Winston is tall and dreadlocked, a 33-year-old man who usually clothes his lean frame with work denim, so he stands out in a crowd of silk ties and pantsuits. He gestured around the room. "But look. You don't see anybody here who was out on the street with us. No young people. Nobody from the queer community. It's the usual suspects showing up in these well-lit rooms. I don't want to bad-mouth anything before it gets started, but looking around the room, there's no real representation of the people who were out on the street."
"Well, you're here," I told him. Mayor Jennifer Roberts was halfway across the room. I suggested Winston go introduce himself to the woman whose resignation he'd demanded a month before—and he did. They shook hands and started talking.
Trust me, I get why people like Winston come away from a News Conference with Corporate Leaders reading Prepared Statements about Healing and Reconciliation with a big, "Yeah. Uh-huh." We've all seen this sort of thing a million times in Charlotte, and if any of the others did any good, why'd the Queen City practically implode last month?
Not two hours after the One Charlotte conference, Charlotte Uprising—a vocal activists' coalition that formed after the Scott shooting—sent this out:
That led to an exchange that ended perilously close to People's Front of Judea-occupied territory.
So let's just say "One Charlotte" is, at this point, aspirational. But the exchange raises an important question: What makes this any different from the others?
The protests after the Scott shooting "were really an awakening for us," said Jesse Cureton, the Novant Health executive, black man, and Charlotte native who's helping lead the effort. "The relevance of time cannot be lost on us … not to take away from the horrific shooting, but all of us know it went much deeper than that." Whatever One Charlotte is, it's in its early stages, funding, membership and precise direction to be determined—although it announced general plans to direct money and resources to neighborhoods in need, "social and criminal justice," and access to education, jobs, and health care. "This is generational work," Cureton said. The One Charlotte coalition doesn't want just corporate investment, as in Charlotte past; it wants participation and commitment from churches, nonprofits, governments, and individuals as well.
Which is fine. It'll take everyone's efforts to make any real difference. But overcoming the distrust that the conditions One Charlotte wants to solve have bred will be incredibly difficult, as government and corporate leaders are still learning. James Ford, a writer, activist, and education consultant, wrote about the task in an essay for this magazine a few weeks ago, titled, "Charlotte, It's Too Soon to Talk About Healing."
"We can't heal until more people in this community, especially leaders, confront these realities that are now laid bare," James wrote. "We need to admit that no matter how far we've progressed, a system of white supremacy still prevails in our fair city's institutions. I'm not talking about racial slurs or Nazi propaganda. I'm talking about a fixed order that treats Charlotte's white residents in a superior fashion to its citizens of color."
James had this reaction Thursday to the introductory One Charlotte video above: "What? Who are we uniting? Who has been consulted? This is precisely what I was talking about. Not a single thing mentioned about policing."
The frustration, like I said, is understandable. But the danger in rejecting any good-faith effort by people in power to work on issues of opportunity and disparity is nothing getting done. In other words, by assuming the status quo, people and organizations on the margins risk guaranteeing it. This stuff is hard, is what I'm saying, and it requires time, money, and patience no one's happy to expend. But I'm not sure we have a choice.
Braxton Winston came away from his chat with the mayor reasonably pleased. They didn't put the city's problems to bed in a minute, of course, but they agreed to stay in touch, keep the line open. Good enough for now. He stuck around for a while afterward, talking with some more people, granting a few interviews to local media.
Before it all broke up, he greeted Moira Quinn, the former television producer and current chief operating officer for Charlotte Center City Partners, a wonderful woman who's as "establishment Charlotte" as it gets. "Yeah," Winston told her, "excellent. Excellent." The middle-aged white lady and the young black man in dreadlocks and denim side-hugged right then, on the second floor of the museum named after Charlotte's first black mayor, which, hard though the road ahead may be, has to mean something, doesn't it?