Opinion: PayPal's Cancelled Transaction
How Charlotte gained and lost 400 jobs in two weeks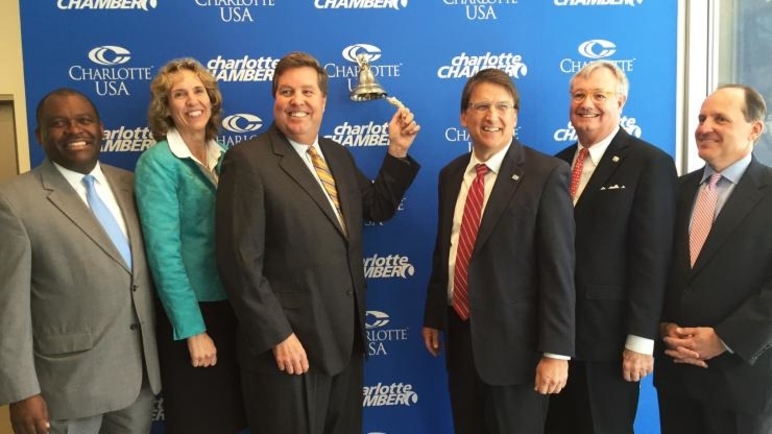 These aren't just ordinary jobs Charlotte and North Carolina lost this morning, with PayPal's cancellation of its plans to open a global operations center in University City. They're plum jobs, the kind cities and states throughout the country scramble for as if they were jewels scattered on the ground.
PayPal would have invested $3.6 million in Mecklenburg County by the end of 2017. It would have created 400 jobs, with an average salary of nearly $51,000 per year. The company reported $9.2 billion in revenue in 2015. When governors and mayors talk about "creating high-paying jobs to meet the challenges of the new economy"—and who hasn't heard some version of that phrase in virtually every political speech delivered in the last 20 years?—jobs like PayPal's are what they're talking about.
And then, Tuesday morning—poof, gone. There's no mystery about why. "As a company that is committed to the principle that everyone deserves to live without fear of discrimination simply for being who they are," PayPal President and CEO Dan Schulman said, "becoming an employer in North Carolina, where members of our teams will not have equal rights under the law, is simply untenable."
From the moment of its enactment into law, the Republican legislators who drafted and passed the now-notorious House Bill 2 have portrayed the mounting backlash as Charlotte's self-inflicted wound. Nothing different today. "When I cautioned Mayor [Jennifer] Roberts in January not to drive our community into this turmoil, this is the kind of thing I recognized would be a possibility," Rep. Dan Bishop, the bill co-sponsor, told the Observer this morning. "It's not about HB2 because PayPal does business in Saudi Arabia and China. It is instead about a frenzy that the mayor and her allies on City Council have whipped up."
This is, flatly, a lie. Schulman was quite clear about what made PayPal change its mind about opening for business in North Carolina: "[L]egislation has been abruptly enacted by the State of North Carolina that invalidates protections of the rights of lesbian, gay, bisexual, and transgender citizens and denies these members of our community equal rights under the law. The new law perpetuates discrimination and it violates the values and principles that are at the core of PayPal's mission and culture." The City Council passed the changes to its nondiscrimination ordinance February 22. PayPal announced its plans to open in Charlotte on March 18. If Schulman had any concerns about a city-generated frenzy, he had plenty of time to register them before deciding to invest nearly $4 million.
I spent some time with the mayor last week, and one person after another asked her to gauge HB2's economic harm to the city. To each one, she said there was simply no way to tell yet, but she suspected a tidal wave was coming. The worst thing about PayPal's announcement Tuesday was that it seemed to signal not the wave but its first ominous signs, the birds heading inland, the water receding from the shore. The wave itself is still out there. But it's coming, and nobody yet knows how big it'll be when it does hit, or what it'll leave behind.